The austerity mania is just blind dogma
As governments around the world are setting about to scorch their economies with austerity programs very little opposition is coming from my profession. It is quite astounding to me that the more extreme elements (the Ricardian Equivalence theories) are holding sway at present. These notions have been discredited often (see my blog – Pushing the fantasy barrow for a discussion). Generally, the austerity push is not being supported by any credible economic theory which enjoys empirical support. I get the impression that policy makers are now altering settings in an ad hoc manner without any real understanding of how the economy works. It is a triumph of neo-liberal dogman. However, in terms of evidence-based critiques of the austerity push, Bloomberg Opinion published an interesting article (July 13, 2010) – U.K. Bust Needs Big Spender – written by UK academic Vicki Chick and author/debt activist Ann Pettifor (thanks BM). The Op Ed summarises a more detailed research paper which demonstrates that key assumptions of the austerity proponents do not hold over a long historical period. The short message is that things are going to get worse.

One of the underlying claims that the proponents of austerity make is that the deficits (and matching public debt issuance) drive up long-term interest rates and thus increase the cost of borrowing for private investors. So by cutting back government net spending private investors will realise that interest rates will be lower in the future and will start investing.
Despite ignoring completely the fact that investment is heavily influenced by the expectation that aggregate demand (spending) will be strong in the future the alleged relationship between government net spending (and debt-issuance) and interest rates is based on the flawed mainstream macroeconomic theory of crowding out.
The normal presentation of the crowding out hypothesis, which is a central plank in the mainstream economics attack on government fiscal intervention, is more accurately called "financial crowding out". In this blog – Studying macroeconomics – an exercise in deception – I provide detailed analysis of this hypothesis.
By way of summary, the underpinning of the crowding out hypothesis is the old Classical theory of loanable funds, which is an aggregate construction of the way financial markets are meant to work in mainstream macroeconomic thinking. The original conception was designed to explain how aggregate demand could never fall short of aggregate supply because interest rate adjustments would always bring investment and saving into equality.
Mainstream textbook writers (for example, Mankiw) assume that it is reasonable to represent the financial system to his students as the "market for loanable funds" where "all savers go to this market to deposit their savings, and all borrowers go to this market to get their loans. In this market, there is one interest rate, which is both the return to saving and the cost of borrowing."
This doctrine was a central part of the so-called classical model where perfectly flexible prices delivered self-adjusting, market-clearing aggregate markets at all times. If consumption fell, then saving would rise and this would not lead to an oversupply of goods because investment (capital goods production) would rise in proportion with saving.
So while the composition of output might change (workers would be shifted between the consumption goods sector to the capital goods sector), a full employment equilibrium was always maintained as long as price flexibility was not impeded. The interest rate became the vehicle to mediate saving and investment to ensure that there was never any gluts.
The supply of funds comes from those people who have some extra income they want to save and lend out. The demand for funds comes from households and firms who wish to borrow to invest (houses, factories, equipment etc). The interest rate is the price of the loan and the return on savings and thus the supply and demand curves (lines) take the shape they do.
This framework is then used to analyse fiscal policy impacts and the alleged negative consequences of budget deficits – the so-called financial crowding out – is derived.
Mankiw (in his First Principles) says:
One of the most pressing policy issues – has been the government budget deficit – In recent years, the U.S. federal government has run large budget deficits, resulting in a rapidly growing government debt. As a result, much public debate has centred on the effect of these deficits both on the allocation of the economy's scarce resources and on long-term economic growth.
So what would happen if there is a budget deficit (and it is matched by debt-issuance)? The erroneous mainstream logic is that investment falls because when the government borrows to finance its budget deficit, it increases competition for scarce private savings pushes up interest rates. The higher cost of funds crowds thus crowds out private borrowers who are trying to finance investment. This leads to the conclusion that given investment is important for long-run economic growth, government budget deficits reduce the economy's growth rate.
The analysis relies on layers of myths which have permeated the public space to become almost "self-evident truths". Obviously, national governments are not revenue-constrained so their borrowing is for other reasons – we have discussed this at length. This trilogy of blogs will help you understand this if you are new to my blog – Deficit spending 101 – Part 1 | Deficit spending 101 – Part 2 | Deficit spending 101 – Part 3.
But governments do borrow – for stupid ideological reasons and to facilitate central bank operations – so doesn't this increase the claim on saving and reduce the "loanable funds" available for investors? Does the competition for saving push up the interest rates?
The answer to both questions is no! Modern Monetary Theory (MMT) does not claim that central bank interest rate hikes are not possible. There is also the possibility that rising interest rates reduce aggregate demand via the balance between expectations of future returns on investments and the cost of implementing the projects being changed by the rising interest rates.
But the Classical claims about crowding out are not based on these mechanisms. In fact, they assume that savings are finite and the government spending is financially constrained which means it has to seek "funding" in order to progress their fiscal plans. The result competition for the "finite" saving pool drives interest rates up and damages private spending.
A related theory which is taught under the banner of IS-LM theory (in macroeconomic textbooks) assumes that the central bank can exogenously set the money supply. Then the rising income from the deficit spending pushes up money demand and this squeezes (real) interest rates up to clear the money market. This is the Bastard Keynesian approach to financial crowding out.
Neither theory is remotely correct and is not related to the fact that central banks push up interest rates up because they believe they should be fighting inflation and interest rate rises stifle aggregate demand.
Further, from a macroeconomic flow of funds perspective, the funds (net financial assets in the form of reserves) that are the source of the capacity to purchase the public debt in the first place come from net government spending. Its what astute financial market players call "a wash". The funds used to buy the government bonds come from the government!
There is also no finite pool of saving that is competed for. Loans create deposits so any credit-worthy customer can typically get funds. Reserves to support these loans are added later – that is, loans are never constrained in an aggregate sense by a "lack of reserves". The funds to buy government bonds come from government spending! There is just an exchange of bank reserves for bonds – no net change in financial assets involved. Saving grows with income.
But importantly, deficit spending generates income growth which generates higher saving. It is this way that MMT shows that deficit spending supports or "finances" private saving not the other way around.
Acknowledging the point that increased aggregate demand, in general, generates income and saving, Luigi Passinetti the famous Italian economist had a wonderful sentence I remember from my graduate school days – "investment brings forth its own savings" – which was the basic insight of Keynes and Kalecki – and the insight that knocked out classical loanable funds theory upon which the neo-liberal crowding out theory was originally conceived.
The following graph uses data available in the Appendix of the paper mentioned in the introduction (basically Charles Feinstein's data with modern inclusions – see below) and shows the relationship from 1905 to 2009 between the UK public debt ratio as a percent of GDP (horizontal axis – both panels) and the nominal (left-panel) and real (right-panel) long-term UK public debt yields (the interest rate). I dated some of the outlying observations for reference purposes.
The obvious conclusion is that over this very long historical period, which spanned several different monetary systems and bond-issuing arrangements (gold standard; Bretton Woods; and fiat currency) and different exchange rate setting arrangements (fixed, floating, crawling peg etc), there is no evidence to support the basic mainstream macroeconomics prediction that rising public debt ratios cause long-term (investment) interest rates to rise.
It doesn't matter if you construct the argument in nominal or real terms. The text book argument is actually in real terms.

Of-course, we have modern testimony that supports the Modern Monetary Theory (MMT) conclusion that there is no financial crowding out. Japan over the last several decades is a good case. Further, yields in the current environment are low and stable. But the Feinstein plus dataset demonstrates that for a long historical period there is no mainstream causality operating.
Another aspect of the austerity is that government spending cuts will stimulate growth and that increasing net public spending undermine growth. Allegedly this impact works via (Ricardian) effects whereby private spending is cut when public spending rises because the private agents expect higher taxes and higher interest rates.
Recall Trichet's response (from yesterday's blog):
It is an error to think that fiscal austerity is a threat to growth and job creation. At present, a major problem is the lack of confidence on the part of households, firms, savers and investors who feel that fiscal policies are not sound and sustainable. In a number of economies, it is this lack of confidence that poses a threat to the consolidation of the recovery. Economies embarking on austerity policies that lend credibility to their fiscal policy strengthen confidence, growth and job creation.
So we should find a strong negative relationship between public spending growth and real GDP growth if this proposition is correct. MMT predicts a strong positive relationship between growth in public spending and real GDP growth – via its impact on aggregate demand.
The paper written by Chick and Pettifor from which the Bloomberg article noted in the introduction is taken from – The Economic Consequences of Mr Osborne.
The paper updates the famous historical macroeconomics dataset constructed by the late British economic historian Charles Feinstein. The dataset was originally published in Feinstein's classic work National Income, Expenditure and Output of the United Kingdom, 1855-1965
The authors note that the government spending time series (from 1905-2010) is:
… based on final demand of government and exclude transfer payments such as benefits and interest payments. From an economic point of view, final demand is likely to be more important to outcomes and follows most directly from deliberate policy action.
In other words, it nets out the cyclical impacts of the automatic stabilisers on government spending and gives a measure of the discretionary (now called structural) decisions taken by government when designing their fiscal intervention.
The following graph also taken from the Feinstein plus macroeconomics dataset which spans the period 1905 to 2009 shows the annual growth in UK public spending (horizontal axis) and the annual growth in real GDP (vertical axis) for the UK. There is a very clear positive relationship between growth in government spending and real GDP growth over this long historical period.
You may consider the two outliers might alter this conclusion. I can assure you that it doesn't. I removed them and re-examined the relationship both graphically and using econometric (regression) analysis and there remains a strong and statistically significant relationship between growth in government spending and real GDP growth.
So the austerity proponents have another problem to address if they are to explain how we will get growth emerging when government net spending is being slashed and growth in aggregate demand deliberately cut back as a consequence.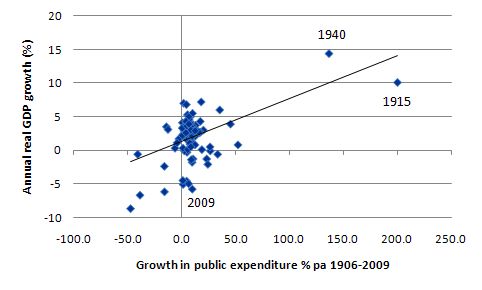 The final graph in this series plots public spending as a percent of GDP (horizontal axis) and the UK unemployment rate in percent (vertical axis) from 1905-2009. While this relationship bears further analysis because you can see there are possibly three segments (clusters) the data will not support an hypothesis that cutting public spending as a percentage of GDP will improve the unemployment rate. The opposite is the supportable hypothesis.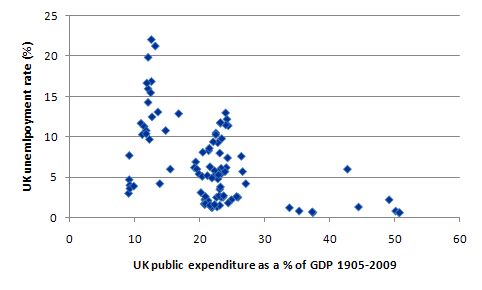 This introduction was background to the Chick and Pettifor paper which was summarised in the Bloomberg Op Ed piece – U.K. Bust Needs Big Spender.
As noted above the full paper (with the Feinstein plus dataset) is published as – The Economic Consequences of Mr Osborne.
The paper is interesting for a number of reasons and is focused on providing some evidence to challenge the current fiscal orthodoxy which is imposing pro-cyclical austerity measures on economies around the world and is thus deliberately increasing unemployment and reducing economic growth.
The first reason the paper is interesting is because it:
… looks at national accounts information for government expenditure to examine 'genuine' 'consolidations', episodes when nominal spending actually fell. These are contrasted with fiscal expansions. Spending figures are shown alongside outcomes for public debt, interest rates, unemployment, GDP and prices. Outcomes are seen as running almost entirely contrary to conventional wisdom, or at least contrary to thinking derived from microeconomic considerations: fiscal consolidation increases rather than reduces the level of public debt as a share of GDP and is in general associated with adverse macroeconomic conditions. The exception was the consolidation after World War II.
Second, it updates the famous historical macroeconomics dataset constructed by the late British economic historian Charles Feinstein. The dataset was originally published in Feinstein's classic work National Income, Expenditure and Output of the United Kingdom, 1855-1965.
Bloomberg Opinion published an interesting article (July 13, 2010) – U.K. Bust Needs Big Spender – written by UK academic Vicki Chick and author/debt activist Ann Pettifor.
You can get the academic paper that the Op Ed piece was based on HERE.
Chick and Pettifor argue that:
Until recently, there was almost complete agreement on the need for a period of synchronized austerity across Europe. This consensus, at a time of private- sector weakness and banking fragility, is very worrying … Today's dominant doctrine, espoused by George Osborne, the new chancellor of the Exchequer, is even more severe than the "Treasury view" of the 1920s and '30s, which merely stood in the way of increases in expenditure.
This is an interesting insight. The mainstream position is now more extreme than it was during the 1930s. At that point, there was very little macroeconomics thinking (as I explain in this blog – Fiscal austerity – the newest fallacy of composition). But the UK Treasury was stridently opposed to using fiscal policy to stem the demand collapse following the financial collapse in the late 1920s.
Now, the viewpoint categorically denies what we learned in the 1930s. The Great Depression only ended with the massive fiscal expansions leading into the Second World War. During the 1930s, the fiscal expansions stimulated growth but the conservatives kept curtailing the initiatives for fear that inflation and higher interest rates would result.
Chick and Pettifor concur on this point:
Keynes's approach to widespread economic failure and his critical role in triggering recovery after 1934 have been entirely disregarded. In the Great Depression of the 1930s, he confronted the Treasury view that increases in public expenditure would divert resources from private business.

He developed a theory showing that, in an economy with spare productive capacity and unemployment of labor, government expenditure would create employment. Keynes advocated increasing investment expenditure rather than encouraging consumption. Expenditure by the newly employed would then create private-sector economic activity by a multiple of the original expenditure. This was "the multiplier."
MMT shares these elements in terms of aggregate demand insights. There is no robust, empirically supported theory that tells us that widespread austerity (that is, deliberately undermining spending) stimulates production.
If you study Keynes you will also gain insights into the relationship between public expenditure and public debt.
Chick and Pettifor note in the Op Ed piece that "It may seem obvious that if you want to cut debt, you cut expenditure, but Keynes showed that the government finances were very different from a household budget. For him, macroeconomic outcomes were often the reverse of outcomes based on microeconomic reasoning." I explain this point in the blog – Fiscal austerity – the newest fallacy of composition.
In the paper, Chick and Pettifor elaborate:
The public sector finances are not analogous to household finances. Given spare capacity, public expenditures are not only productive but also foster additional activity in the private sector. Productive activity generates revenue and economises on benefits (and then debt interest) expenditures. This was one of Keynes's central conclusions: "For the proposition that supply creates its own demand, I shall substitute the proposition that expenditure creates its own income" (Collected Writings, Volume XXIX, p. 81).

Conversely, reducing expenditure would reduce income. Equally, reducing public expenditure will increase income only if it is outweighed by expansions in private expenditure.
This reverses the claims made by Say's Law that any level of aggregate supply (production) will always be purchased because demand always adjusts. What Keynes and MMT show is that firms produce (and employ labour) in the expectation that aggregate demand will be at a certain level. They have no way of knowing that demand will be consistent with these expectations but because time stops everything from happening at once they have to make guesses.
Once spending decisions are taken and acted on, the firms then find out whether they have overproduced or underproduced. If they have overproduced – that is overestimated aggregate demand – they observe an unintended build-up of inventories. That signals to firms that they were overly optimistic about the level of demand in that particular period.
Once this realisation becomes consolidated, that is, firms generally realise they have over-produced, output starts to fall. Firms lay-off workers and the loss of income starts to multiply as those workers reduce their spending elsewhere. At that point, the economy is heading for a recession.
So the only way to avoid these spiralling employment losses would be for an exogenous intervention to occur. While the question suggests that this intervention would come from an expanding public deficit, it could come from an expansion in net exports. To expand net exports usually requires structural changes that go beyond a valid cyclical response.
Alternatively, if firms are underproducing (relative to capacity) and current demand, then the inventory cycle works in reverse and the increased expenditure "creates its own income" and saving. Once again negating the claims of those who believe in crowding out theories.
Chick and Pettifor examine eight historical episodes defined according to changes in policy for government expenditure are examined and their summary statistics for "public debt and government expenditure" are shown in the following Table (reproduced from their Table 2.1). You can find out how they chose these periods in the paper.
They say that their "eight episodes" allow them to compare "changes in the public debt (as a percentage of gross domestic product) … with those in public expenditure. The results stand wholly opposed to the conventional wisdom". The details of what happened in each period is described in the paper.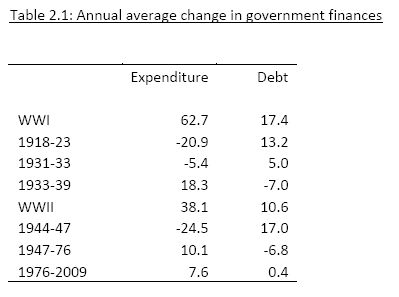 The following graph is a reproduction of their Figure 2.2 and shows "the average annual change in (i) government debt as a percentage of GDP and (ii) the percentage growth in nominal spending of government expenditure" for the periods corresponding to those in Table 2.1.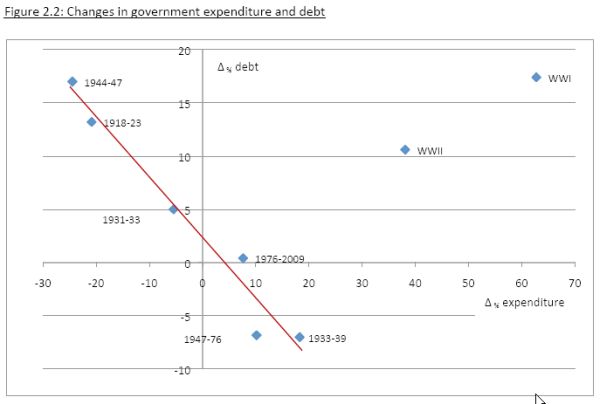 They conclude that "there is a very strong negative association between public expenditure and the public debt, excluding the two outliers for the world wars. As public expenditure increases, public debt falls, and vice-­‐versa."
That all makes sense because government spending increases GDP growth faster than the debt increases.
The overall results of their detailed analysis in the paper are summarised in the Op Ed piece as follows:
Comparing for each episode the average annual change in the public debt as a share of GDP and the average annual growth in government expenditure in cash terms, we have results that are perhaps even more remarkable than Keynes might have imagined. There is a very strong relationship between changes in government expenditure and the public debt.

But, outside the two world wars, the relationship goes in the opposite direction to that predicted by most commentators: Increases in public expenditure are associated with reductions in public debt. Very roughly, so long as there is unemployment, for every percentage rise in government expenditure, the public debt falls by half a percent, and vice-versa. This is very compelling evidence in favor of Keynes's insights.

Osborne's economic policies will, if sustained for any length of time, not only increase U.K. unemployment and social dislocation, but they will also increase the public debt. Sooner or later, governments, financial markets and international authorities will be forced to recognize the validity of Keynes's analysis, just as they were forced to do in the 1930s.

The present course will cause unnecessary harm to the U.K. economy. The only rational response is to change direction immediately.
Conclusion
While the empirical work conducted by Chick and Pettifor is relatively simple it is also very powerful. It adds to all the rest of the evidence that is denied by the austerity proponents that fiscal policy is very effective in stimulating production and employment.
Any of the theoretical ruses used by the those promoting austerity have been shown to be logically and empirically flawed before. Some of the claims used to support the scorched earth approach are just made up on the spot.
The prediction is that growth will be stagnant for years to come and the austerians will remain in denial and look for scapegoats – for example, they will say the fiscal stimulus packages eroded private sector confidence.
The Saturday Quiz will appear tomorrow and run over the next two days (I am taking a break in Sydney for 2 days – cinema, theatre, picnics) and the Answers and Discussion will appear on Sunday as usual (EAST).
That is enough for today!