US Congress to consider a vote on condemning MMT – signals progress
On March 25, 2021, a member of the US House of Represenatives "introduced a resolution in the House of Representatives this week condemning Modern Monetary Theory, recognizing that its implementation would lead to higher deficits and inflation", while a "companion bill" was introduced into the US Senate (Source). The full text of the proposed legislation is available – HERE. The Bill is full of factual errors. But I thought the most significant aspect is the 'authorities' they call upon for justification. A parade of mainstream economists and progressive economists are quoted to give support for the Bill. And I haven't seen one disclaimer from those mentioned disassociating themselves from some of the wild inferences that the Bill makes. They have allowed themselves to be co-opted by their silence in this rather tawdry and dishonest exercise. That is not surprising at all.

Some Background
The Bill was introduced by one – Kevin Hern – who is a Republican representative who has no educational background in economics. His business background is in running McDonald's franchise.
He is a vocal critic of fiscal deficits but in 2020 his company received up to $US2 million in federal fiscal support and regularly lobbied for increasing federal support for his franchises.
He also supported a court attempt to challenge the most recent general election results on behalf of the Trump campaign.
The Senate version was promoted by one – Mike Braun – who is also a US businessman and Republican representative.
He is the classic anti public health provision, anti same-sex marriage, anti abortion and 'building the wall'. Like Hern, he seems to take contradictory positions.
He is a 'free trade' advocate but supported Trump's protection policies against China.
He also supported "Trump's attempt to overturn the election results".
His campaign accepted funds connected to an "indicted money launderer".
He has voted against emergency fiscal support to alleviate impacts of "hurricanes, floods and fires" calling the support "runaway spending on unrelated projects"
Given these credentials, I laughed when I read the text of the bill, which, in part, draws on the views of radical leftists as authorities to criticise Modern Monetary Theory (MMT).
I wondered – at what point they decide whether the views of such progressive people as Doug Henwood, which they are prepared to accept for this exercise, suddenly switch to being incorrect.
But I didn't wonder too much. This is not an exercise in well-constructed argument based on a deep knowledge of the subject matter.
This is just a scatter gun approach – assemble as many critical voices as one can, all of which are pursuing their own and very different and inconsistent agendas – not that you would mention that.
The Bill was supported by the "Heritage Action for America, Americans for Tax Reform, the National Taxpayers Union, and the Taxpayers Protection Alliance."
These organisations are really a collection of the crazy right-wing structures that American culture seems to support. They oppose all the usual things that these characters oppose, they use expressions like "Socialist Health Care" and claim abortion means children are "born alive" and all the rest of the stuff that we have become accustomed to since the Powell Manifesto in 1971 supercharged these organisations and the top-end-of-town funded them.
LIke the proponents of the Bill, these organisations regularly take contradictory positions about government fiscal policy.
Heritage Action for America, for example, opposes spending on public health care (calling it Socialist) but demanded the US government spend over $US11 billion on border walls, immigration judges, patrol agents, ICE personnel and other things. They oppose extending fiscal support for unemployment benefits during the pandemic because it encourages workers to stay at home (and not get sick) when they should be … well … getting sick.
In general, it pressured to keep businesses, churches, schools and whatever open and use government money to provide liability protection against lawsuits when this policy created a health emergency.
They typically claim to be 'independent' but it is easy to find they serve sectional interests. For example, the National Taxpayers Union accepts money from corporations it does not take money from unions. So corporate taxpayers are represented but wage and salary earners are not.
Americans for Tax Reform was founded in 1985 "at the request of President Reagan" and the current Republican establishment endorses its work. It seeks to reduce government spending but under the pandemic CARES fiscal support it received substantial federal support, which they admitted helped them "retain 33 jobs".
This article in Forbes (July 6, 2020) – Vocal Opponents Of Federal Spending Took PPP Loans, Including Ayn Rand Institute, Grover Norquist Group – provides a short insight into the hypocrites in the US that build a public lobbying profile opposing government support but when the chips are down accept it.
The ATR, of course, opposed support for the unemployed during the pandemic.
so, overall, a nice bunch to be supporting this Bill against MMT, which is the way they are constructing it.
Which goes to show how ill-informed the politicians and their supporters are.
First, the wording of the final resolution:
That the House of Representatives-
(1) realizes that large deficits are unsustainable, irresponsible, and dangerous; and (2) recognizes-

(A) that the acceptance of Modern Monetary Theory would lead to higher deficits and higher inflation; and

(B) the duty of the House of Representatives to abandon Modern Monetary Theory in favor of mainstream fiscal and monetary frameworks.
It is no wonder that the likes of Summers, Mankiw, Krugman and a range of "noted economists" are giving support to the Bill, tacit or otherwise, because what MMT has actually exposed is the fictional nature of the "mainstream fiscal and monetary frameworks", which that lot have invested their reputations in.
Second, an unqualified statement like "large deficits are unsustainable, irresponsible, and dangerous" are just the exemplar of ignorance.
The only way we can understand and appraise a fiscal position is to place it in context.
That context is the spending and saving decisions of the non-government sector, which, ultimately determine what the fiscal outcome will be anyway.
In some situations, a large deficit will not be responsible. In other situations, a large deficit might not be large enough.
Making categorical, context-free statements such as in the Bill shows that the proponents (and their supporters) haven't understood very much about basic macroeconomics.
For a nation such as the US, with a massive household debt problem, a huge student debt problem, an external deficit, and a pretty poor investment ratio (business investment to GDP), there has to be a relatively significant fiscal deficit on a continuous basis to ensure there is enough spending to maintain low unemployment.
Constraining federal spending relative to the tax base in the way the proponents would have us believe they prefer will result in stagnation and elevated unemployment levels.
Third, an understanding of MMT would not necessarily "lead to higher deficits".
There is nothing in the body of work that we have developed that says anything about the desirability or necessity of higher deficits.
For a country such as Norway, the opposite is the case.
It all depends on context. context. context.
Sometimes a large deficit will be required. Sometimes a surplus will be required. Sometimes something in between.
Fourth, an understanding of MMT does not "lead to … higher inflation".
What causality is being invoked here? Clearly, the old Quantity Theory of Money, which was discredited in the 1930s by Keynes and others.
There is no necessary or robust relationship ever been demonstrated between the fiscal position of government and the rate of inflation.
A fiscal surplus could be associated with an inflationary state, under certain circumstances.
It all depends on context. context. context.
Having a sound knowledge of the way the modern fiat currency doesn't lead to any predisposition other than being erudite.
That is something the proponents of this Bill are not!
Fifth, the Bill calls on the politicians to "abandon Modern Monetary Theory".
How exactly does one abandon MMT?
It is as if the proponents of this Bill think MMT is some sort of regime that you can choose over others or jettison (abandon) over others.
As I have explained often, and students who have completed my MMT edX MOOC will know full well, MMT is not some sort of regime or a set of policies.
A government does not suddenly 'apply', 'switch to' or 'introduce' MMT.
Rather, MMT is a lens which provides a better understanding of the fiat monetary system and the capacity of the currency-issuer. By linking institutional reality with behavioural theories, it provides a more coherent framework for assessing the consequences of government policy choices.
MMT allows us to appreciate that most choices that are couched in terms of 'budgets' and 'financial constraints' are, in fact, just political choices.
Given there are no intrinsic financial constraints on a currency-issuing government, we understand that mass unemployment is a political choice. Imagine if citizens understood that.
An MMT understanding lifts the ideological veil imposed by mainstream economics that relies on the false analogy between an income-constrained household and the currency-issuing government.
Households always have to finance their spending choices, through earned income, savings, asset sales or through borrowing. A currency-issuing government spends by instructing its central bank to type numbers electronically into relevant bank accounts.
All the elaborate accounting structures and institutional processes that are put in place to make it look as though tax revenue and/or debt sales fund spending are voluntary smokescreens, which serve the purpose of imposing political discipline on government spending.
Insiders know this, but actively decline to share that knowledge with the public.
Renowned British journalist Martin Wolf (2020), commenting on MMT, recently wrote in the Financial Times:
In my view, it is right and wrong. It is right, because there is no simple budget constraint. It is wrong, because it will prove impossible to manage an economy sensibly once politicians believe there is no budget constraint.
And don't forget that famous US economist Paul Samuelson said something similar during an interview with Mark Blaug in 1988:
I think there is an element of truth in the view that the superstition that the budget must be balanced at all times … Once it is debunked takes away one of the bulwarks that every society must have against expenditure out of control. There must be discipline in the allocation of resources or you will have … anarchistic chaos and inefficiency. And one of the functions of old fashioned religion was to scare people by sometimes what might be regarded as myths into behaving in a way that long-run civilised life requires.
These are profound statements of how a 'fictional' world is promoted by mainstream economists to serve as a brake on political volition except when the interests they serve have their hands firmly out for public assistance or public procurement contracts.
While MMT exposes these fictions many economists still think it is better to keep the public in a state of ignorance.
An MMT understanding must be combined with a set of values to define a set of policies. Two people from the extremes of the ideological spectrum can share an MMT understanding but articulate radically different policy mixes.
Thus, it makes no sense to talk about a suite of MMT policies.
Obsession
In terms of the strictly economic words used in the Bill, the following graph shows the word frequency.
No mention of unemployment, underemployment, poverty, inequality etc.
Completely obsessed with Inflation (12.8 per cent of total) and Public Debt (10.1 per cent of total).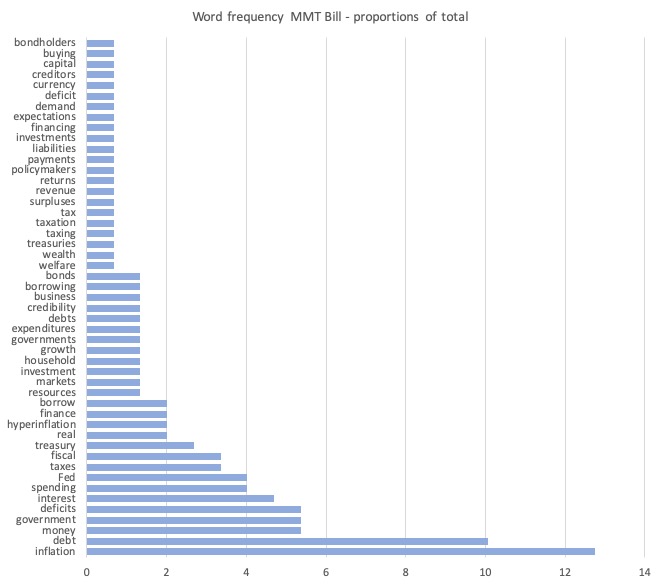 The mainstream academy has been co-opted to defend their tattered reputation
The media release (cited above) notes that:
More than 40 leading economists were asked whether they agreed with the underlying tenets of MMT by the University of Chicago's Booth School of Business. 100 percent of respondents disagreed or strongly disagreed with the economic principle.
And 100 per cent were not answering questions that had anything to do with the body of work we refer to as MMT and so was a dishonest exercise.
I discussed the University of Chicago's Booth School of Business survey in this blog post – Fake surveys and Groupthink in the economics profession (March 19, 2019).
This was a rather shameless and transparent demonstration of the Groupthink that is rife in mainstream academic departments and has crippled that paradigm from being able to evolve to fit the facts.
Many of the so-called "Economic Experts Panel" assembled by Chicago for this survey are cited in the proposed Bill.
I think the significance of the survey in relation to this political stunt in the US Congress is that it implicates the members of the academy have become co-opted to the process.
Politicians regularly are loose with the truth and peddle fake knowledge as part of their 'craft' and the fact that the University of Chicago allowed its name to be associated with this disgraceful survey indicates that institution has become part of the political process rather than being committed to advancing knowledge.
And I won't even respond to the 'deficits don't matter' construction
Other than to say that for MMT economists, deficits really matter, because they link the government sector to the non-government sector in important ways and the fiscal position determines whether the nation sustains full employment or not.
So instead of saying 'deficits matter' we say the 'fiscal position matters' because in some circumstances a fiscal surplus might be the appropriate requirement to achieve full employment and price stability.
But to say that we think "deficits don't matter" is just being dishonest.
And all those mainstream economists who are being used by the Bill as authorities to attack MMT are obviously part of that dishonesty. Otherwise, they would have spoken out by now.
Conclusion
So my question to Paul Krugman, Larry Summers and co, are you happy that you are being used by this disgraceful effort advanced by hypocrites who have no intention of advancing knowledge?
Of the so-called progressives mentioned as authorities in the Bill – are you all happy to be associated with right-wing lunatics also mentioned (eh Doug)?
I wouldn't be happy being used like this and would set the public record straight immediately.
This is not some stray social media effort which one can readily ignore as I do every day (stupid Tweets etc).
This is the US Congress involved.
I also wonder whether the right-wing lunatics are happy being in the same bed with the radical left.
Anyway, it means MMT is in the public debate, which is good.
That is progress.
But if this is what the US legislature now considers to be relevant business – in the middle of a shocking pandemic with massive welfare fallout – then it just signals a failed state.
That is enough for today!
(c) Copyright 2021 William Mitchell. All Rights Reserved.