Fake surveys and Groupthink in the economics profession
In recent weeks, it has become apparent that Modern Monetary Theory (MMT) has evolved into a new 'status'. Our work is everywhere now and has penetrated the political process (particularly in the US). At the same time, the mainstream macroeconomists continue to make fools of themselves by backtracking on some of their predictions that were made early in the GFC (about inflation, solvency, interest rates, bond yields, etc) and attacking MMT economists who actually provided correct analysis of what would happen in terms of these aggregates. The new 'status' means that MMT is now a visible challenger and the old guard hate that. All manner of critiques are emerging and the heartland of the mainstream approach at the University of Chicago recently trumped up a survey as evidence that MMT is crazy stupid. Some of the more odious mainstreamers then chose to disseminate the survey results as a sort of glorious statement of victory over MMT. The only problem was that the survey had nothing to do with the body of work we refer to as MMT and so was a dishonest exercise. The other problem was that the survey respondents were too insular (I didn't say stupid) to realise they were being duped by Chicago Booth. None commented that the two questions that were under the heading 'Modern Monetary Theory' bore no resemblance to any core MMT statements or learnings. All this told me was that Groupthink is crippling the economics profession.

Groupthink
I have written about this topic previously.
I construct my thesis in my 2015 book – Eurozone Dystopia: Groupthink and Denial on a Grand Scale – on this concept.
Irving Janis – introduced his theory of Groupthink – in his 1972 book – Victims of groupthink; a psychological study of foreign-policy decisions and fiascoes.
He identified communities of scholars working within a dominant culture, which provides its members which a sense of belonging and joint purpose but also renders them oblivious and hostile to new and superior ways of thinking.
The group dynamics becomes a sort of 'mob-rule' that maintains discipline within paradigms. Conformity is required if one wishes to remain within the group and benefit from it personally.
It has also been defined as "a pattern of thought characterized by self-deception, forced manufacture of consent, and conformity to group values and ethics" (Merriam-Webster on-line dictionary).
Janis listed 8 characteristics or traits that defined the pattern of group behaviour he called Groupthink:
1. Denial of vulnerability – group members may not be willing to acknowledge their own fallibility or vulnerability.

2. Rationalization of decisions to minimize objections.

3. Belief in the absolute goodness of the group.

4. Intense dislike of outsiders – stereotyped and misleading portrayals of outside members and those who have left the group.

5. Group protectors – the spontaneous emergence of individual members who protect the group from conflicting information and perceived threats.

6. Strong peer pressure on all group members, particularly those who question group decisions.

7. Censorship of any disagreements within the group.

8. Belief that the group is unanimous and cohesive, even when some members object to the behavior of the group.
If you understand the way most graduate programs in economics operate or have worked in the academy for long enough, then you should easily be able to identify these 8 characteristics.
Individuals might have wondered about certain things when what was being taught was contrary to evidence that was freely available.
But most soon learn that to remain part of the group (and not be seen as an outsider) the doubts have to be suppressed. Over time, the aspiration to be successful within the group overwhelm any individual doubts.
The hardliners in the group run the morality play – good versus evil, freedom against oppression, capitalism against socialism.
It becomes simple – ideology is for socialists, mainstream economics just deals with objective realities.
And the rest of it.
I was an outsider and felt all the pressures but resisted them. It helped to hang out with historians, philosphers, musicians and the like.
The economics profession is rife with Groupthink.
And you don't have to take my word for it.
In 2011, the IMF's Independent Evaluation Office (IEO) released its audit – IMF Performance in the Run-Up to the Financial and Economic Crisis: IMF Surveillance in 2004-07 – which present a scathing assessment of the institution's performance in the lead up to the GFC.
The IEO identified neo-liberal ideological biases at the IMF and determined that the IMF failed to give adequate warning of the impending GFC because it was "hindered by a high degree of groupthink" (p.17), which, among other things suppressed "contrarian views" where an "insular culture also played a big role' (p.17).
The report said:
Analytical weaknesses were at the core of some of the IMF's most evident shortcomings in surveillance … [as a result of] … the tendency among homogeneous, cohesive groups to consider issues only within a certain paradigm and not challenge its basic premises.
The prevailing view among IMF staff – a cohesive group of macroeconomists – was that market discipline and self-regulation would be sufficient to stave off serious problems in financial institutions.
They also believed that crises were unlikely to happen in advanced economies, where 'sophisticated' financial markets could thrive safely with minimal regulation of a large and growing portion of the financial system.
The External Evaluation Report says that "IMF economists tended to hold in highest regard" (p.18) economic models of the world proven to be inadequate (so-called Dynamic Stochastic General Equilibrium models).
Willem Buiter wrote in the Financial Times (March 9, 2009) that these economic models were useless "self-referential, inward-looking distractions at best", which "excludes everything relevant to the pursuit of financial stability".
In his New York Times article (November 2, 2008) – Challenging the Crowd in Whispers, Not Shouts – economist Robert Schiller says Groupthink tells us why "panels of experts could make colossal mistakes", implicates the US Federal Reserve (and central banks in general) in this self-censoring behaviour where "mavericks" are put under intense pressure if they question the "group consensus".
In his 2009 article (May 13, 2009) – Priceless: How the Federal Reserve Bought the Economics Profession – Ryan Grim concluded after a detailed investigation that:
The Federal Reserve, through its extensive network of consultants, visiting scholars, alumni and staff economists, so thoroughly dominates the field of economics that real criticism of the central bank has become a career liability for members of the profession.
Not only does the US Federal Reserve fund a huge amount of non-staff economic consultancies but also "keeps many of the influential editors of prominent academic journals on its payroll".
By controlling what gets published in the key journals, the bank also influences the career trajectory of economists, and thus suppresses independent research that might be critical of the way the central bank operates.
The US Federal Reserve has an "intolerance for dissent", something that well-known economist Alan Blinder found out quickly, when he joined the the bank as a vice chairman.
He lasted around 18 months after "a lot of senior staff … were pissed off … [because he was] … not playing by the customs that they were accustomed to".
His sin?
He asked too many questions and challenged to many assumptions.
Even a moderate critic of the bank, Paul Krugman – reported – that he was "blackballed from the Fed summer conference at Jackson Hole … ever since I criticized" Governor Alan Greenspan.
How Groupthink works – in practice
In my 2015 book – Eurozone Dystopia: Groupthink and Denial on a Grand Scale – I introduced the struggle that American biologist Joseph Altman had in gaining acceptance for his discovery of adult neurogenesis in the 1960s.
In his October 2000 article in – Neurogenesis in the adult brain: death of a dogma – published in Nature Reviews Neuroscience, Charles Gross wrote that:
Until very recently, a central dogma of neuroscience has been that new neurons are not added to the adult mammalian brain. For more than 100 years it has been assumed that neurogenesis, or the production of new neurons, occurs only during development and stops before puberty
He noted that "In the first half of the twentieth century, there were occasional reports of postnatal neurogenesis in mammals" which these insights "tended to be ignored by textbooks and were rarely cited".
Why?:
Presumably this was because of the weight of authority opposed to the idea and the inadequacy of the available methods both for detecting cell division and for distinguishing glia from small neurons.
However:
Starting in the early 1960s, Joseph Altman began publishing a series of papers … in which he reported … evidence for new neurons in various structures in the young and adult rat … Although published in the most prestigious journals of the time … these findings were ignored or dismissed as unimportant for over two decades …

The neglect of Altman's demonstration of adult neurogenesis is a classic case of a discovery made 'before its time'.
What explains the neglect of Altman's work?
Charles Gross lists a number of reasons, some technical in nature, but said:
… an important reason for the neglect of Altman's work may have been that he was a self-taught postdoctoral fellow working on his own in a Psychology Department (at Massachusetts Institute of Technology (MIT)) and that his work was attempting to overturn a central and, by then, universally held tenet of neuroscience. Altman was not granted tenure at MIT and moved to Purdue University where he eventually turned to more conventional developmental questions … possibly because of the lack of recognition of his work on adult neurogenesis. As late as 1970, an authoritative textbook of developmental neuroscience … stated that "… there is no convincing evidence of neuron production in the brains of adult mammals.
[Reference: Gross, C. (2000) 'Neurogenesis in the adult brain: death of a dogma', Nature Reviews Neuroscience, 1, 67-73.]
He cites the work of another biologist in the field, Michael Kaplan (and co-authors) who in "a series of electron microscopy studies some "Fifteen years after Altman's first report" gave "direct support for his claim of adult neurogenesis".
Again, "In spite of his evidence for adult neurogenesis, Kaplan's work had little effect at the time … [publications] … by an unknown figure was not sufficient to make any marked dent in the dogma."
This is Groupthink.
If you are interested in this topic then I can recommend that you read I. Bernard Cohen's 1985 711-page book – Revolution in Science (Harvard University Press).
He documents many examples in evolution of science where a dominant orthodoxy resists the discovery of new evidence or new ways of thinking that challenge the careers and positions of the dominant scientists in the field.
The problem for an orthodoxy that is degenerating (as in Imre Lakatos' conceptualisation) – that is, losing empirical content (or being able to provide adequate explanations for real world phenomena) is that eventually the facts outpace the attempt to subvert or deny them.
In the case of neurogenesis, in the period after Altman published his findings in the early 1960s, many researchers stumbled on similar insights.
There were new techniques introduced (ways of doing research and articulating concepts) and links made to other disciplines (such as psychology), which brought things to a head.
By the 1990s, the denial of the orthodoxy was becoming unsustainable in the lift of the mounting evidence to the contrary.
Prominent in the research at this stage was Elizabeth Gould and her team and Charles Gross wrote that:
So more than 100 years after the formulation of the neuron doctrine, it was finally clear that its corollary 'new neurons are not added to the adult mammalian brain' is false: even for adults, even for primates and, apparently, even for the cerebral cortex.
As he puts it "The dogma crumbles".
His assessment at that point was that:
The tenacious persistence of this dogma in the face of empirical contradiction and its relatively recent demise illustrates, among other things, the strength of tradition and the difficulty that unknown and junior scientists have in challenging such traditions. It also suggests the necessity for new ideas to arise in a supportive matrix if they are to survive, and under scores the importance of new techniques. The general acceptance of adult neurogenesis today … is suggestive of a paradigm shift.
Later, in his 2008 article – Three before their time: neuroscientists whose ideas were ignored by their contemporaries – Charles Gross reflected on the "neuroscientists whose ideas were ignored by their contemporaries but were accepted as major insights decades or even centuries later".
[Reference: Gross, C.C. (2008) 'Three before their time: neuroscientists whose ideas were ignored by their contemporaries', Experimental Brain Research, 192(3), January, 321-34.]
In the case of Joseph Altman, Charles Gross wrote that:
1. "Altman was not granted tenure at MIT and moved to Purdue University where he eventually turned to more conventional developmental questions".
2. "Unable to get grants he supported his work by producing magnificent brain atlases".
3. "As late as 1970, an authoritative textbook of developmental neuroscience" denied Altman's research findings (although did not refer to them, just maintaining the orthodoxy.
4. In response to Kaplan's supportive findings, the orthodoxy claimed, among other things, that "adult neurogenesis in rats" is impossible
because "rats never stop growing and so never become adults".
5. The later "the evidence for avian neurogenesis was viewed as an exotic specialization related to the necessity for Xying creatures to have light cerebrums and to their seasonal cycles of singing" – think about the way mainstream economists treat their failure to understand Japan.
6. "Altman, although in a leading university (MIT), was at the time of his early adult neurogenesis papers a self-taught post-doc- toral fellow in a psychology department and had not been trained in a distinguished, or indeed, any developmental laboratory or one using autoradiographic techniques."
7. "the dogma of "no new neurons" was universally held and vigorously defended by the most powerful and leading primate developmental anatomist of his time."
[Reference: Gross, C.C. (2008) 'Three before their time: neuroscientists whose ideas were ignored by their contemporaries', Experimental Brain Research, 192(3), January, 321-34.]
So we conduct a survey in say 1970
Now, imagine that some survey firm conducted a survey of neurogenesis scientists in the 1960s or 1970s and asked them something like: Do you think that adults are capable of developing new neurons?
We would get a graph like this one (probably).
The extant profession would have been firmly behind the "leading primate developmental anatomist" at the time – via the implicit pressures operating in the laboratories doing this type of work.
The strength of the opinion would have been heavily weighted in favour of the orthodoxy.
Dissent would have been seen as a sign that one wasn't serious about pursuing a career in this field and junior scientists seeking tenure would be under pressure to conform, even if they had read the work of Altman and later Kaplan and others.
History tells us that the science underpinning these opinions was plain wrong!
Now imagine that the survey firm then rejigged the survey question to distort the message that Altman's research was disclosing yet still attributed this rejigged question to be representative of Altman's research.
The results would have been two-fold:
1. The dominant orthodoxy would have still voted in the same way.
2. They would have concluded that Altman was crazy, was offering up 'garbage' and was even 'dangerous' for giving brain injured patients hope.
Fast track to 2019.
Then trump up a survey and all the lemmings jump over the cliff
The mainstream macroeconomcis group protectors have been out in force in recent weeks denying, rationalising, expressing disdain for Modern Monetary Theory (MMT) academics, and seeking to express a sense of unanimity across their discipline.
So they came up with a survey.
The University of Chicago Booth School of Business is part of the University of Chicago.
They are the bastion of mainstream economics – both macro and micro.
They run a so-called "Economic Experts Panel" which "explores the extent to which economists agree or disagree on major public policy issues".
The Panel is comprised of the senior 'priests' in the profession.
And so, on March 13, 2019, they ran a survey with the title Modern Monetary Theory – leaving no doubt in the respondents' minds what the topic was about.
The survey came to my attention via Twitter from an American economist (Justin Wolfers). His Tweet was particularly odious (see graphic below).
He likes to think of himself as a bit of a social media antagonist and has been part of the 'junior' MMT attack brigade in recent weeks.
So up pops his Tweet (March 13, 2019) crowing that we should just "take a look at the evidence".
And that "the only real debate is between those who disagree with its policy prescriptions and those who strongly disagree".
He linked to the Chicago Booth Survey results.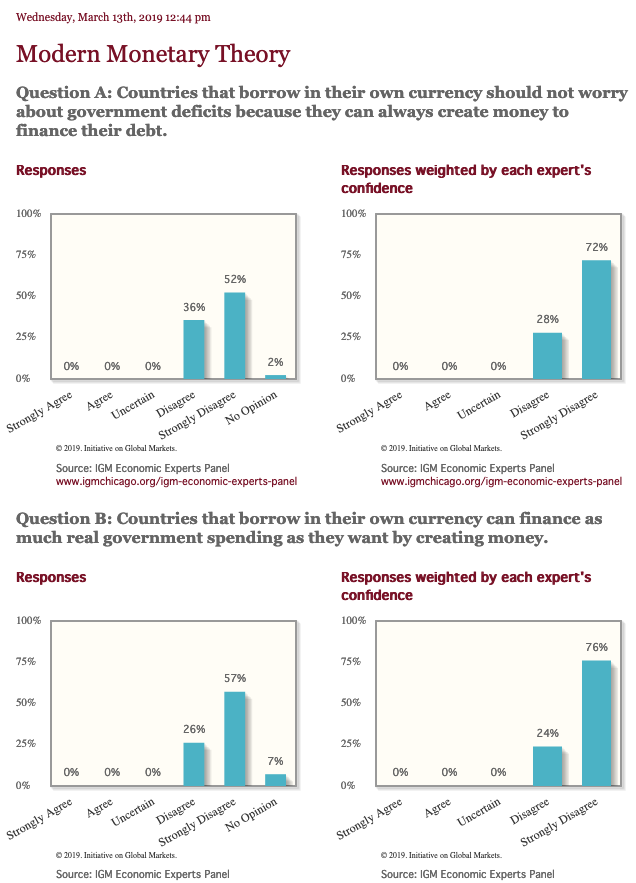 Now before we look at the results, it should be noted that by his own admission, Wolfers hasn't taught macroeconomics since 1994 and then it was an introductory course. His main teaching at present appears to be introductory and graduate microeconomics.
He has hardly any publications that one would classify as being about macroeconomics and the most recent appears to be 2005 with a couple earlier than that.
In other words, it is hard to consider him a macroeconomist or a monetary economist at all. Neither his research or teaching reflects any particular expertise in macroeconomics.
Wolfers intervention exemplified Janis's Groupthink indicators.
He later popped up in an Australian media 'hit job' that appeared in the Australian Financial Review article (March 15, 2019) – The magic money tree fix for America's fiscal malaise.
The article quotes his Tweet (as above) and gets some grabs from him.
Apparently, Wolfers is "mostly irritated by the debate and the way adherents continually move the goalposts of their arguments". The debate being about MMT.
He told the AFR:
You can probably tell that I'm not a fan … I've put in some time trying to figure out what these guys are on about, but at a certain point, if it isn't clear, I stop blaming myself.

I figure that I'm a PhD economist with a fair bit of experience, and so if I'm not following along, perhaps it really isn't my fault.

And many of my friends have said something similar – that they find it hard to discern just what the heck the MMT folks are saying.
Groupthink.
I doubt that Wolfers has read any of the core academic MMT literature. It is very clear what we are saying.
There are no goalposts being moved at all.
Wolfers got the 'goalposts' bit from Paul Krugman, who tweeted in support of Wolfers claiming that MMTers are always moving the goalposts.
In fact, I would have thought we have been boringly consistent over the last 25 years.
Wolfers also said the people who run the IGM poll were "very smart people" – appealing to authority. They are smart so they must be listened to and they are correct.
The problem is that smart people also fall prey to Groupthink and can exude a basic dishonesty as they toy with remaining members of the group.
Now go back to the 'Survey'.
In addition to the two questions asked, Chicago Booth also provided this – Supplemental Information on Modern Monetary Theory – which, in fact, said nothing at all about MMT.
They distil MMT down to the proposition that:
… a country that is able to borrow in its own currency need not worry about government deficits and debt
25 years of our work is dismissed and crudely replaced with that piece of nonsense.
Next, look at the questions that were put under the heading Modern Monetary Theory.
Question A: Countries that borrow in their own currency should not worry about government deficits because they can always create money to finance their debt.
I would answer "strongly disagree" to that as well.
Which provides zero information about the validity of MMT.
Question B: Countries that borrow in their own currency can finance as much real government spending as they want by creating money.
Likewise.
At the heart of MMT is the observation that governments face real resource constraints. No amount of nominal spending will reduce that sort of constraint.
It is clear that Chicago Booth has done no research in this regard and the fact that Wolfers chose to spread the dishonesty reflects badly on his ethics as well.
In terms of Question A, deficits always matter and a government has to scale its deficit to the appropriate context.
I have written many articles, sections in books, and blog posts about this point.
A good summary is to be found in this blog post – The full employment fiscal deficit condition (April 13, 2011).
No-one who had read that would pose Question A as being a fair representation of MMT.
Nor would they say the 'goal posts' are always shifting.
The appropriate MMT fiscal rule is clear – to sustain full employment the fiscal balance condition for stable national income is that the fiscal balance has to be equal to the saving leakages plus the import leakages (drains) that would occur at full employment income levels less the spending injections from investment and exports that would be apparent at that level of GDP.
If the fiscal deficit is not sufficient, then national income will fall and full employment will be lost.
If the government tries to expand the fiscal deficit beyond the full employment limit, then nominal spending will outstrip the capacity of the economy to respond by increasing real output and while income will rise it will be all due to price effects (that is, inflation would occur).
As I noted in that blog post – MMT specifies a strict discipline on fiscal policy. It is not a free-for-all. If the goal is full employment and price stability then the Full-employment fiscal deficit condition has to be met.
So Chicago Booth's Question A is simply a dishonest representation of MMT.
It is clear that the core MMT group thinks that deficits matter.
The final point I will make today relates to the claim by Wolfers that he doesn't understand what we say.
I could make the obvious conclusion despite him touting on his Wikipedia page how he is "one of the brightest young economists who are expected to shape the world's thinking about the global economy in the future".
As David Andolfatto, who is hardly an MMTer, wrote in a very reasoned piece (March 14, 2019) – The Chicago Booth survey on MMT:
But it seems to me that some of my colleagues can only understand an argument if it's posed in their trade language. This is a rather sad state of affairs, if true.
As my work on framing and language has exposed, if a new paradigm uses the frames and language of the old paradigm, we just privilege the old paradigm and its lies.
Conclusion
Groupthink is a very powerful (negative) force in the academy.
This Survey and the way it was promoted by the mainstream economists exemplifies the dynamics of this sort of patterned behaviour.
Think back to the neurogenesis example.
Fake knowledge held on for nearly 30 years after it was exposed and influenced clinical practice (to the detriment of people) because of the Groupthink and the dominance of the key academics in the area.
The same problem cripples economic policy making.
The characters all feel cosy within the group, answering and disseminating fake surveys, and pretending there is no dissonance between what they practice and the real world.
But just like the unfolding undermining of the dominance position in neuro science, the real world is continually delivering negative verdicts about the mainstream macroeconomics.
It is only a matter of time.
That is enough for today!
(c) Copyright 2019 William Mitchell. All Rights Reserved.