Podcast – What is modern monetary theory and could it fix Australia's problems?
It is Wednesday and just some odds and ends today, including a fabulous tapestry that has just been framed for me. In addition, there is a podcast and some great music. A typical Wednesday that is. And tomorrow, I am catching a plane for the first time in nearly 6 months as the internal borders open up within Australia, which means I can return to my Melbourne residence/office. I am worried about what state the fridge will be in after being idle for so long. And, on Friday, December 18, my Melbourne band will be performing live for the first time since March 2020 via a live stream of the show to YouTube. Details will follow. As the restrictions ease and zero cases continue, life is looking more … well … open!
<--more-->
Guardian Podcast – What is modern monetary theory and could it fix Australia's problems?
Some weeks ago I recorded a relatively long interview with the team at the Guardian podcast the Full Story.
The final editing melange came out last week (November 18, 2020).
The Guardian's page is – HERE.
It runs for 30:42 minutes.
My only comment is that Martin's description of Modern Monetary Theory (MMT) being effectively just "money printing" is inaccurate.
It implies that government spending occurs in all different ways depending on whether the the fiscal balance is in deficit or not and whether the central bank buys debt issued by the government or not.
The fact is that every day that government spends it creates new currency by crediting relevant bank accounts (or issuing instruments (cheques) that end up as bank credits). There is no printing involved.
I guess Martin was trying to say that MMT economists are relaxed about government spending without the accounting matching of new debt being issued to the non-government sector, which is certainly true.
Anyway, many thanks to Gabrielle Jackson and Martin Farrer and their production team for inviting me to do this and put the final version together.
A relic framed
My best friend framed this tapestry for me as a gift.
I have had this tapestry since my teenage years (so it is very old). It was sold by the China Bookshop, which used to be in the now defunct Metropole Arcade off Bourke Street in Melbourne.
I used to haunt this shop as a teenager because it was one of the few places you could buy books from – Progress Publishers (Moscow) – Lawrence and Wishart (London) – and Foreign Languages Press (Beijing) – all sources of literature on Marx, Engels, Lenin etc.
The books were very cheap and I still have many of the volumes I bought in those young years.
They also sold posters and things like this tapestry, which I have kept since that time.
It is a bit worse for wear, given its age, but it now looks a treat in its new wooden glassed frame.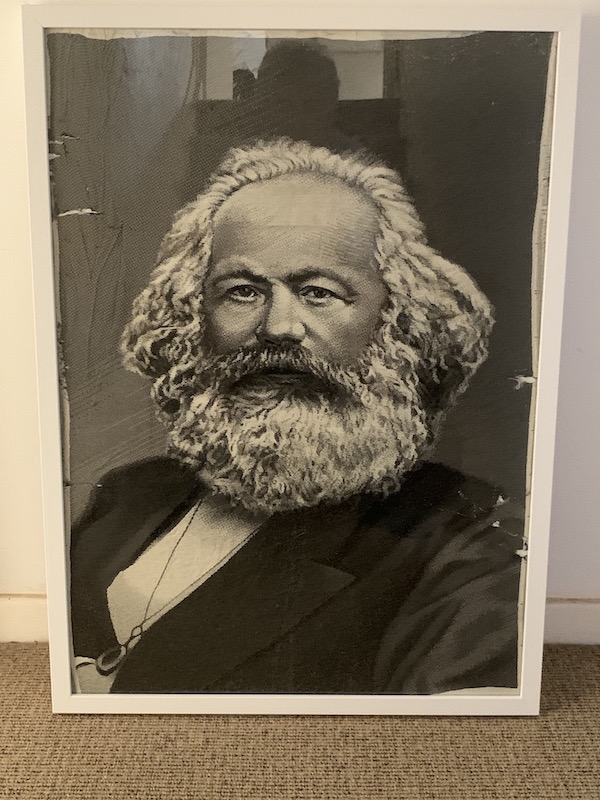 Music – The Necks
This is what I have been listening to while working this morning.
It is from the second album released by the Australian improvisation trio – The Necks – in 1990, called – Next.
This track is my favourite – The World at War – all 16:35 minutes of it.
I often play it while travelling and it brings a great sense of being to it.
I have seen the band live and they never disappoint. They just start with some motif and then improvise on that theme as they build the intensity and harmony of the piece.
The last time I saw them they only played 2 songs over a few hours but it was never dull.
Their drummer – Tony Buck – is one of the best.
This New York Times Magazine article (October 4, 2017) – My Obsession With the Necks, the Greatest Trio on Earth – is worth reading if you want to learn about this great band.
That is enough for today!
(c) Copyright 2020 William Mitchell. All Rights Reserved.