LP gone but plays on all over the place
Les Paul died yesterday at the age of 94. He was one of the biggest innovators in modern music having invented one of the two great guitar designs in the 1950s that have not been bettered since. So many people still want to play the LP custom that the invention will live on into the future.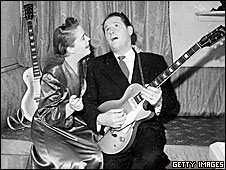 In 1941 he made the first solid-body electric guitars. He didn't like the fact that guitarists were second-class citizens in the orchestras of the day because they couldn't be heard. He started out with an old railway sleeper to get the sound louder.
In the early 1950s he collaborated with Gibson to make the prototype Les Paul guitar which revolutionised rock and rock. It didn't really catch on until the mid-1960s though when the English blues players (Eric Clapton, Peter Green) started using it. Jimmy Page used it as a consequence and then lots of players in the 1970s and beyond. In the late 1960s you can see the LP custom in the hands of Mike Bloomfield on the cover of Super Session (with Al Kooper). More recent heavy rock players (like Slash) have made the LP custom their guitar of choice.
Les Paul teamed up with his wife Mary Ford (they both changed their names for showbiz!) and had a mawkishly sentimental reality TV series where they would pretend to be a middle-class couple at home and then strike up the latest jazz ballad with Les streaming off beautiful solos. If you get a chance to see any of them they are a scream.
One of my favourite quotes from him is:
The electric guitar was laughed at. They called me the character with the broomstick with pickups on it. It was terrible. Before we came along the guitar was an apologetic wimp – the weakest, most unimportant guy in the band. As soon as we put a pickup on him, and a volume control, he became the king.

The best electric guitarist of all time – Peter Green (see picture left) used a 1959 LP custom sunburst to great effect. He accidently modified it by flipping his top pickup magnets after cleaning it once (so legend goes). The sound he got – that honky treble out-of-phase squawk when the top and bottom pickups were used together defined the late 1960s blues sound (when Fleeetwood Mac was really Fleetwood Mac). Danny Kirwan (the other great Fleetwood Mac player) used one of the earlier (mid-1950s) gold top LP custom guitars.
This is what Peter Green sounded like in the late 1960s – playing Oh Well.
When Peter Green went AWOL with mental illness in the early 1970s he sold his LP guitar to Irish player Gary Moore for virtually nothing. It has recently been resold by Moore for a very large sum. This is what is sounded like in 2007 after Moore had sold it.
Anyway, while I have been a Fender player (Stratocaster) all my career as a musician (and still am) I also occasionally play Gibson guitars. My pick is my old ES-335 but I have a reissue 1959 burst Les Paul and sometimes play it. I also modified it to get that great out of phase sound and it is one of those sounds that endures. I don't use it much any more – the LP custom are heavy and you need a strong back. They are also not very comfortable when you are playing charts seated – they slip a lot. But they are loud and compared to my single phase stratocasters (my first preference) you only need the volume on low to cut through (and annoy drummers!).
So the two big inventions in modern music in terms of guitars – Strats and LP customs. Both great guitars. And now the inventor of one of them is gone.
For an Obituary.