Do not privatise the Australian Broadcasting Commission
It is Wednesday and my blog-light day. I am travelling a lot today and so have little time anyway for blog activities. Today, though, I reflect on the current demand by the conservatives in Australia to privatise our national broadcaster. This is a brazen attempt by mindless people, who are scared of knowing about the world beyond their own prejudices and sense of entitlement, to shut down a broadcaster they perceive to be an ideological threat. The amusing aspect is that this lot are too stupid to realise that the ABC is not left-leaning anyway. It increasingly runs news and economic commentary that is neoliberal to the core! But it remains that a public broadcaster has an essential role to play in a media landscape where profit rules content. The ABC has a long tradition of providing quality programs and analysis and while it has gone off the rails in recent years with its economic analysis (bowing to the neoliberal norm) it still provides excellent material to the public without advertisements that the commercial broadcasters have (and would never) provide. I also have some nice music offerings today.

Privatising our public broadcaster
While the Liberal Party (Australia's conservative party) is not brawling in public places and having police called out to cafes to stop them fighting and injuring others (Source), they are plotting to get private hands on our national public broadcaster.
Last weekend, at their Federal Council meeting a motion was passed to privatise the Australian Broadcasting Commission (ABC).
The ABC History began in 1932 when a single radio service was created under an Act of Federal Parliament "to ensure that audiences had reasonable access to a range and high standard of radio services".
It provides content free of advertisements and is funded by the Federal government, which periodically holds it to ransom, usually when the conservatives are in power.
This Parliamentary Library analysis (August 11, 2014) – The ABC: an overview – is an excellent information source.
In terms of funding it is one of the lowest funded public broadcasters in the world. This table (taken from the previous linked article) shows the reality: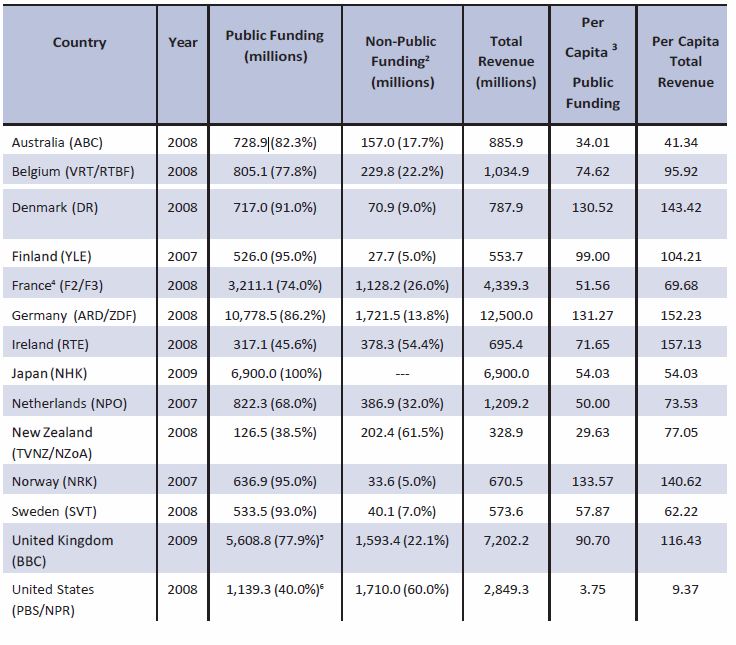 It has been a leader in sports coverage, drama, documentary, current affairs, childrens programs and more. I listen or watch it every day.
The ABC Charter:
… directs that ABC services must reflect what is seen as the traditional role for a public broadcaster-to deliver policy objectives through the broadcast of programs that inform, educate and entertain. It must also address market failure, in areas such as the delivery of local content. Further, its programming must contribute to national Australian identity and reflect cultural diversity.
So while the commercial broadcasters are free to show anything they like basically the ABC must reflect distinctive Australian cultural viewpoints in all their diversity.
In 1985-86 financial year, the ABC received in real terms $A1,074.5 million (2012-13 prices). By 2012-13, that allocation had fallen in real terms to $A830.7 million. In the time that has elapsed since then further cuts have been made in real terms.
The ABC has also been under major pressure from the conservative government in recent times because the Right think that it is left-leaning.
If you listen to its economic commentary you would conclude exactly the opposite.
But the conservative elites hate it and it has been subjected to major funding cuts in recent decades.
In recent years, it has provided excellent on-demand streaming services, which the pay-TV provider (Murdoch own Foxtel) hates. The private streaming providers continually carp on about it having an unfair advantage due to its public funding.
But the failure of the commercial business model of broadcasting has little to do with the presence of the ABC.
As this commentary argues (Source):
What has changed for all media is the arrival of the FAANGs – or Facebook, Amazon, Apple, Netflix and Google – with their mega-billion-dollar production budgets and global scale-economies that have upended business models the world ove
Further, Australia citizens, in general, overwhelmingly support the public broadcaster, which operates on around half the funding that it received 30 years ago.
Polling shows that:
1. "just under 75% of Australians using ABC TV, radio and online each week" (Source).
2. " it's not just widely used, but widely trusted with 78% of Australians saying the ABC does a good job of being balanced and even handed".
3. "it's also widely popular, with 85% of Australians saying the ABC performs a valuable role."
Further:
1. "No reputable independent study has found bias to be a problem in the ABC." (Source)
2. "The Australian National Audit Office review found ABC procedures and practices to be effective in delivering news and current affairs which is independent, accurate and impartial."
3. "if public service broadcasters have a strong audience share, they set standards for commercial broadcasters."
So with the background, the battle to privatise the ABC opened up at the weekend. The Young Liberals, which is a group of nitwits whose distinguishing characteristics that they grew up with plenty of entitlement but not the brainpower to match, is leading the charge.
They are brainless, aggressive, opinionated and are continually making demands to deregulate this and privatise that.
Yesterday, the Fairfax press published an Op Ed (June 18, 2018) – The ABC is an indulgence we can no longer afford – by the President of the NSW Young Liberals.
This intervention is one of those where the writer is so stupid that by the end of the tract they have proven exactly what they started out trying to refute.
Consider the following statements:
1. "The technological advancements of the past few decades have made the barriers to producing and distributing media content lower than ever before. Online publishing services are essentially free and TV and radio production costs have plummeted, making it possible for amateurs to produce television quality content at reasonable prices."
Okay, so the commercial broadcasters should be booming because their costs are now much lower.
2. "Furthermore the ability of consumers to access this content has improved dramatically in recent years. Smart phones give any individual the capacity to access almost any media content produced anywhere in the world."
Okay, nothing to do with the charter or operation of the ABC.
3. "the ABC was designed for a bygone era, founded in the context of an underdeveloped media market, before TV, before radio matured and before the internet."
Therefore its services should be seen as archaic and not attractive to this new digital age.
4. "Today, a publicly funded national broadcaster crowds out its private competitors and is an indulgence we can no longer afford."
So if people watch the ABC instead of commercial offerings, despite its alleged archaic model of broadcasting then what does that tell you about the quality of the commercial broadcasters?
5. "The proliferation of online TV, Radio and print media has left traditional players struggling to keep up. Increased competition has sent ad revenues tumbling and threatened the traditional subscription model for newspapers."
So this is the FAANGS impact.
The ABC is not the problem here.
6. "The inclusion of the ABC in this market adds further pressure. A publicly funded provider, with no market pressure to economise and an ever-expanding remit is not the only threat to traditional media but it certainly adds to their ongoing viability issues."
The ABC is not an inclusion. It has been in the market prior to many of the current broadcasters (see history).
The ABC is continually being forced to economise. Since 2014, the organisation has had to deal with $A254 million in funding cuts from the Federal government, and has to absorb a further $A83.7 million in cuts over the three-year period starting 2019. Its total budget is around $A1 billion. So these are massive cuts.
It has been subjected to "10 separate reviews in the last 15 years" (Source).
It is hardly free to do as it likes.
7. "Privatising the ABC would not mean that it would be shut down, no more than privatising the Commonwealth Bank, QANTAS or Telstra did. It would mean an ABC that was forced to economise and focus on delivering what consumers wanted."
And in that last statement the idiot Young Liberal contradicts his whole argument.
If it is currently not "delivering what consumers wanted" (Statement 7) then how can it be a threat to the commercial broadcasters (Statement 6)?
Go figure!
Polo anyone?
Or maybe just a good old barney in a cafe in Sydney!
And to improve the day – here is what I have been listening to this morning
I have been playing the 2010 album (FatCat Records release) – Infra – this morning by post-minimalist composer/pianist Max Richter, who I have featured on this site before.
The album intersperses Outer Limits-style static audio with single piano and his usual array of melodic string orchestration (violins and cellos).
This is the track Infra 2.
A reviewer said of the track (Source):
"Infra 2" buoys up the album a bit, gently laying mournful strings down in a bed of ambient fuzz next to a high, fluttering tone that fades in and out with the insistence of a lighthouse beam.
I have also been listening to the Italian pianist Ludovico Einaudi today.
This video was recorded on June 17, 2016 for Greenpeace as part of their campaign to save the Arctic from global warming.
It is Einaudi's own composition – Elegy for the Arctic – and it was recorded on a special floating platform in the ocean adjacent to the Wahlenbergbreen glacier in Svalbard, Norway.
Very atmospheric to say the least.
If you are in Melbourne tonight and want to hear music …
Then my band – Pressure Drop – is playing at the Maori Chief Hotel, 117 Moray St, South Melbourne, from about 20:00 to late.
This is a great little inner city pub. And, what else is there to do on a Wednesday night in Melbourne anyway?
Lots of great dub, rock steady and bluesy reggae coming up tonight.
I can also discuss Modern Monetary Theory (MMT) during breaks in the sets!
That is enough for today!
(c) Copyright 2018 William Mitchell. All Rights Reserved.