Celebrate Living Wage Week
Regular readers and those who hear me in the media regularly will know I talk and write a lot about unemployment. I do so because it is a principle cause of poverty and disadvantage. It is also the tip of an iceberg of lost economic, social and personal opportunities. But we should not forget about trends in employment especially the rising incidence of the working poor. I raise this issue today because on Sunday the British celebrated the start of the – Living Wage Week – which runs from November 4-10. There are celebrations in all the major British cities and both sides of the labour market – workers and employers – are urged to embrace the notion that paying a living wage is not only ethical but also good for worker productivity and morale, and, hence good for private businesses.

The Living Wage push is in contradistinction to the way the Europeans are behaving at present. The on-going program of internal devaluation in many the nations that the Troika is pillaging – aka cut wages and pensions – is deliberately aiming to reduce the fortunes of workers who are already poorly remunerated
I last considered this topic in this blog – Rising working poor proportions indicates a failed state
The Living Wage Week is a strategy designed to illustrate to employers the benefits they can gain from paying wages, which allow their workers to live above the poverty line in a socially-inclusive manner.
My profession has a long-record of blaming unemployment on what they term excessive wages. The usual policy recommendation from mainstream economists when there is mass unemployment is to cut the real wage (via money wage cuts) to allegedly stimulate the demand side and to simultaneously cut welfare benefits to stimulate the supply side (aka making workers desperate).
The latter strategy is being employed by the Australian government at present. As I note below, the Australian government is deliberately forcing workers who are jobless to live in deep poverty, in the misguided belief that they will have more incentive to get jobs.
The problem is that there are not enough jobs and so the incentives are all perverse. The government then wonders why the youth turn to drugs (selling and using) and house-breaking. Both activities are what we might call "work" – deliberate activity and effort in pursuit of a weekly income.
Keynes noted in his battles against the Classical economists during the Great Depression that the classical remedy of attempting to cut real wages was bound to fail for a multitude of reasons.
First, it is not guaranteed that a cut in nominal wages will result in a cut in real wages if prices fall as the economy moves into recession.
Second, wages are not only a cost (part of the firms' supply side decision making) but also an income, upon which aggregate demand depends. He argued convincingly, that wage cuts would probably undermine aggregate demand as much as they "improve" aggregate supply and so nothing is gained other than the workers are worse off and still unemployed.
Third, workers would resist money wage cuts because a bulk of their liabilities are denominated in nominal terms. So the house mortgage contract specifies so many dollars a month have to be paid. If the worker's money income falls below this sum then insolvency occurs. So while the worker might accept a real wage cut as a result of prices rising against a slower moving or static money wage level, they will resist the same percentage decrease in real wage arising from a money wage cut.
The reason is that a real wage cut engineered via the first route allows the worker some flexibility, in the first instance, to change the composition of their spending in real terms, while still being able to meet their nominal commitments.
Fourth, and most relevant to the Living Wage Week aims – Keynes also argued that most firms would resist cutting wages of their work force because they would not want to be seen as being a capricious employer. They soon work out that if they hold their workforce to ransom when times are tough, the tables will turn in goods times.
In periods of strong growth, firms have more at stake (profits are high) if there is an industrial dispute or a lack of willing labour. They realise that loyalty works both ways and so it is in their interests to avoid creating an environment of low morale, which, in turn, is typically associated with higher rates of absenteeism, higher rates of sabotage and theft, and higher rates of turnover in good times.
The Living Wage Week is very important for Britain because there is strong evidence that a growing number of workers there are in the working poor category.
Management consultants, KPMG recently (October 29, 2012) released a major study – Current Trends in Household Finances and Structural Analysis of Hourly Wages – which showed that "one-in-five workers across the UK are earning below the Living Wage … This amounts to some 4.82 million people … ".
The hourly living level in the UK is at present £8.30 an hour in London and £7.20 for the rest of the UK. Readers should not confuse the living wage with the minimum wage. In the UK, the latter is currently fixed for adults at £6.19 per hour.
The The Living Wage in the UK:
… is a voluntary rate of pay that some employers give their staff, designed to enable workers to afford a basic standard of living.
When I talk about the need for employment guarantees I use the term a living wage (which effectively would become the minimum wage) as an indicator of the weekly sum a worker would need to live an inclusive life within the society as currently defined. It is broader than being able to achieve adequate housing and nutritional requirements.
It encompasses concepts such as social inclusion and aspirations. In work I have done for the ILO (in South Africa) I noted that when considering:
an appropriate minimum wage … we consider an ordering (or hierarchy) of needs (in order): (a) Basic food and non-food needs (absolute poverty line constructs); (b) Social needs (relative poverty constructs); and (c) Capacity building (Sen's capabilities constructs).
Poverty reduction should not be considered only in terms of moving people above an absolute poverty line. We should use a broad framework of social inclusion and exclusion, which relates directly to Sen's concept of 'capabilities poverty'.
Sen constructs development as a process of increasing both incomes and the capabilities of the people, where the latter involves the social, economic and political institutions of the country at all levels. Within this context, poverty deprives one of basic capabilities.
The main findings of the KPMG Report were:
1. 24 per cent of workers in Northern Ireland were earning under the living wage (23 per cent in Wales).
2. "Exactly 41% of people earning below the Living Wage reported worsening finances".
3. "Six times as many saw savings fall (30%) as those that indicated a rise (5%)".
4. "Higher debt contrasted with a decline in debt among people above the Living Wage".
5. "Squeeze on cash availability much greater for people earning below the Living Wage".
6. "people earning below the Living Wage reported a much steeper drop in their appetite for major purchases".
So some of the things that would be required for Britain to enjoy a robust economic recovery are absent. A rise in the living wage would stimulate spending and allow individual balance sheet restructuring (deleveraging) to occur swiftly.
The lack of private spending, in part, because of the huge private debt overhang is constraining the British economy. The fiscal austerity then exacerbates the spending gap.
The Report also makes it clear that the poorest workers typically bear the major brunt of the downturn. They are not only more vulnerable to unemployment and underemployment but their bargaining power is negligible and their wages growth suffers as a result should they retain their employment.
In Australia, the – Australian Poverty Line – is computed by the Melbourne Institute of Applied Economic and Social Research, which is located at the University of Melbourne. They provide quarterly data (the latest being June 2012).
The following Table is taken from their June 2012 publication and shows the different rates for different employment status (working or unemployed) and different family structure.
In Australia, the minimum wage is currently set at $606.40 a week. So a single person earning the minimum wage finds him/herself above the poverty line according to this measure. But a single, working mother or father quickly finds themselves among the working poor.
Once the family size increases, a minimum wage lifestyle is one of poverty.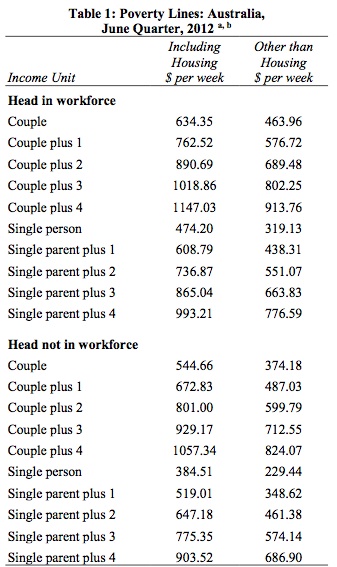 Note the poverty line for, say, a single, unemployed person is $384.51 per week while the federal government unemployment benefit is just $244.85 per week. Even if we adjust for rental assistance, the unemployed remain well below the poverty line.
The Federal government has consistently been called upon to raise the unemployment benefit above the poverty line but have refused claiming they want to motivate the jobless to get work.
The only problem with that scenario is that the Government's own macroeconomic obsession with budget surpluses is starving the economy of aggregate demand sufficient to ensure there are enough jobs created.
So the Federal government simultaneously condemns a group of Australians to joblessness and poverty.
Some will argue that because income support recipients in Australia receive rental assistance, for example, the problem is less severe than I have suggested. That is correct but the scale of assistance for the unemployed is short of pitiful.
The shift to the provision of rental subsidies in Australia was part of the ideological shift away from the government taking responsibility for social policy.
In the past, the Federal government (in liaison with the states) provided public housing to low income earners. While in short supply and of a fairly rudimentary quality, most lost income earners could expect to be given access to a secure, affordable home.
That changed when the neo-liberal ideology became dominant and the Government moved progressively to providing rent subsidies to private market suppliers.
There is a large literature which analyses the consequences of this shift for low income earners, which is tangential to this blog. But the major conclusions are as follows:
1. Commonwealth Rental Assistance (CRA) is capped and so the rising housing costs have undermined the value of the subsidy.
2. This erosion in value has meant that single unemployed people find it almost impossible to rent in the private markets in the major capital cities such as Melbourne and Sydney which means that the spatial concentration of disadvantage rises and the unemployed are forced to live in areas where there is less job creation (notwithstanding the overall lack of job creation in Australia per se.
3. CRA relies on an adequate provision of affordable housing being made available by private providers. It is clear that supply has been lagging well behind demand for a number of reasons including the incentives given via the tax system to high income earners to invest in higher valued investment housing as tax dodges under negative gearing. This high income-earner welfare is a major source of inequity in the Australian system.
4. Many unemployed are forced to live in group (shared) housing and the maximum CRA entitlement is then dramatically reduced.
The conclusion is that while there is some rental assistance in addition to the unemployed the amounts are trivial and do not push them above the poverty line.
Please read my blog – Our pathological meanness to the unemployed is just bad economics – for more discussion on this point.
Taken together, it is no surprise that the recent Australian Council of Socially publication – Poverty Report October 2011 Update – found that a stunning:
2,265,000 people or 12.8% of all people … [in Australia] … living below the internationally accepted poverty line used to measure financial hardship in wealthy countries.
If we use a poverty line definition that allows for comparison with the UK results, for example, the problem becomes worse. The ACOSS Report concludes that:
A less austere but still low poverty line, that is used to define poverty in Britain, Ireland and the European Union, is 60% of median income … When this higher poverty line is used, 3,705,000 people, including 869,000 children, were found to be living in poverty. This represented 20.9% of all people and 26.1% of children.
The main groups that comprise the 2.2 million people living in poverty (600,000 are children) are the usual suspects – unemployed, children in single parent families, and other income support recipients.
But the ACOSS analysis also shows that 7.1 per cent of those in full-time employment and 24.6 per cent of those in part-time employment are living below the comparable poverty line.
I will leave it to you, if you are interested, to explore all the dimensions of poverty discussed in the Report.
In designing minimum wage systems (which I consider should be also Living Wages), policy makers should be aiming to eliminate absolute poverty and also provide for an improved personal capacity to manage risk via savings (that is, reducing relative poverty).
In many nations, particularly where there is widespread poverty, this aim will come up against the private employers who pay poverty wages.
My view of economic development is that maintaining sectors in the private labour market that pay "poverty wages" is not consistent with the aim of creating a Living Wage as part of the development mix.
It is in the interests of all economies, rich and poor, that higher productivity employment is fostered rather than relying on low-wage, working poor jobs to absorb the unskilled labour force.
The introduction of a Job Guarantee should be seen as one of the essential stepping stones in the development process.
It can serve as an industry policy to promote a quickening of this move to a high-wage, high productivity economy by placing pressure on market economy employers through the wage floor it establishes
If nations moved in that direction then there would be both demand and supply effects in response to the imposition of a Living Wage as the minimum.
Employers currently paying below the wage would be confronted with the decision of operating that new legal minimum or closing down. Those workers might lose their jobs but their incomes would rise because they would have access to the Job Guarantee.
Further, the higher wages at the bottom end of the labour market would stimulate spending and overall job creation in the non-government sector. There would also be a dynamic present to restructure existing employment.
The introduction of an unconditional wage offer to anyone who wants a jobs (the Job Guarantee) would probably invoke substantial supply effects.
The employers paying below the proposed minimum would now be forced (by market forces) to invest in productive capital to increase the productivity of labour and pay at least proposed minimum per month to retain labour.
Once the adjustment to the Job Guarantee was made, the workers in the Job Guarantee pool would retain an economic incentive to work in the conventional labour market when an opportunity arose. Employers would need pay little more than they presently offer to poach workers from the buffer stock employment pool, since the 'Job Guarantee' system would make no counter-bid to retain them.
Conclusion
I have noted this view of the minimum wage before but any sophisticated society requires a decent minimum wage that is determined on the basis of what we want the floor in living standards to be.
In the absence of regulation it is almost certain that the "market" would drive the wage below that level. In such cases, the employment is not desirable in relation to the aspirations of the nation to become a sophisticated place to live.
In this case, a Job Guarantee could set the minimum alternative employment that the private employers then would have to better. They would need to invest and ensure productivity could support the higher wage level. Its called a win-win.
So let us celebrate Living Wage Week and demand our legislatures everywhere pass the relevant laws to enhrine a living wage in every economy.
The dynamic adjustments that would follow would provide huge benefits to everyone.
That is enough for today!
(c) Copyright 2012 Bill Mitchell. All Rights Reserved.