My friend Sean Carmody, sometime commentator and always obstinately objective, introduced me to this work – The Debunking Handbook – written by a physicist and psychologist. It serves to focus thoughts because it considers the pitfalls that arise in an exercise aimed at debunking myths and strategies that might be deployed to effectively achieve this aim. The authors appear to be motivated by the climate change debate but the discussion is equally effective in the context that I work within – how to convince people that mainstream macroeoconomics is largely devoid of meaningful content and predictive capacity.

The motivation of the authors is one that I share:
It's self-evident that democratic societies should base their decisions on accurate information. On many issues, however, misinformation can become entrenched in parts of the community, particularly when vested interests are involved. Reducing the influence of misinformation is a difficult and complex challenge.
I have taken a non-mainstream position on economics all my career. It is a more difficult path to walk given how vociferous my profession is in protecting its boundaries and expelling radical elements. They control the post-graduate education opportunities (largely); the appointments processes; the access to key journals (key defined by them as being the "top" journals rather than reflecting any intrinsic merit); the access to competitive funding; the promotions process; and more).
Getting through the labyrynth of controls that the mainstream paradigm has in place is tricky. I adopted the view early that I would need to be technically-oriented – that is, competent in mathematics and statistics (econometrics). Many heterodox economists do not follow that route and actively eschew what they consider to be the tyranny of formalism. That makes them sitting targets in the highly formalised postgraduate schools that the mainstream controls.
I could document the other strategies I employed to get through the controls but I don't want to turn this into a biography. I would rather concentrate on the general principles of the article with respect to the development of Modern Monetary Theory (MMT). Suffice to say that very few people get through their net and assume senior positions in the profession (that is, gain full professorial appointments and gain a solid flow of competitive research funding).
But when we consider the mainstream macroeconomics that most students learn, that most people read or hear repeeated in the media, and that most economists practice – I would hope that most of my readers realise it is a complex web of inter-related myths.
Some of the body of mainstream theory was applicable to the convertible, fixed exchange rate currency systems that were defined under the Bretton Woods system. Under that system, the government was revenue constrained as a result of the link between currency on issue and the stock of gold held by the central bank. As a consequence, the government had to raise taxes and/or borrow from the non-government sector in order to spend.
It is true that the constraint was voluntary in the sense that the nations could have exited the fixed exchange rate system and suspended convertibility almost any time they desired although the political repercussions might have been severe. By the 1960s, a series of what were called "competitive devaluations" (adjustments made to the fixed parities of certain currencies against the USD in order to render that economy more competitive) were made and set up a series of leapfrogging actions among trading rivals. The system collapsed soon afterwards when it became obvious that the US government could not longer support it.
But the point is that to restore currency sovereignty under that system, the country would have to leave it and create a new monetary system. This is the difference between say the UK which is artificially binding its options but could change direction any time they chose and the Eurozone nations which are truly revenue-constrained and face solvency risk. To change that status, these nations would have to introduce a new monetary system based on their own currency and floating exchange rates.
So, at present, the overwhelming perception that the wider society has of economic affairs, options available to government, causalities between economic variables etc is based on a myth. There is mass deception which is propogated by my profession for various reasons.
I have wondered about this all my career – how people live and die thinking they know about economics when in fact they have no understanding at all. Normally, ignorance disqualifies a person from having input into a debate. In that case, education is the indication.
But in the public debate about economic matters – from politicians down – ignorance is a characteristic of entry. Those who actually have some insights into how the system operates are vilified and accused of being socialists or worse.
Recall the comment made by that obnoxious character, the now Mayor of Chicago Rahm Emmanuel that progressives were "fucking retarded".
So how are we to overcome this state of affairs?
The Debunking Handbook notes that:
A common misconception about myths is the notion that removing its influence is as simple as packing more information into people's heads. This approach assumes that public misperceptions are due to a lack of knowledge and that the solution is more information – in science communication, it's known as the
"information deficit model".
They conclude – "that model is wrong".
Their reasoning is that "people don't process information as simply as a hard drive downloading data". Given the "complex cognitive processes" involved there is a strategy that is needed driven by an understanding of "how people process information, how they modify their existing knowledge and how worldviews affect their ability to think rationally".
So it is what and how!
I think in the case of economics there is more to it than knowledge deficits. We are dealing with a discipline that goes to the heart of power relations in our societies. I still consider it important to think in "class terms" – by which I mean the capitalist class which owns the material means of production and the working class that doesn't and has to work for the former to survive.
I am aware of the complex layers that operate on top of that dichotomy, especially in relation to the position of the financial sector which bleeds both sides of production.
I have noted in the past that the body of theory we call neo-classical (characterised by marginal analysis) emerged in the fourth quarter of the C19th as a counter to the growing popularity of Marxist thinking and the threat it was posing for the wealthy capitalist class. Industrialists provided funding to economists of the day to develop a theory that would show capitalism to be "fair". This was the basis of marginal productivity theory, which claims that all rewards taken from the system are in strict proportion to the contribution the recipient makes to the production process.
So wages and profits are alike – each goes to the recipient (worker and capitalist) as a reward for their respective contributions.
Mainstream macroeconomics was built on this microeconomic theory which "proved" that free markets were optimal and self-regulating and that most of society's ills were the result of government distortions of the market.
The theory has survived despite being internally inconsistent (for example, the Cambridge controversies of the 1960s) and lacking predictive capacity.
There are vested interests therefore in preserving a body of theory that promotes, for example, damaging deregulation which has allowed national income to be redistributed to profits and undermines the security of worker entitlements (including their jobs). It is thus not a battle with ignorance but a hegemonic struggle.
However, the elites exploit the ignorance of the majority to maintain these myths.
A recent MRB Hellas poll in Greece (April 18-19, 2012) produced the following graphic which covers the "Attitudes of the citizens towards the euro". The question is "Which of the following suggestions are closer to your view?" – (a) Greece can stay in the euro while applying measures different to those agreed with the International Monetary Fund and the European Union; (b) Greece can stay in the euro and follow the current austerity plan; and (c) Greece should quit the Eurozone.
Of the 1007 respondents, 67.1 per cent opted for Option (a), 13.1 per cent opted for Option (b) and only 12.8 per cent of respondents wanting to quit the Eurozone.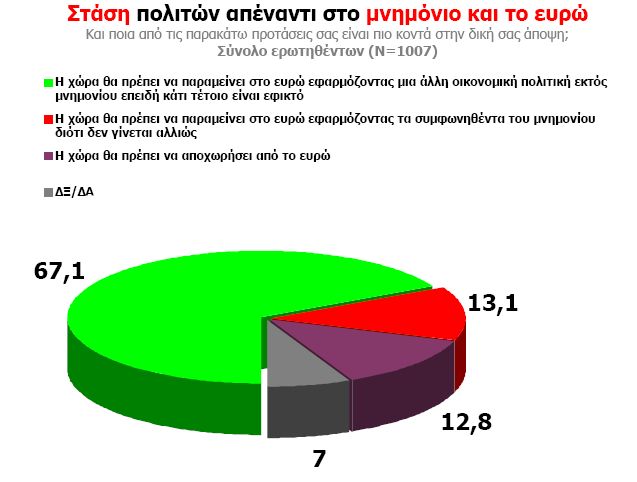 Given that the Euro is the problem that is a stunning result and reflects confusion and ignorance among other things. Further, Thomas Frank talks about "intransigent idealism" in his current book "Pity the Billionaire" where people hang onto ideals in the face of all evidence to the contrary that such a view is damaging to even themselves.
From a MMT perspective, keeping the Euro but changing policy to foster growth would be near impossible unless the ECB played the role of Federal fiscal authority. That will not happen. So the Euro and drawn out recession are tantamount. No sane person would support a system that continued to undermine their prosperity if they really could make the links. Only those with vested interests would promote such a system.
This UK Guardian article (May 2, 2012) – Why I'm leading the march of Italy's 'recession widows' – is a sad testimony of what is happening on the ground as a result of the fiscal austerity.
The Debunking Handbook is focused on how "people process corrections to information they have already acquired". In other words, how do we get people to abandon their mainstream macroeconomic beliefs and ways of thinking?
Such misinformation (a belief in something that is wrong) is obstinate. The Debunking Handbook provides examples of the persistence of false information.
The last four years have demonstrated categorically how myths persist even though they are shown to be patently false.
1. Remember all the calls four years ago that the fiscal intervention would do nothing positive? The overwhelming evidence is that the interventions generated growth. They were, in many cases, poorly designed and implemented but the extra spending created positive output responses.
2. Remember all the calls that the rising deficits would drive interest rates up? No they didn't and an understanding of how interest rates are determined and how budget deficits impact on the liquidity and reserve system within the banks would never have predicted otherwise.
3. Remember all the calls that inflation would accelerate because the central banks were expanding their balance sheets rapidly? Inflation has generally subsidised as you would expect during a persistent recession or stagnant growth environment. But an understanding of banking operations, the role of reserves, the fact that banks were never liquidity constrained in their lending and more – basic MMT principles – would never have led one to think otherwise.
4. Remember the claims that fiscal austerity would promote growth because the households and firms were saving (not spending) so as to meet their future tax liabilities that would arise from the deficits? That is one of the most evil myths. Fiscal austerity has killed the nascent growth spurt that followed the downturn in 2008-09. Not one nation that has imposed austerity is achieving anything like what was promised. Again, no-one who understood how aggregate demand works to stimulate growth and the psychology of households and firms when unemployment is rising and sales are flagging would dare suggest that there could be a fiscal contraction expansion.
I could continue listing myth after myth that has failed the evidence test even though they already failed the theoretical test. It is understandable that a citizen might not get to the bottom of some technical argument between economists. But when a political leader says that the economy will grow as long as we cut government spending and the economy does exactly the opposite then it is surprising that the myth persists.
At the Eurozone seminar the other night in Melbourne I raised the question of Japan. The mainstream theory collapses when it is applied to Japan. MMT stands tall. This is a nation that for 20 odd years has run increasing budget deficits, has the most public debt to GDP outstanding, but has had virtually zero interest rates and deflation over the period.
The conservatives got their way in Japan in 1997 and pressured the government into increasing taxes (exactly the same agenda they are trying to push through now – under similar circumstances) and the economy collapsed back into recession – predictably.
The Debunking Handbook asks us whether it is "possible to completely eliminate the influence of misinformation?":
The evidence indicates that no matter how vigorously and repeatedly we correct the misinformation, for example by repeating the correction over and over again, the influence remains detectable … There is also an added complication. Not only is misinformation difficult to remove, debunking a myth can actually strengthen it in people's minds.
This is the concept of "backfire effects" where attempts to kill of lies makes the lies more plausible.
Which establishes the raison d'etre of the Debunking Handbook:
– providing practical tips to effectively debunk misinformation and avoid the various backfire effects.
That appears to be a very productive agenda for someone such as yours truly. While MMT is spreading and there are now people aware of it all around the world, the development base is still thin (a few of us really) and already splinter groups have formed which based on their own misunderstanding of MMT are advancing ideas that really take it back into the orthodoxy (for example, the so-called MMR).
What are these backfire effects?:
The Familiarity Backfire Effect
The authors say that:
To debunk a myth, you often have to mention it – otherwise, how will people know what you're talking about? However, this makes people more familiar with the myth and hence more likely to accept it as true.
I am always struggling with the length of the blogs I write. I like writing and type fast but I wish I could work out a way of streamlining the process. But I formed a view that I had to explain things – both the mainstream and MMT concepts – in some detail so as not to be accused of setting up "straw person" arguments and the like.
So repetition is a deliberate strategy employed here. Otherwise, when I am talking about something that MMT has developed (for example, liqudity effects of budget deficits) I feel obliged to provide the context – which might in this case be the "crowding out debate". Whereupon, I feel obliged to let the readers know what the conservatives believe here.
My blog thus probably introduces MMT but also provides coverage for the myths. How do I avoid the Familiarity Backfire Effect?
The Debunking Handbook suggest that, ideally, one should "avoid mentioning the myth altogether while correcting it" but recognises that this is not a "practical option" in many cases (a view I think is correct when debating these economics issues) and so "the emphasis of the debunking should be on the facts".
They say that one should not "headline the debunking with the myth in big, bold letters" but, rather, "communicate your core fact in the headline". I am busily checking the titles of my blogs – the last several (Quiz aside) were:
– Why the Eurozone is destined to fail
– Fiscal austerity obsession – that's a dud policy!
– Cancer is bad but budget deficits are generally good
– Are the Euro bosses going all growth on us?
– The UK government in a race with the Eurozone to ruin their economies
– When does the experiment end?
– Australian inflation plummets as the fiscal vandals undermine the economy
– The left – entranced by the fiscal austerity mantra sold to them by the conservatives
You can judge how well I do on that basis but the Handbook has given me an awareness that I will consider in future titles.
The Handbook also says that:
Your debunking should begin with emphasis on the facts, not the myth. Your goal is to increase people's familiarity with the facts.
I try to meet this consideration and present data where relevant as much as I can. But I also feel as an educator explanation is important and just presenting a graph and saying "see, I told you so" doesn't really advance understanding.
It clearly demonstrates the mainstream theory has no predictive capacity but doesn't provide the alternative (which does).
The Overkill Backfire Effect
The principle explored here is that it is common wisdom to think "that the more counterarguments you provide, the more successful you'll be in debunking a myth". They claim the "opposite can be true" and there is evidence from psychology that too many refutations may "end up reinforcing the initial misperception".
So KISS!
The Handbook notes that this myth:
… occurs because processing many arguments takes more effort than just considering a few. A simple myth is more cognitively attractive than an over-complicated correction. The solution is to keep your content lean, mean and easy to read. Making your content easy to process means using every tool available. Use simple language, short sentences, subheadings and paragraphs.
This is harder to avoid. Economics is a complex area of study – especially macroeconomics, because everything is related to everything. Trying to impose some ordering on how causality operates is difficult.
MMT approaches that task in a very different way to the mainstream exposition. MMT introduces the government at the beginning of the analysis and focuses, initially, on its currency-issuing role (and the options that arise). The mainstream starts with households and by the time the exposition reaches the government sector, several myths are already entrenched.
It is thus very hard to relate these esoteric concepts in a manner that is both "lean and mean" but accessible to the lay person. I struggle with that. There are so many connections between the variables in the macroeconomy that if I leave something out I run the danger of some gold bug accusing me of misleading the reader. It is a constant tension as I write trying to decide how simple my explanations should be.
But I would agree that my blogs need to be streamlined better to avoid this particular backfire effect. I continually work on that with varying levels of success.
I definitely use short sentences and try to write (here) in a non-technical manner. That restricts what I can say and the depth of the topics that I can write about to some extent. I am still trying to work out how to write a layperson's guide to the Reswitching Debate (part of the capital controversies) without resorting to technical language. It is on my list of things to do but the list gets longer every day.
The Handbook says that one should:
Use graphics wherever possible to illustrate your points.
I think I meet that recommendation almost every day – even today as above – even though it is in Greek!
They also say that one should "End on a strong and simple message that people will remember and tweet to their friends". Someone wrote to me once and said that I should put the conclusion at the start. I have been experimenting with that.
The Worldview Backfire Effect
The Handbook says that this is "arguably most potent backfire effect" and:
… occurs with topics that tie in with people's worldviews and sense of cultural identity. Several cognitive processes can cause people to unconsciously process information in a biased way. For those who are strongly fixed in their views, being confronted with counter-arguments can cause their views to
be strengthened.
This relates, in part, to the intransigent idealism I mentioned above. I will write a review of the book "Pity the Billionaire" when I get time because it covers this area of psychology. It is about how the right-wing conservatives have been able to focus the current debate on the benefits of the free market despite the move towards the free market being the cause of the problem.
Thomas Frank says that the right-wing have:
… a certain remoteness from reality, a kind of politicized groupthink that seems to get worse each year as the Right withdraws even farther into a world of its own … Americans are increasingly separated from social reality … a deliberate cognitive withdrawal from the shared world …
He talks about Hayek's Road to Serfdom, a book held in the highest regard as the bible for Austrian free marketeers. This is a book which predicted the Post-War Labour Governments in the UK would result in totalitarian rule. Thomas Frank says:
The book's weakest point … is that Hayek's main prediction never came true.
But according to the believers – it might – it is only a matter of time. Some 70 years later they are still believing but the sun hasn't risen for them yet.
These insights relation to the "Worldview Backfire Effect" which is driven by "confirmation bias" where people seek out evidence that "bolsters their view".
At the Eurozone seminar on Tuesday, my discussant put up a slide with photos of Hayek and Keynes. He had previously shown data (without commenting on its source) that showed the share of government in national income was well over 25 per cent in most nations and had been growing. That data alone is contentious but that is another point.
He then asked: Which of these two economists said that if government share of total output exceeds 25 per cent it is dangerous? (or words to that effect). The suck-in was that we were meant to say Von Hayek whereas in fact it was Keynes.
But he didn't also put that quote into context. Keynes was talking about an entirely different type of monetary system to that which most nations operate within today. The quote was simply inapplicable to the modern fiat currency systems with floating exchange rates. But the "evidence" was selectively used.
The Handbook then asks:
What happens when you remove that element of choice and present someone with arguments that run counter to their worldview?
The result is that cognition leads to "Disconfirmation Bias" which is "where people spend significantly more time and thought actively arguing against opposing arguments".
I have mentioned before the story of a professor who taught me who told us in class one day – when he was confronted with some facts from the US Bureau of Labor Statistics that made a mockery of his theoretical propositions relating to unemployment – said the "data was wrong".
The data in question showed that quit rates rose when the cycle improved whereas neo-classical theory was predicated on the claim that they were countercyclical – which allowed the theory to assert that the unemployed chose their lot as a result of alleged maximising choices between labour and leisure (mediated by the current real wage rate – the so-called price of leisure).
The evidence is totally at odds with that assertion as is the psychology. But the mainstream hold this world view and deflect any arguments to the contrary. They live in their own parallel world devoid of the reality that most of us share.
The Debunking Handbook then turns to what can be done to avoid these backfire effects. They propose two avenues (of hope!).
First, it is better to try to reach those who are not entrenched – "This suggests that outreaches should be directed towards the undecided majority rather than the unswayable minority".
The original MMT crew (Randy, Warren, Stephanie, Scott, Matt) discussed this at length a long time ago. Randy reflected on some of this in his Keynote Speech at the 2011 CofFEE Conference – MMT: A Doubly Retrospective Analysis.
I would recommend people read the transcript of his Speech because it gives some interesting insights into the early days of MMT.
In the context of today's topic, Randy wrote:
And there were meetings in Florida and later the Virgin Islands. With CFEPS and Coffee and then Coffee Europe we had bases for subversion.

And to skip forward a few years, Bill started a blog. I had no idea what a blog was, and thought he was wasting his time. But if we want to credit one thing for spreading MMT all over the planet, it was Bill's blog. While the academic journals and the policy makers and the mainstream press could mostly ignore us, the blogosphere was wide open to new ideas.
This was a conscious effort on our part to spread the message to those who might still be undecided. The early days of MMT saw us appearing at conferences all over the world and being vilified by our mainstream colleagues. It became obvious to me that my profession was so entrenched in the myths they were propogating that it was a waste of time dealing with them.
We had also published widely so the ideas were out there in the normal published academic domain.
As technology advanced, and self-publishing became possible, I decided that blogs were the way of the future and eventually CofFEE suspended its Working Paper series and I concentrated on writing in this forum.
Second, the Debunking Handbook also recommends that "worldview-threatening messages" should be "coupled with so-called self-affirmation", which can be achieved in a number of ways. One way is to use "framing" – presenting the argument in a way that is "less threatening to a person's worldview". Using terms like "carbon offset" instead of "tax".
The original MMT crew have had long debates about terminology. So for example, Randy wrote (in his Speech cited above) that:
And then there was the job guarantee, which I immediately recognized as Minsky's employer of last resort. I can't remember what Warren called it but Bill called it BSE, buffer stock employment.

I had never thought of it that way, but Bill's analogy to commodities price stabilization schemes added an important component that was missing from Minsky: use full employment to stabilize prices. With that we turned the Phillips Curve on its head: unemployment and inflation do not represent a trade-off, rather, full employment and price stability go hand in hand.

Unfortunately, a bunch of cows came down with a disease called BSE and we were forced to search for an alternative name. I never liked ELR, anyway, even though it had a long tradition in the US, at least back to the 1930s. So we tried PSE (public service employment). Bill settled on JG (job guarantee) and that is the one that mostly stuck.
This is an application of the way that terminology and "framing" has been considered by us.
Final part of the Debunking Strategy
Once one has successfully negotiated "the various backfire effects, what is the most effective way to debunk a myth?"
In this blog – When common sense fails – I discussed how people fall into the "common sense trap" and build theories to accord with data presented to them even if the data is false but confirms their world view.
The Handbook tells us that:
When people hear misinformation, they build a mental model, with the myth providing an explanation. When the myth is debunked, a gap is left in their mental model. To deal with this dilemma, people prefer an incorrect model over an incomplete model. In the absence of a better explanation, they opt for the wrong explanation.
Which goes back to the earlier point about having to be thorough in one's explanations – to fill in all the gaps that are left when one debunks a long-held notion.
The problem for me is that it makes my blogs longer notwithstanding my verbosity.
So I try to meet the principle in the Handbook that:
The most effective way to reduce the effect of misinformation is to provide an alternative explanation for the events covered by the misinformation.
The "alternative … must be plausible and explain all observed features of the event". I consider the predictive accuracy of MMT to be strong.
This made me recall a section in Thomas Frank's book (cited above) where he was talking about Glen Beck's telephone to nowhere. This Wall Street Journal article (November 4, 2009) – Glenn Beck's Hotline to Nowhere – by Thomas Frank extends the story. You will laugh.
Thomas Frank says:
Glenn Beck, the popular Fox News host, has a red telephone on his desk that never seems to ring. Every now and then, in a moment of acute frustration, he will pick it up and give the camera his trademark pleading-puppy look.

What Mr. Beck wants to hear from the phone are answers, and he wants to hear them from the highest authority in the land: the phone, he says, is "a dedicated line right to the White House." And when Mr. Beck gets things wrong, he wants his antagonists on Pennsylvania Avenue to correct him. But "They don't call. They're not going to call." …

"They won't call me," he tells the camera. "Communists, revolutionaries, socialists, Marxists, followers of Chairman Mao appointed by Obama to the executive branch in positions of the government-call, call me. Explain it. Explain it any other way. Call me, right now."

Yet there the mute telephone sits, a quiet symbol of Middle America's frustration. The diabolical liberals in the White House refuse even to acknowledge our queries. "Their silence is their answer," the host sighs.
So the MMT crew are always on standby waiting for our mobile phones (our hotlines) to call and for someone to tell us we are wrong. No-one calls us about this. Obviously, we are right. Glen Beck's logic is impeccable :-)
The Handbook correctly notes that:
When you debunk a myth, you create a gap in the person's mind. To be effective, your debunking must fill that gap.
That is the purpose of our blogs to give as much information and perspectives about the monetary system as possible with references to other research and data.
The Handbook provides guidance about filling gaps:
1. "by exposing the rhetorical techniques used to misinform".
2. "explain why the misinformer promoted the myth … Arousing suspicion of the source of misinformation". Sometimes I try to find who funded various think-tanks and who is funding specific research. I tend not to get involved in conspiracy theories although I recognise their merit in certain situations.
3. "using an explicit warning" – so setting the reader up to recognise they "might be misled". I try to do that in the Saturday Quiz. Whether I succeed is another matter.
4. "Graphics are also an important part of the debunker's toolbox and are significantly more effective than text in reducing misconceptions". That is why I try to use graphs a lot and tables.
Conclusion
The Handbook provides a guide to effective debunking. The advice is based on studies in psychology about cognitive processes and the like. Some of the points are contentious but I found it to be a very interesting framework to assess the way I write and communicate. Learning is always a good thing.
Thanks Sean for making this article available to me!
That is enough for today!