The Job Guarantee misinformation campaign – UBI style
Apparently the British Left is "fizzing with ideas for a smarter economy" according to the UK Guardian article (May 12, 2019) – The zeitgeist has shifted. Now the left is fizzing with ideas for a smarter economy – written by Will Hutton. I can't say I sensed an outbreak of fizz. But in the colloquial language from where I come from, the term fizzer means "Something that promised excitement but instead was a disappointment", Yes, Hutton's fizzers include promoting the insights of a long-standing (pun intended) critic of employment guarantees, who prefers people to be propped up as consumption units by a UBI, and, yes, surely, if Hutton is involved, reversing the "tragedy" of the democratic choice the British people made to exit the EU. Apparently, "Remain" is the "great progressive social force of the moment" and if Britain was to leave the EU it would "stand in the way of any of it ever being implemented", where "it" refers to all these 'left' fizzers. It is hard getting one's head around this logic. A restoration of democracy and sovereignty apparently disables the elected government from using its currency-issuing capacity to deliver a progressive program aimed at advancing well-being. But, staying in a corporatist cabal which has embodied neoliberalism in the core legal structure of its existence and allows corporations to sue governments which threaten their profits and is unaccountable to the people is the exemplar of progression. This stuff is in the world of the pixies!

Although Hutton is skeptical himself about the viability of a UBI ("it will be cast as an unearned handout, far too modest if it is to be remotely affordable", which means he doesn't understand the capacities of the currency-issuing government), he praises the British Labour Party Shadow Chancellor (John McDonnell) for commissioning a report by Guy Standing – Basic Income as Common Dividends: Piloting a Transformative Policy – which was published in May 2019.
I don't intend to examine the whole Standing report – we have been arguing with him for 20 or more years now. See this paper – A comparison of the macroeconomic consequences of basic income and job guarantee schemes – as an example.
His construction of a UBI has remained consistent with his early views critiqued in that paper and several other articles we published around that time.
1. He has a neoliberal conception of government fiscal capacities – for example, the UBI would have to be 'paid for' by taxes and as "Britain is undertaxed" it is affordable.
2. Within that misconception, he rehearses the 'tax the rich to pay the poor' myth that so many progressives have fallen prey to.
3. He is happy for the government to give the "rich" the UBI and claw it back via the tax system, which a few paragraphs earlier he argues is rorted by the rich who don't pay their fair share.
4. He doesn't think governments would junk other "welfare state" benefits under a UBI, yet later, when he rejects the Job Guarantee he claims the government would reduce it to workfare (abandoning other benefits).
So in this Chapter on "What are the objections?" he ignores some of the main objections that we have continually raised.
He fails to consider that the primary cause of poverty is lack of work rather than lack of income (which is related to the cause).
Further, UBI advocates passively accept the neoliberal assertion that unemployment is inevitable and governments can do little to alleviate it.
The fact that unemployment is just a shortage of jobs which reflects the fact that the net spending of the government is too low relative to the spending and saving decisions of the non-government sector, is ignored by him.
Further, he fails to consider the inflationary potential of the scheme and the fact that the buffer stock mechanism that governments would retain in an inflationary episode would be to increase the unemployment pool.
So while the UBI increases the inflation risk in the economy, the costs of the policy response to any inflationary pressures would be borne by those who preferred to work.
Later on, he attacks the Job Guarantee for being inflationary because workers would get bolshie having a guaranteed wage to fall back on if they chose.
He fails to consider the unworkability of the scheme if there is huge take-up. He has no idea how many people might opt for a UBI and stop working altogether. Scalability of government programs is an important consideration.
If a huge number of people abandon their jobs, especially in societies where the dependency ratio is rising, then the scheme will undermine general prosperity.
He fails to consider the vast array of sociological literature that tells us that work delivers massive 'intrinsic' benefits in addition to the 'extrinsic' rewards (income).
And, inevitably, we read about the "Advancing Robots" and uses people like Elon Musk as an authority on why there will be no jobs in the future. Spare me!
He also claims that the "politically frightening giant is the rise of right-wing populism" is due to a "combination of chronic insecurity and precarity" yet ignores the fact that the overwhelming proportion (approaching 100 per cent) of those without work want to work. They identify their insecurity with a lack of jobs and unstable incomes that result.
So just more of the same from Standing really.
But he produces an "Appendix B: Why a Job Guarantee would be no alternative" which is a lame attack on the desirability of employment buffer stocks.
In this blog post, I will address some issues in that Appendix in more detail.
I note that some self-styled MMT experts (who should never be considered to be representing the core MMT ideas despite their claims otherwise) are still claiming that the Job Guarantee is not intrinsic to Modern Monetary Theory (MMT).
They simply fail to understand the role the Job Guarantee plays in the conceptual MMT framework. As I have explained often, it replaces the Phillips curve that is central to the mainstream macroeconomic theory.
It provides a more effective (lower real resource cost) buffer stock mechanism for achieving a base-level ('loose') full employment and price stability.
The alternative buffer stock mechanism, that mainstream macroeconomics posits, is a pool of unemployment, which is very costly both in terms of real income losses and the damage it confers on those unfortunate enough to be enduring unemployed.
So there is a tendency for people to claim they represent our views but then pick and choose what they like and expunge the core elements they dislike for one reason or another.
Anyone can have whatever set of ideas they like. But it is simply dishonest to claim one is an MMT proponent yet eliminate much of the core architecture of that body of work.
Before I consider Standing's attack on the Job Guarantee (Appendix B), I note in the conclusion that he claims that:
1. The UBI will "not 'abolish poverty' or 'abolish unemployment'".
That is clear from his suggested payment of "£100, with £50 for each child" per week. Another model he proposes would provide "basic incomes of £70 per week for working-age adults, and £20 per week for children".
Even worse, is Model C "a tax-free £50 per week for one year that was not taken into account in determining access to means-tested benefits".
He rehearses various versions all of which would deliver a pittance and hardly transform the lives of those at the bottom of the income pile who were struggling with unemployment.
The MMT literature developed by the core team indicates that the Job Guarantee would pay a wage that was socially-inclusive and in that sense would abolish poverty derived from unemployment.
Poverty derived from non-work factors – mental illness, etc – should be addressed by appropriately designed safety nets.
Material poverty can be eliminated.
2. He also wrote (and this is significant given his later attacks on the Job Guarantee) that:
It is also vital to emphasise that a basic income system would enhance the prospects of a more ecologically and socially sustainable form of 'growth', via elevation of the value of care work, community work and participation in the life of the commons, and by allowing government to pursue more effective fiscal policies to curb greenhouse gas emissions.
This is an astounding demonstration of neoliberalism and its promotion of the virtues of 'volunteerism', which is a smokescreen designed to lull us into accepting that services that were previously provided on a paid-work basis by the state have been scrapped and their continuity relies on the free work of citizens, which impinges on our non-work time.
Much of the 'work' that he thinks will be elevated has previously been done in a paid work environment.
And this type of work is an ideal focus for the Job Guarantee because it requires skills that can be relatively easily developed and will not be provided by profit-seeking capitalists.
Standing thinks it is valuable work yet later on considers it (under a paid work Job Guarantee) to be dismal, Soviet-style imposition on people who would rather be doing something else.
Note also the neoliberal view that fiscal policy is so constrained that the government cannot 'afford' to provide adequate social services while also mounting climate action.
I note that once again, a critic of our work, chooses not to cite any of it.
His Appendix B sources various people including Larry Summers and Richard Layard as authorities on the Job Guarantee but chooses not to draw on any of our work.
For example, I dealt with Gregg and Layard's claim they were promoting a 'jobs guarantee' in this blog post – When is a job guarantee a Job Guarantee? (April 17, 2009). There proposal was straight neoliberalism.
That in itself is the exemplar of dishonesty and has been a repeating theme in Standing's UBI advocacy against employment guarantees.
It allows him to avoid inconvenient issues which he knows are complex yet go to the heart of why a UBI is unworkable.
Standing starts his attack on the Job Guarantee by questioning the entire pre-neoliberal, post WW2 consensus that employment is a human right that governments ultimately are responsible to maintain and protect via their fiscal capacities.
Indeed the UN Charter of Human Rights and various International Labour Office statements confirm this association with human rights and employment.
I have written about that in the following blog posts:
1. Employment as a human right (June 29, 2017).
2. Work is important for human well-being (September 14, 2016).
But for Standing "the vast majority of people would have found that a very strange 'human right'."
So when people march in the streets demanding work in times of high unemployment what are they actually protesting about.
Young and old and in-between.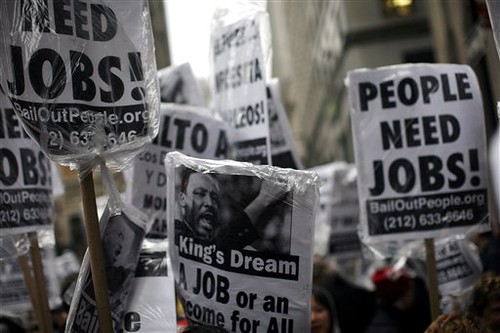 He then attacks the notion of a Job Guarantee which (quoting a UK Guardian article – The Guardian view on a job guarantee: a policy whose time has come' (May 3, 2018) – in support of our proposal) would offer jobs that are not likely to be offered by profit-seeking private employers and would focus on:
… 'environmental clean-up' and 'social care'.
Think back to where he claimed that UBI would spawn a green revolution of caring for people and the environment.
But in the context of his attack on the Job Guarantee, making those paid-work activities would:
… represent a narrow and unattractive range of jobs to be offered. They also bear more than a passing resemblance to the menial jobs convicted offenders are obliged to undertake under 'community payback' schemes.
Conclusion: the guy (pun intended) is losing it!
Then there is the usual litany of objections:
1. What jobs?
2. Who provides them?
3. Who would qualify for them?
4. What would they pay and how many hours would they offer?
5. Supervision?
6. Bureaucratic nightmare.
6. etc
All of these points have been done to death in the vast literature we have produced over more than 25 years.
He might like to read our 300-page Report – Creating effective local labour markets: a new framework for regional employment policy (published November 28, 2008) – where we answered all those questions in detail.
Other authors, such as Pavlina Tcherneva have produced many detailed analyses of these issues.
One might disagree with our conclusions and logic but to pretend, as Standing does in this report to John McDonnell) that these questions have not be addressed and, that, as a result, the concept of a Job Guarantee is hazy and undeveloped, is a sickening piece of dishonesty.
He claims that Job Guarantee proponents:
… never suggest the guaranteed jobs would match people's skills and qualifications, instead falling back on low-skill, low-wage jobs they would not dream of for themselves or their children.
First, the Job Guarantee is not a solution to skills-based underemployment. We have never held it out to be otherwise. The pool of jobs is largely designed to be accessible to the most disadvantaged worker.
There is a reason for that.
1. The burden of unemployment typically falls disproportionately on the unskilled.
2. Skilled workers typically adopt what we call 'wait' unemployment when they lose their jobs because they have the protection of redundancy payouts etc, which the low-skill workers do not enjoy. Higher skilled workers usually prefer 'wait' unemployment because they feel it is better not to take a lower skill job and they expect (and are correct in doing so) that their spell of unemployment will be relatively short.
Second, the Job Guarantee is a buffer stock and not designed to offer permanent jobs to those with the skill advantages in the labour market that typically see them maintain secure employment even in times of economic stress.
The British data covering who endures the unemployment burden is unambiguous and replicates the results across all nations.
The British Annual Population Survey produces this report – Unemployment by qualification level (most recent publication October 5, 2018)
The following graph shows the burden of unemployment for 2012 and 2016 by educational cohort.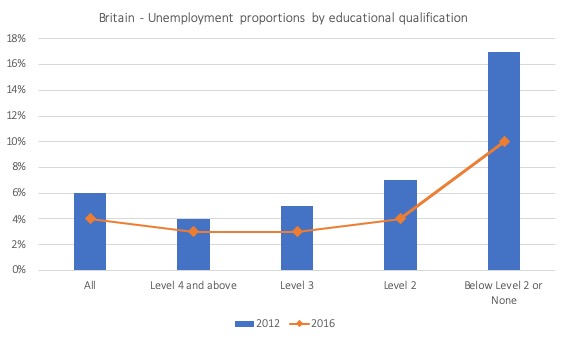 The aim of the Job Guarantee is to ensure those in the far right (pun not intended) category in the graph can contribute productively at times when the private market excludes them.
Despite, earlier, waxing lyrical about how transformative a UBI would be with people rushing around on their £50 quid or whatever unleashing their creative and empathetic souls to help each other out and the like, when it comes to discussing the Job Guarantee, any activity that is not 'validated' in the private market (that is, generates profits) is considered to be 'make work'.
This is the standard neoliberal line.
He writes:
If guaranteed jobs are providing desired services or goods, and are subsidised, there must be substitution effects …
The operative descriptor here is "desired".
So if all these transformative activities that would emerge under a UBI are "desired" and he is against a government program undermining private sector employers, why would he be happy that the 'free' labour (on the UBI) would undercut existing private suppliers?
One cannot have it both ways.
But the important point is that our research has shown that there is a vast array of socially-useful activities that will not be provided in if the criterion is net private benefits (profits).
In my talks in Britain over the last week I differentiated between a private accounting of benefits and costs and a social accounting.
The private 'market' only allocates resources according to net private benefits. It does not provide goods and services that create net social benefits but no or small private profits.
Standing's version of 'desired' in relation to his Job Guarantee discussion refers to those with private firms can profit from.
However, the number of jobs that fit into the category of producing net social benefits but no or small net private benefits to capitalists is really only limited by our imagination.
The Job Guarantee thus allows us to redefine what we mean by 'productivity'.
His only reference to inflation comes when he claims that the UK Guardian's reference to the price stability feature of the Job Guarantee "contradicts generations of research".
Yes, neoliberal research based on a Phillips curve framework is now incapable of explaining why, with low unemployment, wages growth and inflation are languishing.
Further, his lack of citation of our work, reveals his version of "research" excludes the work on buffer stocks, which clearly provide price stability mechanisms, that have been successfully implemented in primary commodity markets for decades.
And he reveals his neoliberal ignorance when he comes to consideration of cost:
If the government guaranteed the minimum wage in guaranteed jobs, those in jobs paying less (or working fewer than the guaranteed hours) might quit or find ways to be made redundant, so they could have a guaranteed job instead. Social democrats might like that, as it would mean better-paying jobs for more of the underemployed and precariat. But the fiscal cost would be daunting. For example, in the UK, over 60% of those regarded as poor are in jobs or have someone in their household who is … Would they all become eligible for a guaranteed good job?
One could easily say what would happen if the same cohort he is worried about moving from low-pay, insecure, underemployed jobs in the private sector to the Job Guarantee, instead opted for a UBI in his world.
But that is not the point here.
First, anyone is eligible for a Job Guarantee job. It is an unconditional job offer at a socially inclusive wage with additional non-wage benefits such as health care, child care, training allowances, holiday and sickness benefits, transport subsidies, and superannuation entitlements.
That is, it is a real job with the proper conditions attached.
Second, Standing is acknowledging that the main group who would be attracted to taking a Job Guarantee job are those who are currently disadvantaged but working but who would like to have a stable income and transit from their current precarious situation.
Third, there is no financial constraint on the currency-issuing government prohibiting that transition. By invoking so called "fiscal cost", Standing is just rehearsing and perpetuating the standard neoliberal myths.
And he holds himself out as a progressive person. That demonstrates why the neoliberals have dominated the public debate.
Fourth, he claims the Job Guarantee "would be a recipe for perpetuating low productivity" yet he opposes a scheme that will entice people out of low-wage, low-productivity jobs.
The fact is that the Job Guarantee would force private employers who are offering jobs below a socially inclusive minimum wage (and conditions) to either restructure through investment to lift productivity or go out of business.
It would also force employers who wanted to expand their workforce to pay above that Job Guarantee minimum and that would, in many cases, require new investment.
In that sense, a fully employed economy with a Job Guarantee promotes dynamic efficiency.
There is a lot more to discuss but this is long enough.
The final attack that Standing mounts, which he says he considers to be "the policy's worst feature" is that:
It would reinforce twentieth-century labourism, by failing to make the distinction between work and labour. Those who back guaranteed jobs typically ignore all forms of work that are not paid labour. A really progressive agenda would strengthen the values of work over the dictates of labour. It would seek to enable more people to develop their own sense of occupation.
This is from a person who has not cited piece of our work.
It is an absurd criticism.
I have written extensively about the how the Job Guarantee can provide a transformative and radical framework for an inclusive society.
Around the world there are several trends that challenge the traditional notions of work and income:
There rise in part-time and precarious employment.
Elevated and persistent levels of unemployment.
Growing and significant underemployment.
Increasing polarisation of income distributions and rising income and wealth inequality.
The impacts of the 'second machine age'.
The traditional moral views about the virtues of work – which are exploited by the capitalist class – clearly need to be recast.
A progressive vision cannot embrace a capitalist labour market where a rising number and proportion of workers are finding it difficult to get sufficient work and/or pay rises in line with productivity.
In many countries, real wages growth has been flat or going backwards for a few decades now as the top-end-of-town capture an increasing proportion of the real income produced.
Something has to give. The Job Guarantee can become part of a progressive pathway that allows for the transition away from the destructive dynamics that characterise the neo-liberal labour market.
Clearly, social policy can play a part in engendering this debate and help establish transition dynamics. However, it is likely that a non-capitalist system of work and income generation is needed before the yoke of the work ethic and the stigmatisation of non-work is fully expunged.
The question is how to make this transition in light of the constraints that capital places on the working class and the State.
Basic income guarantee advocates consider their approach provides workers with the necessary options to reject the capitalist 'gainful' worker approach by breaking the nexus between surplus value creation and income receipt at the individual level.
The UBI proponents argue that the introduction of an income guarantee would thus be liberating. But paying a pittance to maintain some minimum consumption level is hardly likely to be liberating when the vast majority of people want work and who during recessions cannot get it.
But, Job Guarantee proponents argue that there is a need to embrace a broader concept of work in the first phase of decoupling work and income.
However, they argue that trying to impose this new culture of non-work on to society as it currently exists is unlikely to be a constructive approach. The patent resentment of the unemployed will only be transferred to the "surfers on Malibu" (using Van Parijs' conception of life on basic income!
The Job Guarantee provides a superior vehicle to establish a new employment paradigm where community development jobs become valued.
Over time and within this new Job Guarantee employment paradigm, public debate and education can help broaden the concept of valuable work until activities which we might construe today as being 'leisure' (non-work) would eventually be considered to be productive employment.
For example, imagine we allow struggling musicians, artists, surfers, Thespians, and the like to be able to be employed within the Job Guarantee.
In return for the income security, the surfer might be required to conduct water safety awareness for school children; and musicians might be required to rehearse some days a week in school and thus impart knowledge about band dynamics and increase the appreciation of music to interested children.
Reciprocity is clear in these cases. The surfer receives income security because he/she is employed to surf but is productive because they also provide value to society beyond their own hapiness. Win-win.
A surfer who has no reciprocal responsibilities under a basic income guarantee provides nothing to society in general.
Further, basic income advocates like to hold out community activism as something that would increase under a basic income guarantee.
But why not declare these activities to be a Job Guarantee job. For example, organising and managing a community garden to provide food for the poor could be classified as a paid job. We would see more of that activity if it was rewarded in this way. What might be a selfish activity under basic income could become a society-enriching and productive activity if the gardeners were required to redistribute their produce.
By gradually re-defining the concept of productive work well beyond the realms of "gainful work" which specifically related to activities that generated private profits for firms, a Job Guarantee sets us up for the future.
The conception of productivity (and efficiency) as a social, shared, and public outcome is then only limited by one's imagination.
In this way, the Job Guarantee becomes an evolutionary force – providing income security to those who want it but also the platform for wider definitions of what we mean by work!
Social attitudes take time to evolve and are best reinforced by changes in the educational system. The social fabric must be rebuilt over time.
The change in the mode of production through evolutionary means will not happen overnight, and concepts of community wealth and civic responsibility that have been eroded over time, by the divide and conquer individualism of the neo-liberal era, have to be restored.
The Job Guarantee provides a strong evolutionary dynamic in terms of establishing broader historical transitions away from the unemployment (and income insecurity) that is intrinsic to the capitalist mode of production. The Job Guarantee provides a short-run palliative and a longer-term force for historical change.
The basic income guarantee is found lacking in this regard on all counts.
Conclusion
I sincerely hope that John McDonnell rejects Standing's deficient report.
I oppose the use of a BIG as the primary means of poverty reduction for the following reasons:
It creates a dependency on passive welfare payments.
It creates a stigmatised cohort.
It does not provide any inflation buffer and is inconsistent with the macroeconomic principles spelt out by MMT.
It does not provide any capacity building. A BIG treats people who are unable to find adequate market-based work as "consumption" entities and attempts to meet their consumption needs. However, the intrinsic social and capacity building role of participating in paid work is ignored and hence undervalued. It is sometimes said that beyond all the benefits in terms of self-esteem, social inclusion, confidence-building, skill augmentation and the like, a priceless benefit of creating full employment is that the "children see at least one parent going to work each morning". In other words, it creates an intergenerational stimulus that the BIG approach can never create.
The Job Guarantee is a far better vehicle to rebuild a sense of community and the purposeful nature of work. It is the only real alternative if intergenerational disadvantage is to be avoided.
It also provides the framework whereby the concept of work itself can be broadened to include activities that many would currently dismiss as being leisure, which is consistent with the aspirations of some basic income advocates.
The point is that over time, activities that basic income advocates think represent freedom (surfing) would become jobs under the Job Guarantee as out attitudes to work evolve in a progressive way.
For detailed analysis and answers to all the questions you might have about the Job Guarantee please consult the following work.
Mitchell, W.F. (1998) 'The Buffer Stock Employment Model and the NAIRU: The Path to Full Employment', Journal of Economic Issues, 32(2), June, 1-9.
Several blog posts available from this – Job Guarantee – archive
Type in Pavlina Tcherneva and Job Guarantee.
And my plane landed in Sydney and so I finish.
That is enough for today!
(c) Copyright 2019 William Mitchell. All Rights Reserved.