The austerity attack on British local government – Part 2
I have been doing research on local government funding in the UK recently as part of preparation for a workshop I am presenting in London on Sunday, May 12, 2019. The workshop – Local Government Funding: Challenging the Status Quo – is primarily designed to tackle this issue from an Modern Monetary Theory (MMT) perspective. My brief is to speak about the way in which flawed understandings of the capacities of currency-issuing governments, combined with a vicious, ideological attack on working people from a government fully invested in neoliberal transfers to the elites, have ravaged the capacity of local government in the UK to deliver essential public services. See the Events Page for more details. It is a public event and I hope people support it. In – The austerity attack on British local government – Part 1 (April 30, 2019) – I examined the way in which the central government austerity had impacted on the major service areas in Britain and considered some of the motivations that have been driving this agenda. In this Part, I am examining the way in which these cuts have been distributed at the local government level. How their grants have been cut and how they have been forced to rely on their own income bases to maintain a semblance of service delivery. I also consider the shifting composition of service delivery in the face of these cuts from broader areas that define a sophisticated society to the raw essentials of human social care. I clearly cannot provide a complete account of what has been going on in two blog posts and that is not my purpose anyway. For example, I am not considering the controversial Universal Credit scheme and the way housing benefits, previously paid by councils have been rolled into that scheme. So bear that in mind when reading. Any reasonable person observing what has been going on in Britain would conclude that this period of Tory government has been a disaster for the well-being of citizens and regions.

Tory cuts and Brexit
My views on Brexit are by now well known. I still read regular articles from progressives saying that the problem for Britain is not its membership of the European Union, but, rather, the mindless austerity bias of the Conservatives.
The corollary of this argument is that all of the emotional energy that is being consumed by the politics surrounding Britain's impending exit is for nothing.
The argument goes that progressive energy should go towards getting rid of the Tories, establishing social democratic policies in Britain, and then forging this new progressive consensus into a movement that will reform the neoliberal cabal that is the EU.
It's the stuff of dreams.
I've written before about the near impossible task of reforming the EU along progressive lines within the current legal and institutional architecture defined by the various treaties.
I agree that progressives should be working within Britain to kill off the Tory neoliberalism.
But they also should be seeing Brexit as part of the broader campaign to free Britain from the EU.
Now to local government concerns in Britain.
The funding challenge for local authorities
When the Tory government was elected in 2010, at the height of the GFC recession, it did what all mindless conservative governments do – it set about cutting government's net contribution to spending – the austerity impost.
Local authorities in the UK are heavily dependent on the central government for their income through grants from the Ministry of Housing, Communities and Local Government (MHCLG) – aka 'The Department'.
The Department not only distributes central government funds to the local authorities but it also sets (Source):
… the limits on the extent to which local authorities can increase their council tax rates without holding a local referendum.
A House of Commons Briefing Paper (No. 08431) published on October 31, 2018 – Local Government Finances – showed that:
Grant funding has decreased in every year since 2010/11, for all types of local authority – in March 2018, the National Audit Office used the same data to estimate that total funding across England is set to fall in real terms by 56.3% between 2010/11 and 2019/20.
They produced the following Table:

A National Audit Office Report (released March 8, 2018) – Financial sustainability of local authorities 2018 – examined the performance of the MHCLG, explicitly in relation to the issue as to:
… whether the Department, along with other departments with responsibility for local services, understands the impact of funding reductions on the financial and service sustainability of local authorities.
It found the following "Key facts":
1. Between 2010-11 and 2017-18, government funding for local authorities fell by a staggering 48.1 per cent in real terms.
2. Over the same period, there was a 28.6 per cent "real-terms reduction in local authorities' spending power (government funding plus council tax)". In other words, the rise in council taxes did not offset the loss of grant funding.
3. There was a "3.0% – real-terms reduction in local authority spending on social care services, 2010-11 to 2016-17".
4. "32.6% – real-terms reduction in local authority spending on non-social-care services, 2010-11 to 2016-17".
5. "£901 million – overspend on service budgets by local authorities in 2016-17".
6. "66.2% – percentage of local authorities with social care responsibilities that drew down their financial reserves in 2016-17".
7. "10.6% – percentage of local authorities with social care responsibilities that would have the equivalent of less than three years' worth of reserves left if they continued to use their reserves at the rate they did in 2016-17".
By any stretch of the imagination this is a parlous state for the authorities vested with the responsibilities to provide essential human and infrastructure services in local areas.
As the austerity squeeze has tightened:
Local authorities have protected spending on service areas such as adult and children's social care where they have significant statutory responsibilities, but the amount they spend on areas that are more discretionary has fallen sharply … spending on planning and development fell by 52.8% in real terms, with spending on housing services and highways and transport falling by 45.6% and 37.1% respectively.
So there has been a concentration of local spending on social care, while the rest of their service charter is being neglected.
On December 7, 2018, The Chartered Institute of Public Finance and Accountancy released their – Annual Library Survey.
It found that:
The number of public library branches and paid staff in Britain continues to drop, as stretched councils reduce their spending on the service … This follows a trend which has seen the number of public libraries and paid staff fall every year since 2010, with spending reduced by 12% in Britain in the last four years …
The CIPFA spokesperson said:
Libraries have faced significant cuts under austerity, with councils forced to reduce spending on all 'non-essential' services across the board.

We can view libraries as a bit of a canary in the coal mine for what is happening across the local government sector, as we see it reflect many wider trends.

A lack of funds is forcing many councils to get creative in how they deliver their services, and we find in our public libraries this loss of paid employees is creating a reliance on volunteers.

Similar cost shifting is happening across almost all local government services, with communities finding everything from legal aid to green waste collection no longer as accessible.
CIPFA found that volunteerism is on the rise as citizens try to defend the loss of services they value.
Volunteerism has become a symbol of the neoliberal era. Austerity-biased governments spruik how wonderful it is that such community spirit is growing and preach community service and all the rest of the motherhood statements that accompany this syndrome.
But in many cases, volunteers are just doing work that was formerly a paid job. They are just covering up, to some extent, the damage created by unnecessary fiscal cutbacks.
I see no virtue at all in people working for free when the tasks they were fulfilling were previously paid jobs.
The National Audit Office Report (cited above) concluded that:
Compared with the situation described in our 2014 report, the financial position of the sector has worsened markedly, particularly for authorities with social care responsibilities …

Local authorities face a range of new demand and cost pressures while their statutory obligations have not been reduced. Non-social-care budgets have already been reduced substantially, so many authorities have less room for manoeuvre in finding further savings …

The financial uncertainty created … risks longer-term value for money.
Neoliberal myopia.
The – Local government financial statistics – England (compendium) – data allows us to see the changing revenue situation for English councils.
Government grant funding to local authorities has fallen from 65 per cent of total income to 52 per cent (in 2016-17) in a period of declining funding overall.
There are two other problems facing local authorities in the UK in the face of the government funding cuts:
1. The population is increasing which means higher demand for services.
2. The population is ageing which means higher demand for particular services.
The Family and Childcare Trust – Annual Older People's Care Survey – (released December 13, 2018) found that:
Just one in five local areas in the UK report having enough older people's care to meet demand … leaving over 4.3 million people aged 75 or over living in areas without enough care …

no local authorities in Inner London or Northern Ireland reported having enough care to meet demand in their area, while almost half (44 per cent) did in the East Midlands and the North East. 34 per cent of local authorities expect the situation to get worse in the next year, compared with only 1 per cent who expect it to get better.
So the austerity program from the Tories is not only shifting costs onto local governments but also shifting costs from local government to individuals, who are increasingly being forced to pay for their own aged care.
Local government spending patterns
With the devolved administrations for Scotland, Wales and Northern Ireland, comparison with England is not possible in any sensible way.
So what follows focuses on English statistics only. The trends are typically common across all of the UK.
The largest proportion of local government service expenditure (excluding Police, Fire and Rescue spending) in England goes to Education (42.9 per cent).
Social care spending is next 30.4 per cent.
These proportions are shown in the following graph (as at 2017-18).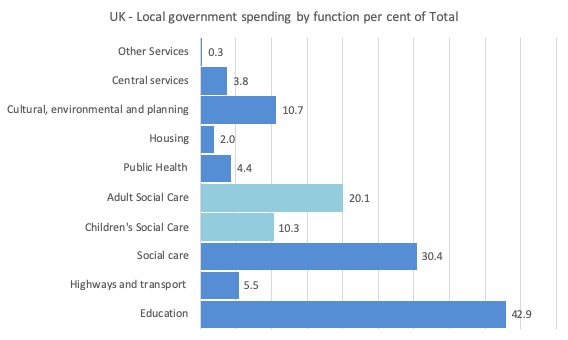 It should be noted (and I discuss this a little more next) that while Education services is the highest proportion of service expenditure, the majority of spending that local authorities faciliate takes the form of 'ring-fenced' grants from the central government.
The – Dedicated Schools Grant – is a prime example.
Education spending, for example is a smaller proportion of total local authority spending because of the way the central government has transferred funding to the 'privatised' – Academy structure – which are independent of local authority control.
Although with the cuts to the NHS, local authorities have now become responsible for taking up the slack for those with learning disabilities.
So these proportions should really be interpreted as mostly reflecting the funds that local authorities glean from tied central government grants rather than any discretionary spending decisions that they might take themselves.
The following Table (derived from MHCLG data and ONS inflation and demographic data) shows the percentage change in real headline categories of spending at the local level per capita between 2010-11 to 2017-18.
Note the caveats above regarding the complexity in differentiating spending that local authorities just pass through from discretionary spending decisions.
The only area that has seen an increase in real per capita spending over the Tory reign is Children's Social Care services and this largely because there has been a massive increase in the number of vulnerable children.
Data available from the UK Department of Education – Characteristics of children in need shows that there has been a dramatic rise in numbers under the so-called Section 47 under the Children's Social Care legislation, which covers cases where there is a "reasonable cause to suspect that a child who lives, or is found, in their area is suffering, or is likely to suffer, significant harm".
So bad cases.
As local authorities are forced to deal with these human emergencies, spending is cut elsewhere in an environment of declining overall funding.
That is a vicious cycle – the cuts wreck families, children suffer, so spending on protecting them has to rise, and that squeezes spending elsewhere and – the cycle continues.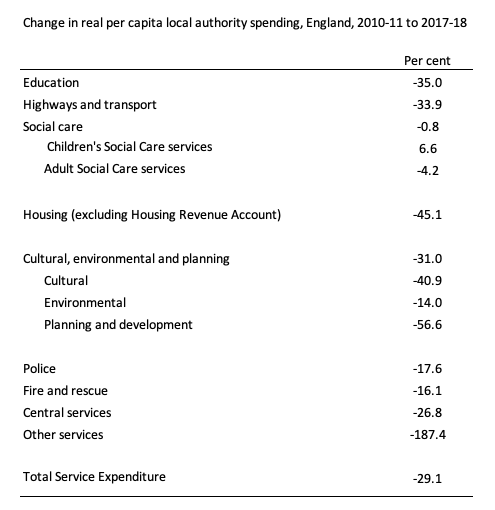 Whichever way one might want to look at this, and whatever complexity and qualifications one puts up to blur the story, the cuts are devastating both in the short term (for example, cuts to Adult Social Care services, Cultural services, etc) and the longer term (for example, cuts to planning and development services, environmental services, etc).
Some of the longer-term impacts will be seen in the massive cuts to housing expenditure by local authorities.
Local authorities are responsible for helping improve housing quality in defined slum areas, keeping track of private landlords and for increasing the stock of public housing.
But as the poverty rates rise and homelessness increases it is obvious there is an inability of the local authorities to keep pace with the disaster unfolding.
The upshot is that local authorities are diverting some longer-term housing spending into crisis accommodation to help keep people off the streets. It is a myopic strategy but obviously essential given the crisis.
Finally, the National Audit Office's report on the Financial sustainability of local authorities 2018 (cited above) concluded that:
Compared with the situation described in our 2014 report, the financial position of the sector has worsened markedly, particularly for authorities with social care responsibilities …

A combination of reduced funding and higher demand has meant that a growing number of single-tier and county authorities have not managed within their service budgets and have relied on reserves to balance their books. These trends are not financially sustainable over the medium term …

Some 10.6% of single-tier and county councils would have the equivalent of less than three years' worth of total reserves (earmarked and unallocated combined) left if they continued to use their reserves at the rate they
did in 2016-17 …
So the story is a bit like this:
1. The central government squeezes total funds available to local authorities.
2. It increases or maintains their spending responsibilities.
3. Population grows and ages.
4. Overall austerity increases the number of people reliant on council service delivery.
5. Local authorities divert their shrinking funds into crisis areas.
6. They cannot cope.
7. They start drawing on their finite reserves.
8. Eventually, with public infrastructure in a degraded state due to lack of maintenance, people still in need, the local authorities are issued with so-called Section 114 notices – signifying they are "at risk of failing to balance its books in this financial year".
9. At that point, the local authority is in breach of the law and the system of government becomes unsustainable.
Regional impacts
The cuts in government spending on services (both central and at the local level) have not impacted evenly across space.
After analysis the spending power of local authorities (which is "the total amount of money that local authorities have available to them for making decisions"), the House of Commons Briefing Paper (No. 08431) cited above concluded that:
… few consistent patterns in the distribution of spending power, although there is a definite cluster of higher spending power in the north and in the London boroughs.
However, they also note that:
One of the best demonstrations that spending power is not necessarily associated with the location of an authority is that the local authority areas with the highest and lowest spending powers are right next to each other (these being Kensington and Chelsea and Wandsworth, respectively).
Trying to summarise these patterns therefore is quite a task.
Further, there is a problem with comparability of data across years as policy shifts occur (programs come and go, etc). In part, this is also because:
much of the money that the authorities spend … is instead simply passed directly on to service providers (such as schools or the police). This means that such spending does not count as part of authorities' funding or their spending power; it also means that figures for core spending power and actual spending are not directly comparable.
Having said that, it remains true that the highest spending power per capita is "found within London" and the "lowest is to be found in the Midlands". Local authorities "around Manchester and Liverpool also … [have] … relatively high spending".
The first graph shows the percentage change in Total identifiable expenditure on services by country and region per head in real terms between 2010-11 and 2017-18.
First, it shows the impact of the limited discretion that Scotland and Wales have to resist central government dictates.
Second, there is considerable regional disparity.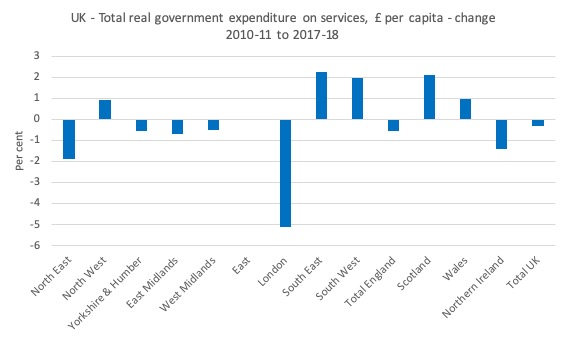 At the local government level, the situation is more dire and reflects my view that the austerity imposed by the Tories has been pushed down to local authorities as an act of depoliticisation – the local officials take the blame not the central government.
This graph shows the Total local government identifiable expenditure on services by country and region per head in real terms between 2010-11 and 2017-18.
As we can see, the revenue-raising capacity of the London boroughs has attenuate the central government spending cuts impacting in that region.
For other regions with less own revenue-raising capacity the situation has not been positive.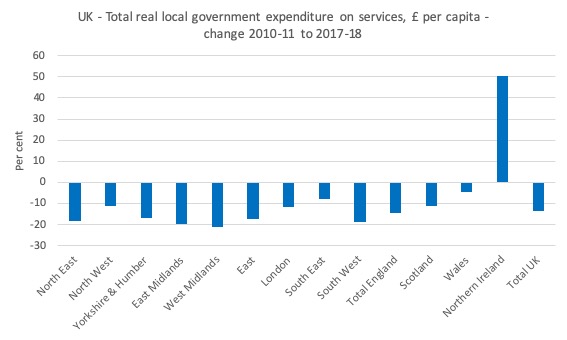 Conclusion
The two-part series was really designed to help me better understand the way in which the neoliberal austerity in Britain has impacted at the local level.
I don't pretend to be an expert in UK local government finances – it is a complex web and a difficult one to untangle. It will take a book-type project to do that.
But I am much better informed now and that was my objective.
By any measure, the numbers are devastating.
But behind the numbers – which are easy to see and write about – is a human and environmental tragedy. That is much harder to put into words and impossible to experience sitting behind a computer screen distilling information from official data and reports.
It is the attack on the human condition that should motivate a renewed class struggle within Britain to expunge the Tories and the Blairites from the major political parties, free Britain from the neoliberal cabal centred across the Channel, and start reconstructing the system of government in Britain to ensure infrastructure and services are supplied according to human need rather than according to some fictions recorded in fiscal documents.
That is enough for today!
(c) Copyright 2019 William Mitchell. All Rights Reserved.