Neoliberalism corrupts the core of societal values
It is Wednesday and just a brief comment on current affairs today. Tomorrow I will have Part 2 of my response to the German attack on Modern Monetary Theory (MMT). Nations more often and not claim to identify with a value system that is intended to bind the citizens together. It is a fine line between this and nationalism. The US for example, claims to be the land of the free, although that is a patently ridiculous thing to hold out given the nature of its society. Australia has long traded on the claim that it elevates sportspersonship, fairness, honesty above all else. In a sports' obsessed nation, we hold ourselves out to be 'fair but tough'. We play very hard – competitively – but honour sporting traditions. At times, this claim is at the sanctimonious extremes and we regularly criticise other sporting nations for what we perceive to be rule breaking – even rule stretching doesn't escape our 'holier than thou' media and commentators. That myth has now been exposed. In fact, our most elevated national team – the Australian cricket team – has demonstrated that it stoops to deliberately conceived cheating (not spur of the moment) in order to win. And now these revelations are obvious, the national scandal that has followed, reveals how out of touch we have become with what has happened to our Society in this neoliberal era.

This was the front-page of the on-line edition of the Melbourne Age this morning. It is representative of the media hullabaloo that has followed revelations on Sunday that the Australian cricket team had deliberately cheated.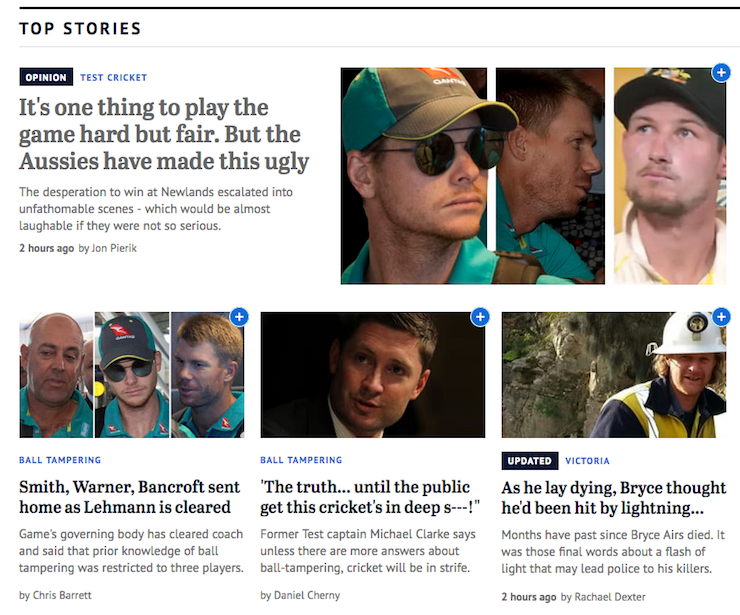 For those from non-cricketing nations, a major scandal has unfolded this week involving the deliberate plan by the Australian captain, the vice-captain and the most junior player in the field to deface the ball to give the Australian bowlers an unfair advantage against the South African batsmen.
The nuances of how the defacement was to be accomplished and what it might do by way of advantage need not detain us here. They are peripheral to the point.
It was really naive plan given that it involved an open act on a field with multiple TV cameras scouting around at all angles.
The fact they chose an object that was highly visible in colour against the white cricket clothes the direct offender was wearing makes it even more stupid.
And when the umpires were alerted the direct offender then tried to stuff the object down his underpants, all completely visible to the world watching on TV – which would have been tens of thousands of people.
So it was a really dumb plan, but that is not the point.
Neoliberalism is a corrupting influence.
It eats aways notions of collectivism and Society. It creates divide-and-conquer tendencies among groups within Society.
Neoliberalism, which advances narrow sectional interests, permeates and comprises our policy making institutions.
For example, there is no secret to solving unemployment – produce jobs. There is no financial shortage to fund the necessary jobs – a sovereign government can do that whenever they choose.
There is no shortage of productive things to do. There are millions of jobs that I could define which are not currently being done and which would improve the quality of our societies or communities.
The only thing missing is the political will or political leadership necessary for the government to announce that it was serious about eliminating unemployment.
The reason is that the dominant elites, which are increasingly being dominated, in turn, by large financial interests, which themselves are inherently unproductive, have developed a narrative to convince us that it is better to have millions of people doing nothing than producing inclusive jobs to meet the desires for work by the unemployed.
We have been indoctrinated into believing that if a person is not advancing private profit-seeking behaviour then the work that might be created is unproductive – and wasteful.
We have also bought the narrative that the unemployed are in some way letting themselves down – they are lazy, unskilled, lacking in something or other. Easy riding of income support schemes that just reinforce this indolence.
The idea that the lack of jobs is a systemic constraint imposed on individuals who are largely powerless to respond has been lost. Now we are somehow meant to believe that the individual – the micro scale – is all dominant and can overcome a macro scale shortage of jobs.
Why, you just create your own job, that's entrepreneurship! But what would you "sell"? Anything that has a market? But if all the spending by buyers (irrespective of the particular products they buy) doesn't add up to the total output being produced then isn't there going to be some sellers who cannot sell anything? That's competition. And so the denial goes on.
But the point is that the most disadvantaged citizens among them the unemployed are rendered as almost inanimate objects with all-defining characteristics – all lazy, all without entrepreneurial zeal – all just living on welfare.
We don't publish stories about the huge welfare spending on corporates, which dwarfs the social security payouts to the poorest citizens. That would be too challenging for the narrative.
Neoliberalism has also invaded areas of our lives that were previously separate from the 'valorisation' (labour) process.
As the corporate monolith spreads, capital seeks new ways to create surplus value and realise that surplus value as monetary profits.
One of the features of neo-liberalism is it capacity to commodify everything. That is create labour processes that produce commodities for profit. The labour process spread is one of the characteristic features of the last several decades.
The great American author and activist – Harry Braverman – wrote about this trend in the early 1970s.
He clearly understood that capitalist profit-making would seek to impose its constructs on all aspects of human activity.
Even those activities that were previously part of our non-working lives – our lives away from the oppression of work.
Anything that doesn't allow private profits to be made is not considered worthwhile 'work'.
Progressively, these new 'labour processes' (with commensurate 'market-values') subsume our whole lives – sport, leisure, learning, family – the lot. Everything becomes a capitalist surplus-creating process.
If you read Labor and Monopoly Capital, you will find that Braverman tried to reorientate the debate on the Left back to the essence of work and the dynamics of surplus value production as it affected the way people worked and lived.
He was particularly interested in how workplaces were changing as the corporate structures became more concentrated and politically powerful.
This was the beginning of the period when the Left were becoming obsessed with 'post modernism' and losing touch with the essence of the Marxist tradition.
So various dead-ends starting emerging – gender, ethnicity, sexuality. Identity politics!
I am not saying these are dead-ends because of their unimportance. Each of these issues is crucially important. But as the Left splintered into various groups pursuing one identity issue or another, it lost a central organising focus – the class conflict between labour and capital – within which the pursuit of these identity issues would have been more powerful and effective.
With the two trends – an obsession with 'individualism' (breaking down the collective and societal understandings of poverty, unemployment etc) and the broadening of the labour processes – many aspects of our society changed fundamentally.
I wrote about how sport has been corrupted in this way in this blog post – Sport and doping – the spreading tentacles of capital (February 11, 2013).
Why are Australians so surprised that our national cricket team are cheats?
Why would be surprised that the captain of that team has admitted to conspiring with his fellow senior players to pressure a younger player in the team to deliberately cheat and then attempt to cover it up when the umpires called them out?
Why do we still believe that Australia is the land of decency, egalitarianism, the so-called 'fair go' where mates help each other out no matter what their circumstances or background?
The only surprising angle to all this is that the nation seems shocked that our cricketers would do this?
When I was young we were taught that in a competition (a cricket match, bike race, football match, etc) there would obviously be a declared winner and that was to be celebrated.
But, more importantly, we were taught that if we all tried our hardest, played by the rules and respected our opponents during the game, then we also were 'winners' irrespective of where we placed in the 'official' competition.
We were taught that sport was about games, having fun outside work.
Now it is work.
Now, we aim to win at all costs. The rules, laws of the 'game' are to be used when convenient but ignored if we can win outside of them.
The game has lost meaning.
This is a nation that no longer bears much similarity to the nation of the so-called 'fair-go', the 'tough but fair', the 'we look after our mates and those in need' – and all the rest of the bunk that we delude ourselves as representing.
Currently there is a Royal Commission into the Banking sector. It is exposing their 'sharp' business practices.
Sharp is euphemism for lying, cheating, pressuring, deception, knowingly pushing loans onto people they knew could not pay, inflating interest rates without telling people, etc
Banks under the 'old' Australia were the exemplars of community trust – making small returns to look after our deposits. The bank manager was usually an upstanding character in the local area.
Banks have morphed from this to become predators – working all the angles to cheat us out of money. Plotting elaborate and not so elaborate frauds which take advantage of the ignorant, the weak, the greedy.
So why are we so surprised that the cricketers are cheats when our big four banks are clearly cheats, liars and frauds?
This is a nation that used to take care of people in need – especially those from other lands who have been displaced by turmoil, war, famine, whatever.
Now we are a nation that joins forces with the US and the UK (and others) to illegally invade nations and use fraudulent means to justify it (remember WMD!).
And then when people are displaced from their lands through our actions and seek shelter as refugees – men, women and their children – we lock them up in inhospitable prisons on remote Pacific islands and subject them to permanent detention – with all the shocking consequences that we have witnessed.
This is a nation that vilifies those we have deliberately made jobless through our support of government policies that hand over increasing proportions of national income to capital and high income earners at the expense of the rest of us.
We have become so beguiled by the neoliberal narratives that we don't even see the policies we support undermine our own welfare.
This is a nation that has undermined its education system and generated an increasing number our youth as NEETs – without hope and without much future.
Then we tell them they are young entrepreneurs who just need to work hard to get the break they need.
And it goes on.
Neoliberalism has so corrupted our society that we no longer can see how far removed from our 'utopian' vision of it, reality has become.
The 'utopian vision' is a smokescreen reinforced by the elites to cover up what has actually been going on.
So with all that, it is no surprise our national cricket team – the most elite team of all our sporting teams in this sports' obsessed nation – has become increasingly ugly in its behaviour – fights in bars, fights in dressing sheds, excessive vilification of our opponents (so-called sledging) and ridiculous histrionics on the field when an opposition player meets their end in one way or another.
And, by way of extension – it is no surprise they have revealed themselves to be deliberate cheats.
The game has lost meaning.
I would sack all of those involved and ban them for life. No tolerance at all.
But then who is involved?
The administration are as involved as the players who took part in the scam. They all should go.
But then where would that end … the banks, the refugee policies … we would need a root-and-branch revolution to restore our collective decency which has been lost in this neoliberal era.
And who will do this? For at the end of the sickening chain is all of us. We have allowed this neoliberal infestation to take hold and spread in our Society.
We have become part of the vilification of the weak and poor. We support tough governments that impose austerity on us. We are too stupid to see the deception from my profession about fiscal balances etc undermines prosperity for all and transfers largesse to the few.
Our cricketers cheat because they are us.
Music I have been listening to today …
This song from the great blues band – Canned Heat – and was written by Alan 'Blind Owl' Wilson.
His accidental death (drugs were involved) was the first of a string of great demises – Jimi Hendrix followed two weeks later and Janis Joplin, a month later. Three great talents lost just like that.
If you are a blues fan then the 1965 Album by Son House (Father of the Delta Blues: The Complete 1965 Sessions) was Wilson's first recording effort (at age 21).
Son House was old by then and had forgotten all his songs that made him famous in the 1930s. Wilson retaught him all the licks etc.
This song – Time Was – is from their fourth album Hallelujah(released in 1969, I still have the original) – and by then there were tensions within the band (between guitar player Henry 'The Sunflower' Vestine and bass player Larry Taylor).
Wilson wrote the song about those tensions (at least that is what the drummer Fito de la Parra notes in his great biography of the band.
And just to make your day, here is another great song written by Al Wilson – Human Condition – about his experiences with psychiatrists.
This was recorded not long before he died in 1970. It was only released as a single at the time but I have it on a re-release from 1994 – Uncanned! The Best of Canned Heat.
That is enough for today!
(c) Copyright 2018 William Mitchell. All Rights Reserved.