Self-imposed corporate regulations control workers but choke productivity
Two new industries have emerged in this neo-liberal era. The first is what I call the 'unemployment' industry, which operates to case manage the unemployed that poorly crafted fiscal policy has deliberately created and entrenched into our modern societies. A whole parasitic array of private providers get paid by the government to coerce and threaten the unemployed under the guise of retraining them for jobs. I wrote about this scandal in this blog – Why we should close the 'unemployment industry'. In the last few days, a new industry has been identified which employs over a million people in Australia, making it one of the largest sectors, although no official data is published on it. This sector has been labelled in the press this week – the 'red tape' industry or the 'compliance sector'. It is growing faster than any other industry in Australia and probably elsewhere, although there is no data available that can tell us that. It is largely unproductive because it undermines the productivity of other workers. Red tape, compliance, must be the public sector once again imposing its heavy hand on private endeavour, right? Wrong, the neo-liberals not only created and expanded a moribund and dysfunctional financial sector but has also created the red tape industry as it seeks to control workers down to the smallest degree. Hilarious really if it wasn't so wasteful and hypocritical.

The typical narrative from those that hate government involvement in the economy is that there has to be more deregulation. The extremists claim that a self-regulating private market place will deliver the best outcomes for all.
The GFC proves that even a significantly deregulated private financial market with reduced prudential oversight from the relevant authorities delivers catastrophic outcomes.
But facts are not the natural territory of the neo-liberal. Free markets are what they claim to want whereas what they mean is a market tilted towards their own interests irrespective of what happens to the rest of us.
Every day there is some moocher from the private business sector demanding that the government regulative structure be stripped down. The media has a field day when they can find examples of public sector mismanagement, corruption, or plain waste.
The entire Eurozone narrative from the ECB, Brussels, the IMF and the right-wing commentariat is focused on so-called 'structural' reforms – getting rid of job protections, safety rules and other regulative stipulations that have been built up over many decades.
While many of these reforms will not do anything to stimulate growth in the Eurozone, they will, once growth resumes undermine the prosperity of workers and further reinforce the income and wealth inequality that has grown under the neo-liberal regime.
We certainly do not want a poorly performing public sector. Waste is waste. But the debate is so ridiculously concentrated on the public sector and the role of government that we often lose sight of the extent of waste and nonsensical work and business practices that are about in the private sector.
The moochers from the private sector lobby rarely comment on their own practices. While neo-liberals pretend to want freedom for all and as little regulative interference, they have perfected a system in Australia (at least) which is the exemplification of top-down rigidity and waste.
That is what the report that was released yesterday tells us.
The Australian Treasurer launched a report yesterday (October 29, 2014) – Get out of your own way – Unleashing productivity" – which has been produced by a private sector management consultant company. You have to register to get the full report but they respond with a link to the PDF file.
The Treasurer, consistent with his conservative ideological biases, really only wanted to talk about reforming government practices at the launch yesterday.
He actually told the audience (see transcript) that:
I was quite surprised that, according to the report, the largest source of growth in rules and regulations may actually be from the private sector itself.
And I bet all those moochers out there are wondering how they will incorporate the findings of the report in their on-going attacks against 'waste'!
The 'Unleashing Productivity' report's basic finding is that the private sector manages uncertainty and volatility:
… by laying down the law – imposing rules on ourselves – in areas as diverse as human resources (HR), information technology (IT), finance, legal, marketing and executive governance.

The time required for employees to comply with self-imposed rules has become a crippling burden. Middle managers and senior executives are chalking up 8.9 hours a week complying with the rules corporates set for themselves, with other staff spending 6.4 hours.
A 10 per cent reduction in these activities would yield a gain equivalent to "1.6 per cent of national income", in other words, massive losses are being forced onto the economy and its workforce.
The report concludes that productivity gains made possible by new technologies which have reduced the need for so-called:
… 'back-office' workers such as switchboard operators, mail sorters and library assistants have been rapidly shrinking as a share of
the workforce, yet those productivity savings have been swallowed up amid the rising cost of Australia's compliance culture.
They conclude that Australia has "bulked up, employing many people whose role is to create and then enforce a whole bunch of rules and regulations. That doesn't just mean some lawyers and accountants. It also includes some people in finance, IT and HR functions, as well as in fast growing governance and security roles. As a result there are already more 'compliance workers' across Australia than there are people working in the construction, manufacturing or education sectors."
The report provides a graph (Chart 9, page 20) which documents the "rise and rise" of workers engaged in compliance. I have reproduced it below.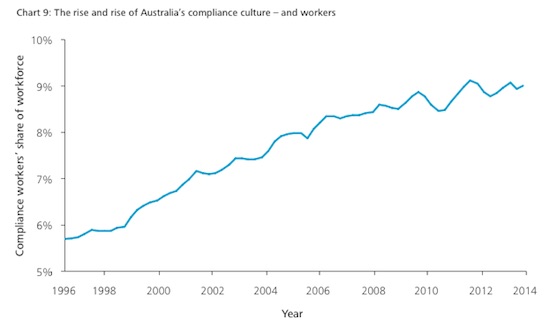 To give you a sense of scale, they say that the 'compliance sector' is:
– Already larger than the construction, manufacturing or education sectors in terms of people employed

– Close to 1.5 times the size of the public sector in Australia (including federal, state, territory and local government)

– More than three times the size of Australia's mining sector.
The bottom line of the research is that:
Where rules don't exist, we create them. Where they already do, we make more. They overlap, they contradict, they eat our time and they weigh us down.
There are many examples given in the report. As a sample they document the case of a "firm that insisted staff complete an ergonomic checklist and declaration when they moved desks, then introduced 'hot desking' such that everyone spent 20 minutes a day filling out forms."
Ah, the hot desking epidemic which is now infiltrating universities. The consultants claim it build team spirit and energy but the reality is that academic staff just work from homeand only go in when they need to see students. Then they meet them at the cafe rather than try to scrabble for a hot desk. Hot desking is idiocy of the highest order.
The report argues that this is all to do with risk management and consistent with their view that we overestimate our vulnerability and gold-plate risk management processes to such an extent that they become dysfunctional and get in the way of endeavour.
I consider this is only part of the story. Micro-management is part of the shift in power distribution under neo-liberalism away from workers towards management.
The compliance culture is intrinsic to micro-management where workers are subjected to minute scrutiny in the name of transparency but it is really about ensuring the firm can get as much surplus value as possible in an environment of changing technologies which make it easier for workers to have self determination.
Nothing much has changed really. While the orthodox economists claimed way back that the development of the factory system was the answer to new mass production technologies nothing could be further from the truth.
These compliance jobs play and important role in controlling the labour process within a capitalist system of surplus production and extraction.
That role is crucial to the maintenance of the capitalist system – a lesson the early capitalists learned when the workers in the cottage industry either stopped working once they had enough for food and beer or scarpered to neighbouring town to sell the "capital" (spinning jennies etc) to buy even more food and beer.
The creation of the factory system – the so-called "production under the one roof" – was not, as neoclassical economics has claimed, a technologically-driven development. The technology was unaltered. They just brought all the spinning jennies together – same machines as before but different organisation.
What was different was the introduction of control and supervisory functions and the early beginnings of workers in a so-called contradictory class locations.
Clearly, workers are not enslaved under capitalism but the major challenge facing the capital is to ensure the labour power they purchase becomes a flow of labour services. This observation suggests that the capitalist firm faces a control problem pertaining to how the managers extract work from the potential they have bought.
In 1974, American sociologist – Harry Braverman – published his premier work – Labor and Monopoly Capital: The Degradation of Work in the Twentieth Century (New York, Monthly Review Press, 1974).
He wrote (pages 57-58):
When he buys labor time, the outcome is far from being either so certain or so definite that it can be reckoned away, with precision in advance. This is merely an expression of the fact that the portion of his capital expended on labour power is the "variable" portion, which undergoes an increase in the process of production; for him the question is how great that increase will be. It thus becomes essential for the capitalist that control over the labor process pass from the hands of the worker into his own. This transition presents itself in history as the progressive alienation of the process of production from the worker; to the capitalist, it presents itself as the problem of management.
In modern terms, the firm agrees to pay a wage to the worker for a given working day (which itself might vary according to various rules). At that point in the exchange the firm has purchases the labour power, which is the capacity to work. No actual labour services have been purchased in that transaction.
So the compliance industry is part of this evolving need to control and realise surplus value.
I considered that argument in more detail in this blog – Bullshit jobs – the essence of capitalist control and realisation.
The report considers whether these "rules and compliance workers" actually add value.
They conclude that these practices "cost Australia $249 billion per year, every year" or around "16 per cent" of our available productive resources are allocated to "administering and complying with rules and regulations".
And they note that is an understatement.
They also conclude that the impact of government compliance requirements is equal in cost terms to about 5.9 per cent of total national income, which sounds large.
But then the private sector 'self-imposed' regulations – including those that seek to control labour – impose costs equal to 9.7 per cent of national income.
And that figure doesn't take into account the "efficiency costs" – the lost income that the regulations impose.
Australian universities
These trends have also infiltrated the university sector in Australia. There is a proliferation of rules and regulations and paper filling out that have drained the time that academics have for the core business – teaching and research.
Consultants pop up from every little crevasse of the campus telling the increasingly highly paid and bloated management sector of the university how to innovate better. Micro-managers abound.
I was at a meeting once where the then director of finance asked the committee – why do staff require laptop computers?
Many services are outsourced including such things as travel. I travel on a plane at least once a week in the normal course of my work commitments.
Universities outsource travel to contracted travel agents who then get bonuses for booking the flights. Once upon a time, when the technology was proprietory and you could not easily book your own travel the use of the travel agent made sense.
Now it is much easier to book flights yourself and monitor the cheapest flights. But universities don't like that flexibility. So you have to submit a travel form, wait for the travel agent to get a schedule together, deal with that, and sometimes it can take a week and several forms and E-mails before you have a flight from Newcastle to Melbourne booked.
Usually the fare is higher than you can get yourself and the agent rakes off a profit. It is a totally nonsensical control system. I can always get cheaper flights (I know what days the airlines change their fare structures for seats etc) than the agents by booking at given times and days etc.
That is just one example of many.
Conclusion
There hasn't been much reaction today from the moocher class in Australia to the report.
I guess they are lying low and will wait a few days while the media cycle moves on before they launch into more self-serving attacks on government rules and regulations and demand unfair dismissal rules or minimum wages or penalty rates etc be abandoned.
But we all know now how hypocritical those claims are.
That is enough for today!
(c) Copyright 2014 William Mitchell. All Rights Reserved.