The size of the deficit should not be the focus
I read the headline – Aussies don't understand deficits: MP – in the Canberra Times with interest and after reading the article I returned to the on-going conversation I have with myself – why have we all been so stupid to have been so duped by the neo-liberal agenda? Almost all the public debate about the Federal Budget tomorrow is a total non sequitur. It bears no relation to the important questions that the Budget process has to deal with. Somehow, we are all sidelined by a rhetoric and a focus that conveniently diverts us away from these real issues and, instead, transfixes us on a piece of fiction. But a convenient fiction which maintains the relative power elites and perpetuates disadvantage. I understand all of that … but I still can't get my head around why we have allowed ourselves to be so conned.

The Canberra Times article reported federal Labor backbencher, Arch Bevis who told the reporter that "most people are unaware that budget deficits were usual during the post-World War II period." Bevis is quoted as saying:
I'm somewhat bemused by some of the commentary that goes on about budget deficits … If you have a look at some of the figures going back some years, most people don't comprehend that during that post-war growth, after World War II, the Commonwealth never had a budget surplus … Through all of those golden years of Bob Menzies, that John Howard lovers used to like to talk about, they ran a budget deficit every single year … Not once was there a surplus until the Hawke-Keating governments.
This was a period when our national Government took responsibility for full employment – ensuring there were enough jobs available to meet the desires of the available workforce. It was a time when we accepted that policy must provide paid employment at adequate levels of remuneration as a matter of human rights.
This is contrary to the statements that the vast majority of the economics profession are now making on a daily basis to their students and the general public. It is contrary to the daily missives that come from the majority of the so-called economic commentators. They focus at various times on issues like excessive wages for low skill workers (but never mention executive cream-offs), excessive tax and welfare levels, stifling budget levels that will kill incentive and burden the future generations to a life so bad that …. They also rail against any form of market regulation and claim they stifle flexibility and economic initiative. The more extreme elements argue that unemployment is a chosen state and therefore part of optimising calculus. That is, it is not a policy problem.
They translate these underlying themes then into the budget debate and make nonsensiscal statements about the "budget blowouts" or "the enormous deficits they're building up" or this gem of ignorance from the Shadow Treasurer:
Ultimately someone will have to pay for all this … It has to be all Australians. They will end up paying higher taxes, higher interest rates, not just for one or two years, but perhaps a decade or more.
This is all nonsense from an economic theory persepctive. But we still fall for the diversion that these erroneous statements create.
The orthodox argument is based on a flawed logic and has not been well supported by empirical evidence. In fact, the GFC is the culmination of the failure of this neo-liberal paradigm and its related policy experiment. The GFC meltdown is a categorical statement that this policy program has failed.
The real source of the persistently high unemployment that has bedeviled OECD economies for more around 35 years or so has very little to do with the reasons advanced by the neo-liberals. The main reason for the unemployment is that a fundamental change occurred in this period in the way governments interact with the community.
In a modern monetary economy, the government operates to redistribute resources from private households to the public sector for use in a variety of collective actions. The desirable size of the government (and the amount of resources that are redistributed) is not an economic issue, but it is rather, a political choice. The question for economists is how the government goes about it role once its scale is accepted.
Unemployment arises because the budget deficit is too small relative to the desires by the private sector to meet its tax obligations, to save and to hold money for transactions purposes, other things equal. As the sole supplier of fiat currency, the government can force the private sector, via the imposition of tax obligations, to provide real goods and services that it desires for its socio-economic objectives. It must however make sure that there is enough currency available to the private sector.
Government spending which adds deposits to the banking system is a primary method of providing these resources and a relaxed interest rate policy is another. But the private sector also has a positive savings propensity and requires cash balances to ease the timing of transactions. If taxes and or interest rates are too high or spending too low then individuals cannot find enough work to meet these obligations and involuntary unemployment results.
While unemployment arises from a lack of net spending by government this policy failure reflects the fact that our notion of collective will, which prevailed in the immediate Post WWII period, has been replaced by a regime of economic rationalism, which emphasises the individual and doesn't understand how a sovereign currency functions. It might be that they do understand the options that a sovereign currency presents a government but deliberately obfuscate this understanding because it is not convenient for their policy aspirations – to transfer more wealth to the rich and maintain a solid core of disadvantage as a control device.
In the 1980s, we began to live in economies rather than societies or communities. It was also the period that unemployment persisted at high levels in most OECD countries. The two points are not unrelated. Unemployment arises because there is a lack of collective will. It does not arise because real wages are too high. While full employment requires that aggregate demand be sufficient to match aggregate supply intentions, we have to go further than this to understand mass unemployment such as we have suffered for 35 years in Australia, because the federal government can always ensure that equality is maintained through judicious use of fiscal policy.
The question is: why haven't they done it? The policy failure arises from the lack of collective will which has been the principal casualty of the influence of economic rationalism.
It is clear that unemployment rates in almost all OECD economies rose after the first OPEC shocks in the 1970s and persisted at high rates almost for the entire period since in most countries. Over that time we have seen excessively restrictive fiscal and monetary policy stances by OECD governments driven by monetarist ideology.
The rapid inflation of the mid-1970s left an indelible impression on policy makers who became captive of the resurgent new-labour economics and its macroeconomic counterpart, monetarism. The goal of low inflation replaced other policy targets, including low unemployment. This resulted in GDP growth in OECD countries generally being below that necessary to absorb the growth in the labour force and labour productivity. The battle against unemployment was largely abandoned in order to keep inflation at low levels.
The pursuit of budget surpluses also narrowed the range of policy instruments used. It is now very difficult to raise income or other taxes to provide flexibility to the budget position. Accordingly, there has been an excessive reliance on monetary (interest rate) policy despite the bluntness of this instrument.
But the underlying cause is that the free market ideology has convinced us, wrongly, that government involvement in the economy imposes costs on us – now and into the future – that we are better off without. There has been a constant cacophony of commentators wheeled out every day to make this point – over and over again. As recession deepens, this chorus has almost gone beyond itself in its daily bleating.
The cacophony though has been spectacularly successful. As a reaction we (the people) have supported governments who have significantly reduced their involvement in economic activity via spending and tax cuts and widespread deregulation and privatisation. We have allowed our governments to worsen the living standards of the most disadvantaged and then punish them for the plight they are in (via welfare-to-work measures). We have stood by as the top-end-of-town has pocketed millions of government welfare payments and rebates (superannuation, private health insurance and the rest of it).
And then as this has started to fall apart … as it had to … the middle class has finally started to see its own wealth shrinking without realising that the governments they supported were the agency that did this to them.
It has been an extraordinary period of self deception, ignorance and myopic behaviour.
The only way we will return to full employment, with everyone sharing in the benefits, is if the public sector dramatically increases its role in the economy.
The lessons from the past are very instructive in this respect. British economists Paul Ormerod in his Faber book Death of Economics wrote in 1994 (pages 202-203) that the the Post-WWII period up to the mid-1970s, which were characterised by strong GDP growth, balance of payments stability, and high investment could have occurred without the low unemployment that was also achieved. He said:
The sole difference would have been that those in employment would have become even better off than they did, at the expense of the unemployed. The higher tax rates and buoyant government sectors allowed the flux and uncertainty of aggregate demand to be shared.
While the bulk of the OECD has abandoned this method of sharing, some economies did maintain high levels of employment into the current period. Ormerod (1994: 203) suggests that Japan, Austria, Norway, and Switzerland, among others have (in their own ways):
exhibited a high degree of shared social values,, of what may be termed social cohesion, a characteristic of almost all societies in which unemployment has remained low for long periods of time … [and most significantly] … the countries which have continued to maintain low unemployment have maintained a sector of the economy which effectively functions as an employer of the last resort, which absorbs the shocks which occur from time to time, and more generally makes employment available to the less skilled, the less qualified.
Which all makes the public debate about tomorrow's budget very depressing. The reality is that the cacophony is working tirelessly to deflect the debate from the real issues and instead focus on non-issues. Well non-issues in an economic sense. They are clearly very important issues in the on-going struggle to ensure that we do not return to a society that shares the largesse more equally but, instead, maintain public policy parameters that, in their skewed logic, maintain their hold on wealth and power.
I say skewed because the neo-liberal policy regime will always create crises such as we are undergoing. The damage that these episodes cause hurt nearly everyone and could not possibly be the best way to generate wealth – at the top-end or the bottom-end.
Those who are sympathetic to neo-liberal economics because they think they will do better, if these sort of policies are applied, really fail to understand that everyone does better when there is full employment, high wages and high productivity.
Is now the time to be getting tough?
Given all that, the theme going into tomorrow's budget announcement is that the middle class will have to feel a lot of pain in its hip pocket before the budget will return to surplus.
Access Economics, masters in being able to self promote themselves to the national stage by saying nothing, are putting out regular warnings along these lines. Apparently, they are questioning the "political bravery" of our Treasurer. They were reported today as predicting a Budget deficit of around $60 billion which they claim will be very difficult to wind back into surplus.
But is this a big deficit anyway? Assuming that the IMF growth predictions are correct (-1.3 per cent this year and a modest 0.3 per cent next year), then a $60 billion nominal deficit balance would average out in fiscal year 2009-10 to be only around 4.9 per cent of GDP. In the scheme of things, given the extent of the global meltdown and the inherited high rates of labour underutilisation that we had as we entered this downturn, this is not a high figure. In fact, it is way too small in terms of the overall spending gap that needs to be closed to generate low unemployment rates (and zero underemployment).
To see this, the following graph shows the history of the budget deficit as a % of GDP since 1970-71. You can clearly see that after each period of budget surpluses the deficit re-emerges. By the way, as a historical fact, the statement by Bevis is wrong. In the early 1970s, the emerging neo-liberals persuaded the Government to pursue harsh fiscal policies and you can see the results!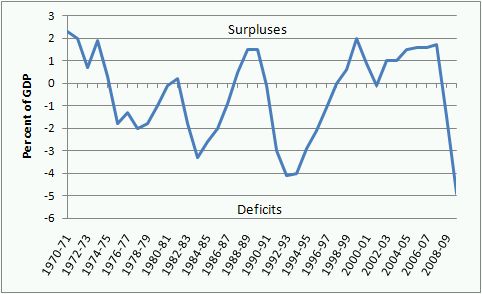 This graph will tell you why. Each time the neo-liberals have tried to force a major withdrawal by the Federal Government (evidenced by a budget surplus), unemployment has risen. The economy just cannot grow if the private sector desires to save and the federal government realised fiscal surpluses. It is not possible to sustain these two things.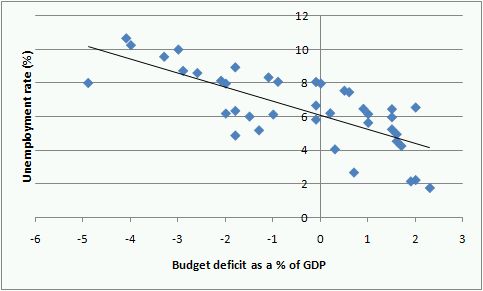 Which suggests that all this talk about the Budget – that it needs to chart a path back to surplus – are spurious in the extreme and once again designed to divert us from the need to re-create collective will and restore full employment.
The national accounting is clear – the budget deficit finances non-government saving. If you claim you want to run surpluses as a steady-state aspiration then you must be also saying that you want the non-government sector to be in deficits. A budget surplus – created every day will require the private sector to be in deficit every day. These daily deficits accumulate every week, every month, every year!
Unlike the deficits of the national (sovereign) government, the private sector has to "finance" its deficits. It does this by running down wealth and increasing its borrowing. It has to do this every day that it is in deficit on a cumulative basis. Hence we have seen record levels of household debt in Australia (and increasing household debt burdens) associated with the record surpluses produced by the previous federal regime.
These are accounting relationships that have to hold true – $-for-$. They are not my theories – they are are matters of national accounting. You can deny them but not avoid them.
The problem with private deficits (and the debt buildup) is that they are unsustainable in the medium to longer term. The private sector cannot continually accumulate debt as a percentage of its disposable income.
The federal government, however, can run deficits forever as long as they match the saving withdrawal by the private sector. So statements about "paths back to surplus" are non-economic, ignorant and dangerous.
The real debate surrounding tomorrow's Budget should be about how well the fiscal position taken by the Government addresses the massive labour underutilisation that it and previous government's have created. That should be the focus. The deficit outcome that emerges is an ex post accounting artifact of how well the government has met its primary responsibility – to generate full employment. My guess is that it will fail badly in this regard and dress that failure up in the language of the neo-liberal – the need for fiscal discipline and all the rest of that honk.
This is not to say that there should not be a debate about the composition of the deficit. I note that there is some discussion of eliminating so-called "middle class welfare" that the previous government used to buy votes. I have a lot of sympathy for that quest but it doesn't mean that the budget should be constrained. It just means that if you take spending capacity of some groups (for equity reasons – that is, you don't want the rich getting free holidays to Aspen from public spending or tax breaks) – then you have ensure that you provide for more spending elsewhere to guarantee that the fiscal position is targetting the main game in town: the closure of the spending gap.
Tomorrow might be so depressing that I might just go surfing all day! Pity though, the forecast is for mainly unruly southern swells and on-shore winds around my way at present! So I guess I will just write another blog about all this stuff!