There is no unemployment in a non-monetary economy
I wrote recently about Eugene Fama, a Chicago economist who basically denied that a breakdown in the financial markets had caused the current crisis. Please see – Yesterday austerity, today growth – but leopards don't change their spots – for further discussion. Last week (February 17, 2012), one of Fama's colleagues wrote a Bloomberg Op Ed – How 3 Myths Drive Europe's Response to Debt Crisis. The article by one Harald Uhlig, from the Department of Economics at the University of Chicago demonstrates the way that the Chicago School likes to obfuscate issues. He develops a model, which purports to show that the imposition of fiscal austerity and zero impact on the standard of living of the population. The only problem is that the model not only makes some false conclusion, within its own logic, but is also inapplicable as a vehicle for explicating problems that might arise in a modern monetary economy. This is typical Chicago economics – a stylised but irrelevant analytical framework.

Harald Uhlig asks us to:
Imagine a beautiful island whose inhabitants don't need to exert themselves to live happily. Each citizen has an apple tree that each day at noon drops an apple sufficiently large to feed its owner. A citizen's only task is to pick up the fruit and eat it; otherwise he or she can spend the day at the beach. The per-capita GDP of such an economy would be one apple a day.
So this is a world where it seems that everyone owns their own means of production (capital) which came from nature and never depreciates. There is no labour market or trade, in fact there is no market activity.
There is also no investment in this economy amd no productivity growth. The real wage is static at 1 apple per day presumably for time immemorial so the standard of living is constant.
There is clearly no spending in this economy.
All these single-firm, single-person production-consumption units are assumed to sustain themselves without the need to enter a labour market and in the absence of any state money there can be no unemployment.
As the author says – a beautiful and happy existence.
But the most important point is that it is not a monetary economy.
The absence of state money (fiat currency) eliminates a range of interesting and crucial phenomena that drive real world monetary economies. I will come back to that once we deal with some other matters pertaining to a "national accounts" treatment of this economy.
We are also asked to assume that this island has invented a new strain of the apple genus which fruits all year round. Apples "grow on small, deciduous trees" and their "fruit matures in autumn" (Source).
The substantive issue, however, is how we might construct the beachcombing, apple-eaters into the System of National Accounts (SNA)? Let's consider the concept of the production boundary in the SNA. Do our apple-eaters actually produce anything?
The System of National Accounts home page tells us that:
The System of National Accounts (SNA) is the internationally agreed standard set of recommendations on how to compile measures of economic activity. The SNA describes a coherent, consistent and integrated set of macroeconomic accounts in the context of a set of internationally agreed concepts, definitions, classifications and accounting rules.
The most recent version is System of National Accounts 2008. The Australian Bureau of Statistics also provides an excellent on-line resource – Australian National Accounts: Concepts, Sources and Methods, 2000.
In the SNA we learn that:
GDP is the sum, for a particular period, of the gross value added of all resident producers, where gross value added is equal to output less intermediate consumption … Output consists of the value of goods and services produced within a producing unit and available for use outside the unit … Market output is output that is intended for disposal at economically significant prices. These are prices which have a significant influence on the amounts producers are willing to supply and purchasers wish to buy. Accordingly, market output is valued using market prices, which are generally transaction prices. Non-market output includes output produced for the producer's own final consumption, own-account capital formation and output that is intended for disposal at prices that are not economically significant … Non-market output is valued according to costs incurred or by reference to market prices for analogous goods or services …

Intermediate consumption consists of the value of goods and services consumed in the production process, other than depreciation of fixed assets.
Which is clear enough – the stress on production and valuation should be noted.
On the idyllic island, valuation will clearly be difficult as there is no monetary unit.
The SNA employs a series of "boundaries" to act as accounting demarcations. The production boundary is used to separate out activities not considered to be production.
The SNA define "Economic production" to be an:
… activity carried out under the control and responsibility of an institutional unit that uses inputs of labor, capital, and goods and services to produce outputs of goods or services. There must be an institutional unit that assumes responsibility for the process and owns any goods produced as outputs or is entitled to be paid, or otherwise compensated, for the services provided.
So it seems that our apple-eaters have to display some intent and be operating within a defined system of property rights (which defines ownership).
They must consider their apple picking to be "labour" rather than a casual activity on their way to the beach. However, as noted above, there is no market test to justify that status.
The SNA excludes "certain household activities" if "these activities tend to be self-contained and have limited impact on the rest of the economy" which might lead you to ask whether the apple-eaters are indeed self-contained. They pick up an apple each day and head to the beach and laze in the sun. Their so-called "production" activities would seem to be fairly unconnected. In which case they would not be considered to produce anything under the SNA.
Then we come to valuation issues. The SNA requires that a "market value" test be satisfied:
Goods and services … are measured at market prices; the value of output is equal to the market price of the good or service times the quantity of the good or service produced during the year.
Unlike our Chicago economics professor, the keen observer will immediately notice that the apple-eaters do not participate in any market process. Indeed, as there is no "money" in this economy there is no valuation in the way the SNA recognises.
Of-course, in the real world there are many activities which are difficult to value ("where market prices do not fully reflect the value of a good or service or where services are provided without an actual exchange") – and in this case the statistician "imputes" a value.
However, imputation requires either the capacity to relate these activities to some market value or if that cannot be done then the "market price is estimated based on the costs of production".
Clearly, the apple-eaters would have trouble estimating the "costs of production".
Under the heading 1.D The boundaries of the SNA, there is a discussion of non-monetary transactions.
Clearly, "(w)hen goods and services produced within the economy are sold in monetary transactions, their values are automatically included in the accounts of the SNA".
However, "(w)hen goods or services are retained for own use, no transactions with other units take place. In such cases, in order to be able to record the goods or services in the accounts, internal transactions have to be recorded whereby producers allocate the goods or services for their own consumption or capital formation and values also have to be estimated for them",
The Statistician in these cases makes "estimates and imputations"
Household production is included for "activities that produce goods or services that could have been supplied to others on the market but are actually retained by their producers for their own use".
So that might include the collection of apples but given the information it appears that the orchards are strictly subsistence and so short of starving the beachcombers could not reasonably be considered enaging in activities that could have provided goods to "others on the market".
Theirs is a hand-to-mouth existence.
Further, Section 6.32 of the SNA:
The SNA includes the production of all goods within the production boundary. The following types of production by households are included whether intended for own final consumption or not:

a. The production of agricultural products and their subsequent storage; the gathering of berries or other uncultivated crops; forestry; wood-cutting and the collection of firewood; hunting and fishing;
There is a further complication. The SNA would count the "production of agricultural goods by household enterprises for own final consumption" as production if other complicating factors could be resolved.
But the "inclusion in the SNA is not simply a matter of estimating monetary values for the outputs of these activities". Why not?:
If values are assigned to the outputs, values have also to be assigned to the incomes generated by their production and to the consumption of the output. It is clear that the economic significance of these flows is very different from that of monetary flows. For example, the incomes generated are automatically tied to the consumption of the goods and services produced; they have little relevance for the analysis of inflation or deflation or other disequilibria within the economy. The inclusion of large non-monetary flows of this kind in the accounts together with monetary flows can obscure what is happening on markets and reduce the analytic usefulness of the data.
All of this should be borne in mind when deciding whether the beach-bums have produced anything and whether there is any reasonable basis for valuation.
The type of model being considered by our Chicago professor takes us back to the Robinsom Crusoe Economy that the mainstream use to befuddle students in introductory microeconomics. But even in these models there is a monetary unit introduced.
The other type of model taught to students followed from what has been considered to be David Ricardo's Corn Model explanation of value. Italian economist Piero Sraffa considered this model at length in his devastating critique of classical value theory.
So we get a single product economy (corn) where the producer-consumer has to choose how much corn to eat each period and how much to save (as seed) to replant for next year's crop. Workers are paid in corn units so the real wage is how much corn they get per hour (or some period). Profits are also measured in real terms – how much corn is left over after the wages are paid and seed is planted for the crop.
This model was used to show how the rate of profit was determined by production (not exchange) and also was used to deny the possibility of generalised over-production.
This follows from the following logic. Total output (in units of corn) can be consumed (C) or saved (S). Any corn saved is automatically re-planted (which is considered to be investment (I)) so by definition C + I = C + S and so S = I. What is not consumed each year automatically becomes investment and the only question of interest is the composition between C and I. This was a simplistic version of Say's Law.
Even if consumers stopped spending, there would be no dislocation in the economy because firms would immediately divert the increased flow of saving into the capital goods sector (increasing investment). Employment would presumably shift from making muffins to sophisticated capital equipment. Never mind the detail!
In the apple-eating economy things are very simple though. There is no trade – so the beachcombers are all Robinson Crusoes with no Man Fridays in sight!
Further, there appears to be no saving nor investment – so all output is consumed. There are no profits and the real wage is 1 apple per day.
Valuation issues beside, we can agree that the total output in the economy is how ever many apples are picked and eaten each day aggregated to some period of interest (a quarter, year or whatever). Lets quantify it. Say the island has 100 people which means that overall production (in real terms) is 100 apples a day (which we might call real GDP). There is no concept of nominal GDP in this example because there is no money.
Now, our Chicago professor decides to see what would happen if the government entered this economy. He imposes a government on this island, which apparently doesn't use any currency but declares tax obligations in real terms (apples). You will immediately get suspicious at this stage because in failing to analyse what would happen if a fiat currency was introduced our erstwhile Chicago professor avoids all the issues that he wishes to pontificate about.
He says::
Enter a government that decides it needs to tax away the entire harvest every day, and then pays each citizen an apple a day for lying on the beach. They would have done so anyhow, but they now get paid by their government for performing a "service." GDP has been doubled. The services provided by the government are accounted for by how much they cost — an apple in this example. It would be easy to keep going and even triple or quadruple the original one-apple-per-day GDP.
We are thus led to believe that the government (presumably backed by some coercive force) levies a real tax (apples) and the rate is 100 per cent of total non-government production.
Given that the government chooses not to use its own currency the tax obligations can be extinguished by the private sector through their own-home production. If the government had have introduced a currency into this economy, then the taxes would not have been able to have been paid before the government had spent or made the transfers at least equivalent to the tax revenue being collected.
In a monetary economy, the imposition of taxes creates a demand for the newly-introduced currency. The non-government sector has no other way of getting access to the currency other than by offering real resources (labour etc) to the government in return for government spending (or transfers).
The scheme proposed by our Chicago professor is in fact a redistribution scheme involving "Current Transfers" between the government and the non-government sector (the beach-bums).
The SNA defines a Current Transfer in the following way:
A current transfer is a transaction in which one institutional unit provides a good or service to another unit without receiving from the latter any good or service directly in return as counterpart and does not oblige one or both parties to acquire, or dispose of, an asset.
The "pay" the citizens get is not a wage but rather a transfer akin to social security. It is a redistribution of the tax "income".
The apple-eaters do not have to "dispose" of their assets (the apple trees). The current transfers in this case would appear to be of the form of "Social contributions and benefits", which come under the SNA category of the "secondary distribution of income account".
To be more specific, the "pay" the beach-bums receive would be more accurately classified under "social insurance benefits in kind" (given the economy has no nominal constructs (money)).
The statistician computes Disposable incomes as "balancing item in the secondary distribution of income account" and is the sum of all primary (market) incomes plus "current transfers, except social transfers in kind, receivable" minus "current transfers, except social transfers in kind, payable".
It gets tricky because under Section 8.22, it is recognised that "Disposable income is not all available in cash" as a result of the SNA recording imputed values for "non-monetary transactions associated with production for own consumption or barter, or with remuneration in kind".
But, "social transfers in kind from government … to households are recorded separately in the redistribution of income in kind account" so would not even show up as disposable income but rather is an adjustment made to balance the books (called "Adjusted disposable income" within the SNA).
Ignoring some of these complexities, we can deduce the following. In the SNA, Disposable income equals National Income plus transfers minus taxes.
If we ignore capital consumption allowances and indirect business taxes, which are zero in this example, then GDP equals National Income (apple for apple).
So Disposable income = GDP + Transfers – Taxes.
In the example, total daily production (GDP) equals 100 apples. The government then taxes each beach-bum 1 apple per day (Total Taxes = 100) but then transfers 100 apples a day back to the private sector as part of social policy (Total transfers = 100).
The upshot is that GDP remains at 100 and is equal to disposable income.
The Chicago professor's claim that "GDP has been doubled" is false. He will claim that the 100 apples is a payment for productive work (collecting the apples) so that G (government spending) = 100 and that should be added to the initial 100 apples that have been collected. But that is double-counting.
If the government is indeed employing the workers to collect the apples then they are not paying them "for lying on the beach". Then the wage costs of collecting the apples would be 100 but GDP would remain at 100. The wage costs in this case would presumably be incorporating some capital input cost given the implied property rights.
But it is much better to think of the payments from Government as a transfer. It doesn't make any difference how you construct it though.
Further, in real terms the government's budget is balanced. There is no government spending and taxes and transfers net to zero.
It is also hard to imagine how we could "keep going and even triple or quadruple the original one-apple-per-day GDP". How would that happen in a real economy without productivity growth? The tax rate is already 100 per cent and that means it completely taxes away the real national income generated when the apple-eaters collect the apples each day.
The beach-bums only eat because the government then transfers the apples back in strict proportion to the tax (1 per person).
At this stage, you will be wondering – WTF! What sort of weird economy is this? The only way the beach-bums would allow a government to do this if if the latter could coerce them, presumably via the backing of a military or policy authority.
Is the example, a good pedagogic model to advance our understanding of a monetary system? Answer: absolutely not. It contains none of the elements that drive the dynamics of a modern monetary economy.
But this sort of model is often used in mainstream teaching to indoctrinate students into accepting fallacious logic.
The Chicago professor then imposes austerity on this economy or rather what he thinks is a reasonable representation of fiscal austerity to demonstrate how the private sector (the apple-eaters) "are no worse off" when the government disappears.
He says:
Now imagine fiscal austerity is imposed, say, by eliminating the government. Yes, GDP would come crashing down; it would fall 50 percent in this example. The citizens, however, are no worse off: They still get to eat an apple a day, just as before. They may even be better off in cases where the government required them to perform an onerous task in exchange for their salaries, such as sitting in a government office all day. Moreover, if the tax imposed on citizens is a labor tax on collecting the apples, then high tax rates might have been preventing them from collecting the apples in the first place.
First, before investigating the logic let's just do the national accounting. The following Table shows the changes (all in real terms). The upshot is that the elimination of the taxes and transfers makes no difference. Obviously, but that provides us with no insights into how the real world works.
This professor would consider rational expectations to be a reasonable approxiation. So it is obvious that if there was a 100 per cent tax rate on labour income (even if the workers were employed in the government sector) and that the tax-payer knew with certainty they would get the 100 per cent of the tax back – then then there should be no change in behaviour.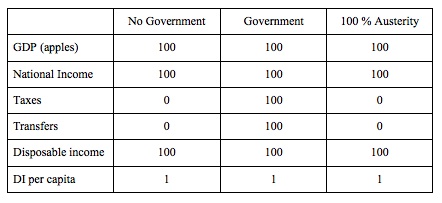 Second, the mainstream economists claim that imposing taxes on labour income reduce the supply of labour. That is a claim that doesn't receive strong empirical support at the aggregate level. But that aside, such a proposition would not be valid for these forward-looking apple-eaters. They would quickly realise that tax-transfer scheme was a charade.
Further, given that the government is collecting taxes via openly coercive means (rather than using its currency sovereignty to induce private agents to supply resources into the public sector as in a fiat currency system), there would be rather stronger disincentives not to collect the apples in this economy than any "tax distortion" the other way might present.
But all this tells us nothing about what happens in a real world, monetary economy.
Now consider the way a monetary economy works.
The introduction of a currency unit (with government holding monopoly power over its issuance) immediately changes the situation in this real economy. Even with we retain most of the unusual (read: unbelievable) characteristics about this economy – no markets etc – the introduction of money changes things fundamentally.
First, the valuation problem changes because now goods and services (apples) could be valued in terms of the monetary unit – that is, a price would be defined.
Second, the own-producer model had no currency. There were no transactions. Each producer somehow was endowed with a very productive apple tree (given it dropped one apple per day through the year) and had very frugal nutritional requirements.
When the government levied the tax (1 apple per person per day), the private sector would have only been induced to pay that tax by some non-economic authority.
But if the government is using its own currency and is levying the tax in that currency (rather than in-kind – apples) then the situation changes dramatically – and – we approach something more akin to the real world.
Note here that I am not against simplifying models. They are clearly useful in demonstrating key aspects of the real world yet allowing us to avoid undue complexity, which might lead us to confusion.
But these simplifying models have to have some tractability with the real world. They must not violate basic principles of the actual monetary system.
Modern monetary economies use money as the unit of account to pay for goods and services. An important notion is that money is a fiat currency, that is, it is convertible only into itself and not legally convertible by government into gold, for instance, as it was under the gold standard.
The fact that the government has the exclusive legal right to issue the particular fiat currency it also demands as payment of taxes renders it a monopoly supplier of that currency.
Once we realise that government spending is not revenue-constrained then we have to analyse the functions of taxation in a different light. Taxation functions to promote.
Clearly by imposing a tax on households in terms of currency units the government immediately creates a demand for its currency, which otherwise would be seen by the beach-bums as worthless bits of paper (for example).
The government might rock down the beach and announce to the bums – we will pay you a dollar a day of our currency to come and work for us. The bums will just say – whatever! – and go back to sleep.
But then the government official says that in order to use the beach and to be part of the society (eating apples) the bums will have to pay $1 per day in taxes. The apple-eaters immediately will say – when do we start work!
They know that they need the government to spend first before they can the dollars necessary to pay the tax. They also immediately would understand what most people in advanced societies do not – that the taxation revenue the government raises has no causal bearing on their capacity to spend.
The apple-eaters will perceive that taxation cannot provide a fiat currency-issuing government with the wherewithall to pay because they know that cannot pay the government the taxes before the government has spent.
What other differences does the introduction of money invoke?
The absence of a liquid financial asset means that the apple-eaters can never hedge against uncertainty using money as a bridge across time. They occupy a real world subsistence economy where own-production is never exchanged nor held in storage.
In a monetary economy, the existence of state money (a liquid store of wealth) means that individuals can choose not to spend if they are uncertain about the future (perhaps because they fear unemployment or firms are worried about the state of aggregate spending).
This recognition is relevant for how we think about uncertainty, a standard Post Keynesian concern. Veteran Post Keynesian Paul Davidson has spent a fair part of his career trying to elevate an awareness that monetary economies are non-ergodic. I might write a blog about the way in which mainstream macroeconomics is built on notions of ergodicity, which are inapplicable to a modern monetary economy.
But for now, the point is that (in Davidson's own terminology) – the introduction of money allows private firms and households to reduce their:
… cash outflow payments for goods and services today in order to increase their cash liquidity position so as to be better able to handle any uncertain adverse future events since our fear of the future has increased". The most obvious way of reducing cash outflow is to spend less income on produced goods and services – that is to save more out of current income. If, however, many people suddenly think the future is more uncertain, then the cumulative effects of them all reducing their spending on the products of industry will result in a significant market decline for the output of business firms. Faced with this decline in market demand, businesses are likely to reduce hiring of workers.
This problem would never be encountered in the primitive apple-eating society that the Chicago professor envisages.
Moreover, Paul Davidson says that:
In a money using, capitalist system, the fact that people recognize that the future is uncertain means that households and business firms will want to maintain a liquid position … This unspent portion of money income we call savings. To carry these savings, i.e., contractual settlement power, into the future savers will use a variety of liquid "time machines".
That option is not provided to the apple-eaters. For them there is only the uncertainty of the harvest but they can do little about that.
For a worker in a capitalist monetary economy, they can use money as the "time machine" and choose not to spend.
In Modern Monetary Theory (MMT) terms, it is thus the introduction of state money into an economy that raises the possibility of unemployment. There can be no unemployment in the apple-subsistence economy. If the government failed to transfer 100 per cent of the tax take back then at least one beach-bum would starve.
If the apple world was monetised then immediately there would be offers from the beach-bums to government of goods and services in return for the necessary funds to extinguish the tax liabilities.
While mainstream macroeconomics conceives taxation as providing revenue to the government which it requires in order to spend, MMT demonstrates why the reverse is the truth. Government spending provides revenue to the non-government sector which then allows them to extinguish their taxation liabilities.
So the funds necessary to pay the tax liabilities are provided to the non-government sector by government spending. It follows that the imposition of the taxation liability creates a demand for the government currency in the non-government sector which allows the government to pursue its economic and social policy program.
This insight allows us to see another dimension of taxation which is lost in orthodox analysis. Given that the non-government sector requires fiat currency to pay its taxation liabilities, in the first instance, the imposition of taxes (without a concomitant injection of spending) by design creates unemployment (people seeking paid work) in the non-government sector.
The unemployed or idle non-government resources can then be utilised through demand injections via government spending which amounts to a transfer of real goods and services from the non-government to the government sector. In turn, this transfer facilitates the government's socio-economic program.
While real resources are transferred from the non-government sector in the form of goods and services that are purchased by government, the motivation to supply these resources is sourced back to the need to acquire fiat currency to extinguish the tax liabilities.
Further, while real resources are transferred, the taxation provides no additional financial capacity to the government of issue.
Conceptualising the relationship between the government and non-government sectors in this way makes it clear that it is government spending that provides the paid work which eliminates the unemployment created by the taxes.
So it is now possible to see why mass unemployment arises. It is the introduction of State Money (which we define as government taxing and spending) into a non-monetary economics that raises the spectre of involuntary unemployment.
As a matter of accounting, for aggregate output to be sold, total spending must equal total income (whether actual income generated in production is fully spent or not each period). Involuntary unemployment is idle labour offered for sale with no buyers at current prices (wages).
Unemployment occurs when the private sector, in aggregate, desires to earn the monetary unit of account through the offer of labour but doesn't desire to spend all it earns, other things equal. As a result, involuntary inventory accumulation among sellers of goods and services translates into decreased output and employment. In this situation, nominal (or real) wage cuts per se do not clear the labour market, unless those cuts somehow eliminate the private sector desire to net save, and thereby increase spending.
So we should at this point appreciate that the purpose of State Money is to facilitate the movement of real goods and services from the non-government (largely private) sector to the government (public) domain.
Government achieves this transfer by first levying a tax, which creates a notional demand for its currency of issue. To obtain funds needed to pay taxes and net save, non-government agents offer real goods and services for sale in exchange for the needed units of the currency.
This includes, of-course, the offer of labour by the unemployed. The obvious conclusion is that unemployment occurs when net government spending is too low to accommodate the need to pay taxes and the desire to net save.
This analysis also sets the limits on government spending. It is clear that government spending has to be sufficient to allow taxes to be paid. In addition, net government spending is required to meet the private desire to save (accumulate net financial assets).
It is also clear that if the Government doesn't spend enough to cover taxes and the non-government sector's desire to save the manifestation of this deficiency will be unemployment. Keynesians have used the term demand-deficient unemployment. In our conception, the basis of this deficiency is at all times inadequate net government spending, given the private spending (saving) decisions in force at any particular time.
For a given tax structure, if people want to work but do not want to continue consuming (and going further into debt) at the previous rate, then the Government can increase spending and purchase goods and services and full employment is maintained. The alternative is unemployment and a recessed economy.
Conclusion
I am now back on the terra firma with my body suspended in time somewhere over the Pacific Ocean.
Our Chicago professor seeks to demonstrate how "How 3 Myths Drive Europe's Response to Debt Crisis" and then proceeds to demonstrate that claim through the use of a mythical model that not only is pretty lame in itself but, more importantly, has no applicability to a monetary economy.
In a monetary economy, fiscal austerity means that there is less spending overall in the economy unless the non-government sector increases in spending growth to match the decline in net public spending.
The current bout of fiscal austerity is being imposed on economies with high unemployment and low economic growth (moving into recession). In this context, private spending is highly subdued as households fear rising unemployment and firms see no need to invest in greater productive capacity when consumption spending is so flat.
In these conditions, fiscal austerity will further undermine aggregate demand and generate reductions in real living standards. The empirical evidence is mounting to support that contention.
Our Chicago professor has developed a model where there can be no unemployment. That clearly cannot provide insights into the world we live in.
That is enough for today!