Today we learned that – China posts slowest GDP growth in two years – yes, the annual rate of growth has dropped to 9.1 per cent which was 0.4 per cent lower than the second-quarter and 0.2 per cent lower than the estimate provided by the Bloomberg News survey of 22 economists. The reason given for the "slowdown" was "monetary tightening and weaker export demand". The anticipation of a slowdown over the last week has fuelled a host of doomsday projections about how the Chinese investment boom will crash and how it will cripple the rest of the world. My view is different. I consider the Chinese government to be totally on top of managing their economy, which sets them apart from the leaders in the advanced world. They will not let a major economic crisis occurring within their own borders. They have so much more scope to expand although all of us will rue the environment impacts of that expansion. Their problems are going to political – taming an increasingly rowdy middle class. For the rest of us, China provides an economic example – when all other sources of expenditure fail, turn on public spending and do it quickly and don't err on the conservative side.

In a Bloomberg article (October 16, 2011) published before today's results were known – Roubini Says Soft Landing in China Is a 'Mission Impossible' – we read that:
China's efforts to prop up economic growth won't help it escape the hard landing that will probably arrive in 2013 or 2014, said Nouriel Roubini.
Nouriel Roubini was quoted as saying that the prospect of a soft landing in China was "mission impossible" because "Over-investment "always" leads to a hard landing". He would have been wiser saying nearly always because China will prove to be the exception.
There is a lot of misinformation about China that spreads across the world media each day. A few months ago there was the obsessive worries about the Chinese dumping their strategy of buying US government bonds with their trade surpluses and sending the latter broke.
There is also the constant chatter about it artificially deprecating its own exchange rate because it wants to maintain its export-led growth. That presumes, of-course that exports drive its growth.
Please read my blog – China is not the problem – for more discussion on this point.
Roubini's observation that investment booms always unfold is generally correct but in the case of China it is unlikely to be the case.
All these misinformed commentaries reflect a failure to give much credit to the Chinese for understanding the characteristics of their fiat monetary system and the opportunities that being the monopoly-issuer of currency within that system presents the Chinese government.
There is no doubt in my mind that the Chinese are much smarter than the Western politicians. I agree that some of this "smartness" might just be the fact that they are subject to less political constraints – the type of which are paralysing the governments in the advanced world.
But the very fact that these constraints are operating in this way in the advanced world is testimony of how stupid our politicians are – on all sides of politics.
It seems that the commentators apply the flawed "Western" (that is, neo-liberal infested) logic to all governments. But the Chinese government has shown that it is less willing to abide by the neo-liberal narrative and its performance during the crisis is clearly testimony to that.
We cannot assume that the Chinese are as stupid as we are in dealing with economic policy.
As an aside, Roubini's point relates in part to the old "knife-edge" problem that Roy Harrod identified in the early years of Keynesian growth theory (Roy F. Harrod (1939) An Essay in Dynamic Theory', Economic Journal, 49, 14-33.).
The fact is that Marx identified this problem (the "realisation" problem) in the previous century which is where Harrod's contemporary Evsey Domar came upon the same ideas and produced a similar growth model around the same time but independently of Harrod (publication 1946). That is why you will see the work referred to as the Harrod-Domar model.
I will spare you the mathematical derivation and the conceptual complexities. The idea is relatively simple. An acceleration in the rate of capital accumulation (which is investment as a flow adding to the capital stock) adds to demand (spending) in the current period but adds to productive capacity in future periods.
When an economy has idle resources it doesn't matter much whether the the addition to demand outstrips the additional productive capacity. The economy will still grow and absorb the idle resources into productive pursuits.
However, once the economy reaches full employment the situation becomes different and the growth process proceeds on what Harrod called a knife-edge path.
Under the Harrod-Domar model, there is a precise rate of investment which is compatible with full employment given other growth in spending (government, net exports, consumption).
Investment increases the productive capacity of the economy which then changes the output level. Harrod-Domar defined a "steady-state" growth as aggregate spending growing at the same rate that real capacity grows. In Modern Monetary Theory (MMT) this is, of-course, the non-inflationary rate of growth in nominal spending.
If actual real GDP growth driven by spending is less than the growth in productive capacity from the previous period, then Harrod concluded that the current period of investment the economy has created excess productive capacity. In the previous period, the firms predicted that aggregate demand (spending) was going to be more than it turned out to be and so have "over-invested".
The dynamic is clear – next period they will invest less which in turn reduces aggregate demand again and this means that further excess productive capacity is created in the economy.
The alternative case occurs in a growth phase, if real output growth is greater than the warranted rate of growth then nominal spending growth outstrips the real productive capacity of the economy. Firms chasing market share will, if they think that demand growth is likely to be sustained will then start investing in more productive capacity, which, of-course, drives aggregate spending faster – and ahead of the capacity growth.
So investment in this period creates productive capacity that has to be utilised next period via spending growth. If consumption growth is relatively stable, and government spending and net exports unresponsive, then clearly the economy walks along this knife-edge with demand always one step ahead of supply and investment has to keep growing.
Eventually as confidence falters etc, investment stalls and the downward spiral results. This is the context in which Nouriel Roubini is considering the over-investment (in productive capacity) (nearly) always leads to a crash. It is clear that in most nations, steady-state growth is unstable as the economy teeters on either side of the "knife".
But in China's case I don't think we can conclude that they are close to this dilemma yet. For a start they have huge quantities of idle labour resources which can be brought into production from agriculture. They are still in what Arthur Lewis called surplus development phase whereby the productive (capitalist) sector developed by absorbing "surplus" labour from the non-developed subsistence sector. See classic paper – Arthur W. Lewis (1954) 'Economic Development with Unlimited Supplies of Labor', Manchester School of Economic and Social Studies, 22, 139-91.
Productivity in both sectors would increase and expansion could occur without having to place unreasonable pressures on real wages growth.
The other major difference between the world that Harrod and Domar imagined (and studied) and China is that the latter operates a fiat monetary system where the Chinese government is the currency issuer and they demonstrated during the early stages of the crisis that they know exactly what they are doing with respect to using that monetary supremacy to maintain growth as one component of spending collapses.
It is clear that if investment slows, then the rate of accumulation of capital slows, and the growth in future productive capacity falls. So we might expect as China attempts to engineer a more or less orderly shift from capacity building to domestic consumption that its phenomenal growth rates (above 8 or 9 per cent) will taper somewhat.
But there is so much idle capacity (human capital being the primary manifestation of that) in China that they can "go it alone" without growth from exports should the situation arise. Their domestic market potential is massive and the Chinese government knows how to use its monetary capacity to exploit that when the need emerges.
They sailed through the global crisis even though exports fell dramatically. In this blog – Where the crisis means death! – I discussed the response of the Chinese government to the onset of the crisis and the sharp decline in their export revenue as spending in the advanced nations collapsed.
The IMFs Regional Economic Outlook: Asia and Pacific Report produced the following graph. It split the contribution to growth of public demand (net government spending), private demand and net exports for some selected Asian nations.
China stands out. Most people think of China's growth coming from its burgeoning export sector. But it has a very strong domestic economy and a large public spending program.
Nations need to be continually built and the comparison between China's performance with Japan (with virtually no public sector) and the performance of Australia and New Zealand, which have only miniscule growth originated from public spending, is compelling.

In the text accompanying that graph, the IMF said that:
In China, GDP growth will also slow down notably from the average pace of the recent past. Still, the aggressive policy response is expected to support domestic demand and maintain growth at rates close to the level authorities consider necessary to generate jobs consistent with social stability. In particular, the massive program of public investment initiated late last year is expected to compensate for the decline in private investment and absorb productive resources no longer utilized in the tradable sector.
So the graph highlighted in the early stages of the crisis the importance of very large fiscal interventions. My Chinese contacts informed me that at the time there was no discussion over there about the country drowning in debt or that the government was going to "run out of money". These ideas that crippled the recovery in the West were not allowed to germinate in China.
Presumably, as more US-trained PhD students go back to China with there nonsensical economic theories things will change. But at this time, the Chinese government behaved impeccably.
They demonstrated a confidence in their knowledge that they are sovereign in their own currency and can deficit spend to further their sense of public purpose. We might deviate (dispute) what they define as purposeful behaviour and I certainly don't suggest that all the policies of the Chinese government are sound. They are clearly not!
But they do have a much more sophisticated understanding of the opportunities that they have as a monopoly supplier of their currency than our Government has. And they are taking those opportunities more than other nations around them that are caught in and are being choked by the neo-liberal web imposed on them by the advanced nations.
That is why I think Nouriel Roubini is going to be proven wrong in his forecast that the growth rate will collapse in China.
Then consider this (infuriating) Sydney Morning Herald article (October 16, 2011) – Is the dragon running out of puff? – which is representative of the sort of erroneous China-analysis that fills up our media pages.
The writer – Richard Webb – claimed that:
The Chinese economy is not immune to what is going on in the US and Europe. A cash-strapped China would be bad economic news for the rest of the world
No economy that trades is immune to the developments of their trading partners and certainly export revenue can fall sharply which creates some possible dislocation for the domestic economic activity.
But to infer that China will be "cash-strapped" is a lie. It doesn't need export revenue to grow its domestic economy. The Chinese government has all the "cash" it will ever need to mobilise domestic demand should export revenue collapse.
Richard Webb was writing for an Australian audience. He claimed that:
NEWS that the economic turmoil in Europe is severely affecting Chinese exports has set alarm bells ringing in Australia.

The logic goes that if Chinese exports are crunched so will be Chinese demand for the Australian resources needed to make these exports. This resource demand is driving the fast part of Australia's two-speed economy – the other part being pretty much in neutral.

On that basis then, if Europe collapses, or the US runs off the rails, Australia could quickly return to a one-speed economy – that one speed being not very fast at all.
First, when the global financial crisis hit and quickly spread into the real economy (because governments didn't use their fiscal capacity sufficiently to insulate the latter), the terms of trade fell. But as the Chinese government redirected demand quickly into domestic expansion the demand for primary commodities recovered quickly and our terms of trade also recovered.
Second, should China's exports collapse because the leaders of the West undermine the growth of their own economies as a result of their sheer incompetence and ideological bloody-mindedness, then China will further redirect spending to its domestic economy.
They have a very large and mostly undeveloped land mass and have proven experts at building new public education institutions, state-of-the-art public transport systems and the creation of new urban infrastructure including housing. They have a long way to go in that process.
The only problem for the West will be the way in which this development process changes the world demand for energy resources. I cover the dilemma in this blog – Be careful what we wish for …. I believe that in the next 20-30 years there will be a fundamental shift in energy use and the working classes in the now advanced world will be priced out of motor car use and the like.
Third, if Australia's mining boom collapses (noting that net exports currently do not make a positive contribution to real GDP growth at the moment) then if the Australian economy stagnates the cause will not be China.
Any slowdown as a consequence of the change in the composition of aggregate demand will reflect the failure of the Australian government to use its fiscal capacity to ensure that rising non-government spending gaps are not filled with net public spending.
If Australia joins the rest of the world in stagnating because our politicians fall prey to the ideological that they have "run out of money" then it is their incompetence and nothing to do with China.
It is highly likely that our budget surplus obsessed government will fall into that trap such is their appalling conceptualisation of responsible macroeconomic policy management. They seem to believe that they have used up all their "expansionary bullets" and now must save again (in their language – run budget surpluses).
A budget surplus does not lead to increased national saving – it actually squeezes the wealth of the non-government sector and so reduces national saving. The concept of saving in one's own currency is nonsensical. Saving is the act by which a user of the currency postpones consumption now to provide for greater consumption later. This "sacrifice" is required because the non-government sector has to finance all of its spending in one way or another.
The sovereign currency-issuing government never needs to store up currency in order to spend. It can spend its own currency whenever it wants irrespective of what it did last period as long as there are goods and services available for purchase in that currency.
To put a finer point on this idea that if the (self-inflicted) stagnation in Europe and the US is killing China's growth potential consider the latest IMF Regional Economic Outlook – Asia and Pacific which was published this week (October 2011).
The following graph reproduces Figure 1.9 in that publication and shows the contributions to real GDP growth (2011 and projected) by spending component – that is, next exports, public demand, private domestic spending (consumption and investment).
The IMF note in relation to this graph that:
The fundamentals for domestic demand in the region remain strong and are expected to cushion the impact of weaker external demand on overall growth for the rest of 2011 and in 2012
It is clear that the main driver of real GDP growth is as it was in the early years of the crisis (see graph above) – domestic demand. Net exports contribute a small component of real GDP growth which puts the popular conception that China is an export-led economy into an entirely different light. It is not. The Chinese government is using public spending to achieve strong domestic growth with provides income growth (and rising savings) to the private sector which, in turn, spawns strong private domestic growth.
An almost blueprinted fiscal strategy. If the West followed this pattern and eschewed all the ideological baggage that neo-liberalism has dropped on us then we could very quickly look like this. We would run out of idle resources before China but at present the West has mountains of idle labour – millions of people desperate for work – that should be absorbed back into productive employment.
We are not doing this because we are stupid.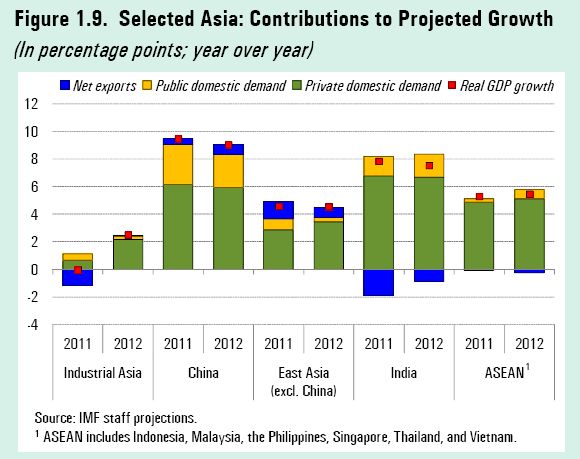 It is clear from today's National Accounts that domestic demand is growing strongly. The SMH Report said that:
Industrial production increased 13.8 per cent in September from a year earlier … Fixed-asset investment excluding rural households climbed 24.9 per cent in the first nine months … Companies including BASF SE, the world's largest chemicals company, are expanding in China as higher wages and consumption boost demand. The German company and China Petroleum & Chemical Corp this month completed an expansion of an ethylene plant in the eastern city of Nanjing.

China's retail sales expanded 17.7 per cent after a 17 per cent increase in August.
These are figures that are beyond the imagination of the West. We think 3 per cent growth in retail sales is sound.
The problem that China needs to manage is inflation. The Government has to divert domestic resources out of some sectors (probably housing) and continue to fund productive capacity augmentation.
The slight slowdown is testament to the fact that monetary authorities in China have been increasing interest rates (five increases in the last 12 months) and placed lending limits on home owners etc.
The reports I read from China tell me that most analysts consider the inflation rate will drop sharply in the coming year.
Conclusion
Whenever I read a story about China I realise that the West is so infested with neo-liberalism that it has forgotten how a fiat monetary system actually operates and the opportunities such a system affords a government which issues the currency.
China faces different political constraints to the West and that might explain why they seem capable of exploiting those opportunities while the leaders in West spend all their time denying they have them.
I also like to think that the Chinese are smart. I don't know that definitely. What I do know is that the leaders of the West are stupid.
That is enough for today!