Macroeconomics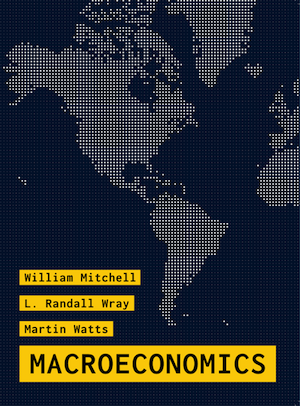 The new Modern Monetary Theory textbook – Macroeconomics – authored by myself, Randy Wray and Martin Watts, was published by Macmillan on February 25, 2019.
I launched the new publication in London on Friday, March 1, 2019.
It is available for purchase at all bookstores including:
1. Macmillan.
3. Amazon
If you purchase from Macmillan you are not dealing with Amazon etc.
Introductory Video
Here is a short video introducing the features of the new textbook.
Table of Contents
The book provides a structured two-semester sequence (probably more) in macroeconomics at the university-level.
The narrative is accessible to students of all backgrounds and all mathematical and advanced material can be avoided if desired.
PART A: INTRODUCTION & MEASUREMENT
1 Introduction
2 How to Think and Do Macroeconomics
3 A Brief Overview of the Economic History and the Rise of Capitalism
4 The System of National Income and Product Accounts
5 Labour Market Concepts and Measurement
6 Sectoral Accounting and the Flow of Funds
7 Methods, Tools and Techniques
8 Framing and Language in Macroeconomics
PART B: CURRENCY, MONEY & BANKING
9 Introduction to Sovereign Currency: The Government and its Money
10 Money and Banking
PART C: NATIONAL INCOME, OUTPUT AND EMPLOYMENT DETERMINATION
11 The Classical System
12 Mr Keynes and the 'Classics'
13 The Theory of Effective Demand
14 The Macroeconomic Demand for Labour
15 The Aggregate Expenditure Model
16 Aggregate Supply
PART D UNEMPLOYMENT AND INFLATION: THEORY AND POLICY
17 Unemployment and Inflation
18 The Phillips Curve and Beyond
19 Full Employment Policy
PART E ECONOMIC POLICY IN AN OPEN ECONOMY
20 Introduction to Monetary and Fiscal Policy Operations
21 Fiscal Policy in Sovereign Nations
22 Fiscal Space and Fiscal Sustainability
23 Monetary Policy in Sovereign Nations
24 Policy in an Open Economy: Exchange Rates, Balance of Payments and Competitiveness
PART F ECONOMIC INSTABILITY
25 The Role of Investment in Profit Generation
26 Stabilising the Unstable Economy
PART G HISTORY OF MACROECONOMIC THOUGHT
27 Overview of the History of Economic Thought
28 The IS-LM Framework.- 29 Modern Schools of Economic Thought
30 The New Monetary Consensus in Macroeconomics
PART H CONTEMPORARY DEBATES
31 Recent Policy Debates
32 Macroeconomics in the Light of the Global Financial Crisis
33 Macroeconomics for the Future.