Australian Labor Party cannot even get social policy right much less economic policy
It's Wednesday and I am working on other things today, which need finishing. But today we saw once again why the Australian Labor Party is a disappointment. They regularly frame the economic debate in neoliberal terms, which make it harder to break out of the mainstream narratives. But, today, they even go social policy wrong and will support legislation that allows religious organisations (schools etc) to discriminate against gays and trans people under the platform of 'religious freedom'. The legislation allegedly is designed to stop non-religious people saying bad things about Pentecostal extremists. But it just enshrines the rights of religious characters to inflict damage on others. And the Labor Party is supporting it. Spooky – which brings in my music feature today.

Australian Labor Party cannot even get social policy right much less economic policy
At present the conservative Australian government is in deep electoral trouble having offered the nation almost daily demonstrations of their incompetence, corruption, infighting, racism, sexism, and the rest of it.
The election is in May and they are now trying to shore up their position by garnering support from their base – which in a not unimportant way happens to be the Pentecostal religious lobby, that provides the conservatives with big dollars.
One such supporter, a weird Christian school in Queensland, recently tried to get new students to sign a 'contract' that basically said homosexuality was evil and equivalent to bestiality.
I kid you not.
They are big supporters of the government, which regularly panders to this extremist lobby.
The Prime Minister claims to be a 'man of faith', yet even his own party members have recently called him a liar, a psycho, and a terrible man.
We didn't need Emmanuel Macron's assessment of him as a liar to know the true nature of this 'man of faith'.
So at present they are trying to rush through legislation after doing little for 3 years, other than completely mess up the pandemic response, and one such bill is the so-called 'Religious Discrimination Bill'.
This Bill will allow religious schools to expel Trans people (students or staff-members). Originally, it would have allowed them to also expel gays, in general.
Moreover, while the proposed bill will not allow the religious schools to expel a gay person, the school could still discriminate against them in ways that do not involve outright expulsion.
That includes harassment, intimidation or bullying of gays by the school or its non-gay students.
This might take specific forms – such as openly questioning and criticising the student's sexual orientation; refusing to recognise the orientation and placing the student in dangerous situations relative to that orientation; openly punishing the student for being gay; denying the gay kids key roles in teams, sporting teams etc that might develop self-confidence and leadership capacities; and denying the student's right to take their boy/girl/other friend to school functions (like end of year social nights, picture nights, parties, etc).
The only option then for the gay student would be to employ an exit strategy – miserable and defeated – and join the trans kids who were already expelled – miserable and defeated.
Hideous is not the word really.
The conservative government is, of course, pandering to their funding sources.
They are deeply split into three groups: (a) the crazies out on the Right – some of who combine this Pentecostal zeal with all sorts of anti-vaxx messages at the moment; (b) the religious Right – which are not quite as crazy as the crazies; and (c) the so-called moderates, which are only marginally less crazy than the 'religious Right'.
Its a pretty diabolical mix.
But they need every vote they can get at the upcoming election and this sort of legislation appeals to voters in some of their marginal seats.
So we have a proposed Bill before the national parliament today that was designed by extremist Christians, that paid various politicians lots to push it through parliament, which has the sole aim of exclusively allowing religious institutions (schools, etc) to discriminate against anyone they like, which includes using vile, hate speech and other bullying and harassing strategies against gay and bi persons, and, worse against trans people, and progressives are out there on social media telling anyone who criticises the Bill that they should stop talking about religion.
And the rest of us cannot dare say anything about the conduct of these religious organisations because that would violate their 'rights' under the proposed Bill.
So a church will be able to say, under this legislation, that being gay is dirty and evil and equivalent to bestiality – which dishes up all the stress and anxiety that you would expect for the targetted cohort, but, I am not able to say that the church official who said that is filthy and brain-dead.
And, with that being the state of affairs, who do you think is going to support the legislation to allow it to go through – other than the government members?
That's right – the Labor Party announced today they would support the bill in the Lower House and try to change bits of it in the Senate.
But essentially, the Bill will go through with most if not of the above intact – thanks to our so-called progressive party of workers – the Labor Party.
They are scared the religious lobby will turn against them.
So aspirations for power over principle rule among that mob.
I guess it will allow them to get back to criticising the government for running deficits.
Phew!
Wordle
I was shocked this morning when I brought up today's – Wordle – puzzle, which took 3 lines to solve today – when I realised that the puzzle used American spelling.
I hate American spelling.
I wondered whether it was because the developer had sold the rights recently to the New York Times.
But I then discovered it has always used American spelling and it is just that I hadn't encountered a 'ou' becomes 'o' word before.
Oh well, I guess it expands the possibilities given the 5 letter format.
Our edX MOOC – Modern Monetary Theory: Economics for the 21st Century started today
We are off and running again for another year with the first day of our MMTed/University of Newcastle MOOC – Modern Monetary Theory: Economics for the 21st Century.
The course is free and will run for 4-weeks with new material each Wednesday for the duration.
Learn about MMT properly with lots of videos, discussion, and more.
This year there will be some live interactive events offered to participants, which adds to the material presented previously.
So even if you completed the course last year, these live events might be a reason for doing it again.
Further Details:
https://edx.org/course/modern-monetary-theory-economics-for-the-21st-century
If you want to do the course, get in early as then you avoid having to catch up.
All are welcome.
Eurozone Dystopia becomes Distopia Dell'Eurozona
My 2015 book on the Eurozone – Eurozone Dystopia: Groupthink and Denial on a Grand Scale (published May 2015) – has just been released in Italian.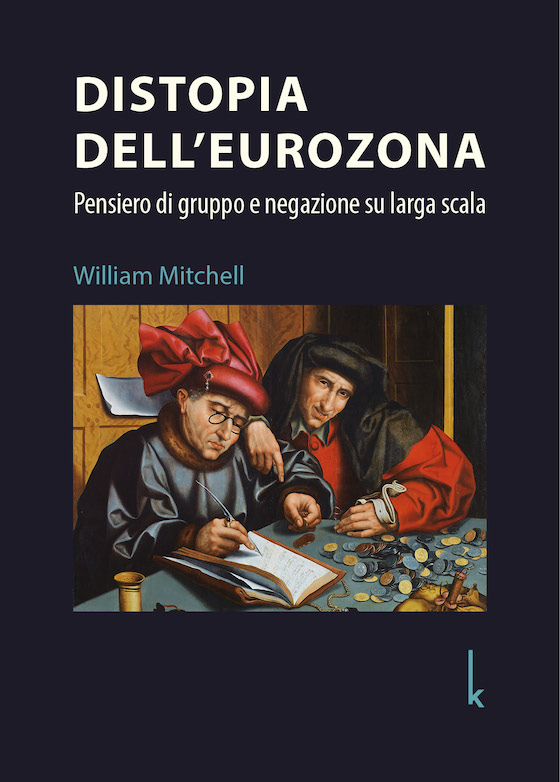 There is now:
1. A German translation – Dystopie Eurozone.
2. A Spanish translation – La Distopía del Euro.
3. And, now an Italian edition – Distopia Dell'Eurozona
You can get the Italian translation – Distopia Dell'Eurozona – from Lola Books, which is a small publishing company located in Berlin and run by my friend Carlos Garcia.
So Italians, there is now no excuse for not reading it (-:
Lola Books publishes many supportive books and I hope you can support their catalogue.
Thanks to Carlos for his work.
Note: I make no money from Lola sales but appreciate their work in spreading the message.
Music – Spooky
Yes, I was a child in the 1960s as the R&B, soul revolution was in full swing and we had our ears stuck to transister radios listening to the music coming out.
One song that kept resonating despite the pretty cheesy lyrics (it was the time!) was the 1967 release – Spooky – from the – Classics IV.
For young guitar players, there was agonising over what that 'mystery' chord in the accent was. Turns out it was an A#dim7 which makes sense.
There was an early instrumental version by saxophonist Mike Sharpe, who co-wrote the song.
A year later, the Classics IV produced their version with lyrics.
The guitar chords and strumming pattern make the song as well as the mystical fog sound to make it all sound – well spooky.
That is enough for today!
(c) Copyright 2022 William Mitchell. All Rights Reserved.