Australia is becoming an Orwellian dystopia
It's Wednesday and I am retaining my practice into 2022 of only offering a sort of short commentary or news with music service on this day, unless a major data release (like the national accounts) comes out. The title of this blog post was inspired by an interview I listened to on the radio the other day with a leading epidemiologist who noted Australia was becoming like some Orwellian dystopia as the national government elevates spin to new levels and effectively jettisons any semblance of leadership. We are now being treated as fools by our national and state governments on a daily basis and it is now approaching dangerous levels.

The Orwellian dystopia
Nineteen Eighty-Four – was one of those essential reading books as one ventured into adult life.
It is starting to feel like that in modern Australia.
Regular readers will know I supported the lockdown measures that our state governments imposed on us over the course of 2020-21.
The federal government was opposed to them but was forced by political reality (our support for them) to demur.
The restrictions were very difficult – personally they altered my life significantly – but I felt they were essential to protect us from mass infection and lots of death.
The federal government had all the currency capacity to insulate us from the economic damage, which it did to some extent, but its support was selective and disadvantaged the less paid and casual workers.
While professionals like me could 'work from home', other, less well paid workers were forced onto the front line.
We should resist blaming the professionals for that inequality because they are workers too. They just happen to be better placed in these times (as always).
But early on it was the state governments that prevented infections from rising with some notable breakouts occuring.
The following graph comes from the – Full dataset – from ourworldindata.org and shows total infections since the beginning of the pandemic and total hospitalisations.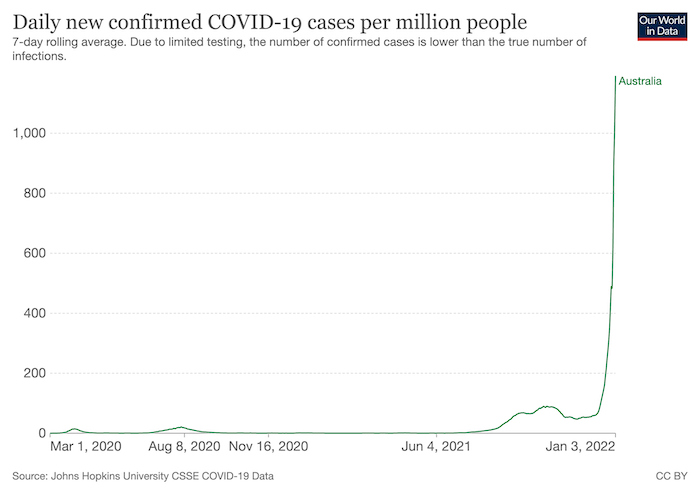 And hospitalisations.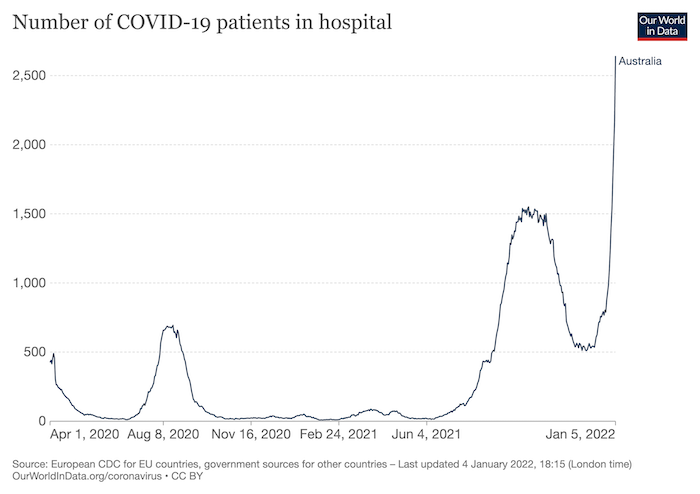 The federal government had two major responsibilities as the currency issuer:
1. To procure sufficient vaccines.
2. To manage the quarantine system.
If mismanaged both and we were late to the vaccine party and had to maintain lockdowns longer and the outbreaks that did occur came from the porous quarantine system that was put in place.
As we finally secured vaccine stocks, there was a semblance of optimism and the neoliberal government started berating us about freedom.
We needed to 'live with Covid', that 'Can do Capitalism' would see us through and restrictions should be done away with.
That happened and the numbers have escalated to new heights.
In NSW, the government said the worst case scenario would be 25,000 daily cases by the end of January. The case numbers announced today (January 5) for yesterday were 35,054 and that number is doubling about every 4 days.
The same situation is occurring right across the nation.
The obvious lack of planning has exposed a major crisis in the testing regime – with rising infections, the queues at the PCR test sites have lengthened and people are spending more than 8 hours in their cars waiting to be tested.
And then the 'privatised' pathology system is taken days to get results back.
One provider said if a person does not get a test result back in 7 days then they can assume it has been lost in the system.
The government's response to this testing disaster is to alter the rules – water down who needs a test etc, exposing the community to further risk.
Then we have the RATs disaster.
The lack of planning has meant the PCR system is broken and virtually unworkable.
So the government 'pivots' (that new word everyone is using to describe moving from one mismanaged, error prone decision to another) to say that RATs are the future for 'living with Covid'.
Problem: there was no provision by government to procure the tests.
So the 'market' goes on a price gouging exercise for the restricted supply and the nation effectively runs out of the tests quickly.
You cannot get a RAT for love or money at present and when you can they are exorbitant.
Imagine a public health system during a pandemic telling people they have to get RATs to control the spread of a virus except the RATs are either unavailable due to lack of planning or exorbitant.
None of the low income workers who are most exposed to the virus given their work characteristics can afford one and the rest of us can't get one.
Then, the Prime Minister made his big national statement on Monday when confronted with why the federal government was refusing to make the RATs available for free as a public health measure:
You can't just make everything free …

We've invested hundreds of billions of dollars getting Australia through this crisis.

We're now at a stage of the pandemic where you can't just make everything free, because when someone tells you they want to make something free someone's always gonna pay for it and it's going to be you."
That is the same leader who took a lump of coal into Parliament much to the mirth of his right-wing buddies in the government and claimed there was no plan to reduce coal usage.
This is the man that Emmanuel Macron correctly called a liar.
We all know that now.
He never takes the blame for government inaction, poor decisions etc, and oversees a system of massive rorts where government handouts go to supportive organisations.
This account of our Prime Minister by Niki Savva (November 11, 2021) – Our walking, talking, weaving, wedging Prime Minister – is a sad indictment of our political leadership.
This is the Orwellian dystopia.
There is virtually no accountability now and no responsibility is taken.
We are being told that we have to take "personal responsibility" for the health crisis – that it was time for the government to "get out of our lives".
Every day, as the infection and hospital numbers rise alarmingly, the government leaders come out with some new spin.
"every is going to plan"
"living with Covid"
"personal responsibility"
"restrictions don't work"
etc
I agree that personal responsibility is important and the so-called 'freedom' thugs who oppose restrictions etc are irresponsible.
I agree we all have a stake to protect ourselves and each other.
But public health is public health.
And a pandemic is a pandemic.
We hear daily now from our government that the number of infections doesn't matter – it is the hospitalisation rate that matters.
This is because they are claiming that the Omicron variant is less dangerous, which might turn out to be true.
But a smaller proportion of a huge number is still a large number compared to a larger proportion of close to zero.
And the evidence is that despite them telling us we are "living with Covid" and all is going to plan, the deaths are rising and the health system is being overwhelmed.
This is the dystopia.
Our government is just lying to us every day – and seems to have taken the Trump approach.
Further, even a mainstream economist would argue that there is likely to be major market failures if we insist on a 'market-based' solution (like everyone being forced to buy their own tests in a state of short supply and rising prices).
The market failure – which will take the form of less people testing, more people spreading, and rising illness – arises because the costs and benefits to the individual person will, in this case, result in an under consumption of health care.
Economists call this situation when the transaction delivers benefits to society well beyond the benefits to the individual – an externality.
In this case, there are societal advantages for people using RATs that transcend their own personal benefits.
Mainstream microeconomics tells us in those situations that the government should subsidise the good or service in question.
The 'public good' nature of the RATs (and the PCRs) justifies a 100 per cent subsidy to avoid market failure.
That is, the PCRs and RATs should be provided to all people for free.
Yet, the government is refusing because they want to 'save' money.
They failed to get vaccines in mid-2020 because they were trying to 'save' money.
They didn't build the required quarantine facilities for the same reason.
They are refusing to provide a proper testing framework for the public health system because they have already "spent billions".
It is a monumental failure.
And if you do some arithmetic, it is also an example of the myopia that neoliberalism has introduced to public policy.
When Thatcher tried to 'save' money by cutting maintenance on the sewers in Manchester in the 1980s, they collapsed. The repair bill was more than they would have spent on maintenance is decades.
When they cut the rat collection teams on the canal system, guess what happened? A massive rat plague costing many times more to fix.
The current state of water utilities in the UK – and then the flooding – more evidence.
And I could list thousands of cases of when 'saving' money ends up requiring much more spending that would have been the case.
The current – Coronavirus (COVID-19) case numbers and statistics – for Australia tells us that there are currently 2,498 people in hospitals as a result of Covid.
The following table shows the average daily Australian Covid hospitalisation rate per million people for 2020, 2021 and 2022.
| | |
| --- | --- |
| Year | Rate |
| 2020 | 5.6 |
| 2021 | 16.5 |
| 2022 so far | 68.2 |
So for the first three days in 2022, 68.2 people per million are being hospitalised due to Covid and that number is rising sharply.
Performance Data – from the Australian Institute of Health and Welfare on efficiency measures for our hospital system provides a clue to how much it costs the Australian government for citizens to transit through our hospital system.
In 2014-15 (latest data), the cost was $A4,680 on average for each person admitted to a public hospital.
In 2021 dollars that would be around $A5,300 per person.
Apparently, the Australian government can purchase RATs for around $A2 each in bulk orders.
Since the beginning of December 2021, there have been 323,951 new cases of Covid reported (although with all the testing problems now that figure is a significant underestimate).
And there have been 1,438 extra people in hospital as a result of Covid.
That will impose costs on around $A7.6 million on the public hospital system.
The Australian government could purchase 3.8 million RATs for that amount.
If every 2,650 RATs issued, prevented just 1 person getting Covid and being hospitalised, then the government is ahead in $ terms.
Of course, that would be a very inefficient RAT discovery rate.
So even if we believed the Australian government (and its mainstream economics advisers) that 'saving' its own currency was possible, and even if we all become bean counters and forget that public health is about reducing illness not promoting greater disease, then the decisions taken by the current Australian government are nonsensical.
It is scary to think how far good government in this country has lapsed.
Just when we need strong and effective government the most.
MMTed MOOC – Modern Monetary Theory: Economics for the 21st Century
Earlier this year we ran the MOOC and around 3,600 participants enrolled.
We are now in a position to offer the course again in early 2022 for all those who have been asking me for a chance to complete the program.
So, MMTed – invites you to enrol for the edX MOOC – Modern Monetary Theory: Economics for the 21st Century.
It's free and the 4-week course starts on February 9, 2022.
The course is offered through the University of Newcastle edX program.
Learn about MMT properly with lots of videos, discussion, and more.
For – Further Details.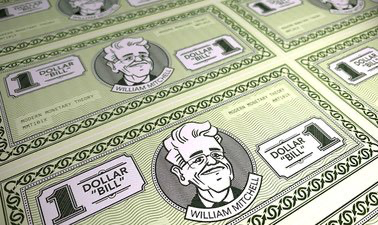 Music – Red Garland Quintet
This is what I have been listening to while working this morning.
I dug this one out today as I hadn't listened to it for a while and I wanted to check up on one of the tracks.
I am glad I did.
Red Garland – was an American jazz pianist who distinguished himself by helping to develop the – Block Chord – or chorale style of playing in jazz.
He also played with some of the best and was a key player in the – Miles Davis Quintet – between 1955 and 1958.
This album – All Mornin' Long – was recorded during that period (in 1957).
On this album you hear:
A pretty good lineup.
He was one of the casualties of the rise in rock music in the 1960s, which saw a lot of jazz clubs shut down and opportunities for jazz players dry up.
Some went the fusion route (Miles Davis), some went the 'smooth' FM jazz route (aka schmaltz), while many lost work and dropped out of the scene.
He did return in the late 1977 to recording but died at the young age of 60 in 1984.
That is enough for today!
(c) Copyright 2022 William Mitchell. All Rights Reserved.