Real resource constraints and fiscal policy design
There is an interesting dilemma currently emerging in Australia, which provides an excellent case study on how governments can use fiscal policy effectively and the problems that are likely to arise in that application. At present, the Australian states are engaging in an infrastructure building boom with several large (mostly public sector) projects underway involving improvements to road, ports, water supply, railways, airports and more. I travel a lot and in each of the major cities you see major areas sectioned off as tunnels are being dug and buildings erected. Not all of the projects are desirable (for example, the West Connex freeway project in Sydney has trampled on peoples' rights) and several prioritise the motor car over public transport. But many of the projects will deliver much better public transport options in the future. On a national accounts level, these projects have helped GDP growth continue as household consumption has moderated and private investment has been consistently weak to negative. But, and this is the point, there have been sporadic reports recounting how Australia is running out of cement, hard rock and concrete and other building materials, which is pushing up costs. This is the real resource constraint that Modern Monetary Theory (MMT) emphasises as the limits to government spending, rather than any concocted financial constraints. If there are indeed shortages of real resources that are essential to infrastructure development then that places a limit on how fast governments can build these public goods. The other point is that as these shortages are emerging, there is still over 15 per cent of our available labour resources that are being unused in one way or another – 714,600 are unemployed, 1,123.9 thousand are underemployed, and participation rates are down so hidden unemployment has risen. So that indicates there is a need for higher deficits while the infrastructure bottlenecks suggest spending constraints are emerging. That is the challenge. Come in policies like the Job Guarantee.

Infrastructure boom yet idle labour
Australia is currently enjoying a major infrastructure spending boom via several large-scale projects in the States and Territories, but also at the Federal level (for example, the National Broadband Network construction).
There is no doubt that one of the major reasons Australia's GDP growth has been relatively robust in recent years is due to this large public spending commitment.
The first graph shows movements in State Final Demand indexes from the March-quarter 2008 to the March-quarter 2018 (most recent data). The March-quarter 2008 was the peak of the last cycle before the GFC slowdown.
The humps in WA and Northern Territory between 2012 and 2015 relate to the Mining boom (mostly private investment) which is now well and truly over.
But you can also see that in the last few years, there has been an acceleration of State Final Demand nearly across the board, which is mostly down to public spending.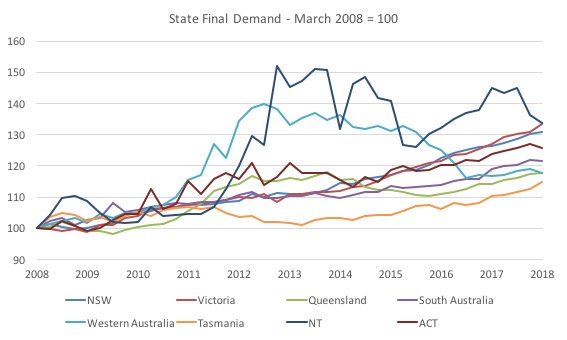 The next graph breaks down the aggregate Final Demand measure into its components and show the overall growth in each expenditure component over the decade from the March-quarter 2008.
You can see the strong growth in public investment over that time (biased to recent years), which has been an important driver of growth in the Australian economy.
Over the same period, household consumption expenditure growth has been moderate and private investment expenditure weak to negative in many states.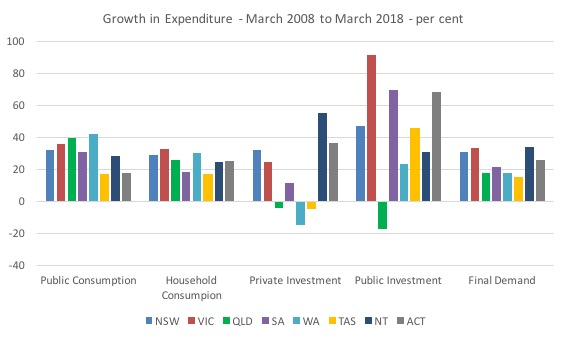 But as I have indicated in my labour force briefings – see latest (June 14, 2018) – Australian labour market – weaker in May with tepid employment growth – Australia is still a long way from being 'fully employed'.
The May 2018 data confirms that:
1. There are 714,600 persons unemployed with an official unemployment rate of 5.4 per cent (1.4 percentage points higher than the pre-GFC low).
2. There are 1,123.9 thousand persons underemployed (working less hours than they desire) which is 8.5 per cent of the labour force.
3. The total labour underutilisation rate (unemployment plus underemployment) is thus 13.9 per cent or 1,838.6 thousand workers.
4. At 65.5 per cent, the labour force participation rate is still below its previous peak (December 2010) of 65.8 per cent. This means that hidden unemployment has risen over that period and if we adjusted the official unemployment rate to include that effect it would be 5.9 per cent rather than 5.4 per cent. Unemployment would be 780.4 thousand rather than 714.6 thousand.
5. Many of those who are unemployed or underemployed are typically low-paid workers, many classified as low-skill.
What this means is that the fiscal deficit is to low relative to the non-government spending and saving behaviour.
There is a need to stimulate labour demand (generate jobs). That is unambiguous. The question is where that increased labour demand should be stimulated.
Resource constraints increasing in Australia's construction sector
There have been sporadic reports over the last year or so, in response to this infrastructure construction boom, recounting how Australia is running out of cement, hard rock and concrete and other building materials, which is pushing up costs.
Other reports generalise this and suggest that there is a growing shortage of many other productive resources.
For example, on March 19, 2018, there was a report – Growing demand pushing up construction costs – which suggested that:
… the growing demand from the infrastructure sector is creating pressures within the construction industry with personnel, plant and equipment as well as base materials such as cement, steel and aggregates showing a significant increase in cost.
Most of these media flurries were based on the interesting report released in January 2018 by the international construction cost analysis firm, WT Partnership – Construction Market Conditions 2018.
There are large-scale projects, mostly public spread across Australian states at present.
New South Wales and Victoria are leading the charge.
In New South Wales there is "record levels of investment in infrastructure and strong demand for residential, commercial and retail".
There is on-going "Government investment in projects such as CityLink and Tullamarine freeways, Melbourne Metro Rail, West Gate Tunnel and North East Link in Melbourne" (Victoria), which is transforming the state's urban transport systems.
In Queensland, the Government is embarking on several major projects ("Cross River Rail, social and affordable housing, and schools").
Similarly in Western Australia ("significant road, rail, and port projects"), South Australia ("numerous cranes in the city skyline and forecasts growth in various sectors including aged care, student accommodation, defence and education"), Australian Capital Territory ("construction of commercial, retail, housing and aged care"), "Major LNG development and defence projects continue to underpin activity in the Northern Territory" and so on.
This significant level of (mostly public) infrastructure development is:
… pushing up costs of personnel, plant and equipment, and base materials such as aggregates, cement and steel. As resources become more stretched, these pressures create an industry wide challenge.
These trends raise significant issues for the conduct of fiscal policy – its design and implementation.
In this blog post – I wonder what the hell I have been writing all these years (February 12, 2013) – I discussed, in part, the Modern Monetary Theory (MMT) approach to inflation theory.
In our introductory textbook – Modern Monetary Theory and Practice: An Introductory Text – we introduced a simple first blush model of the aggregate supply function (which tells us at what prices firms will supply output).
It looks like this: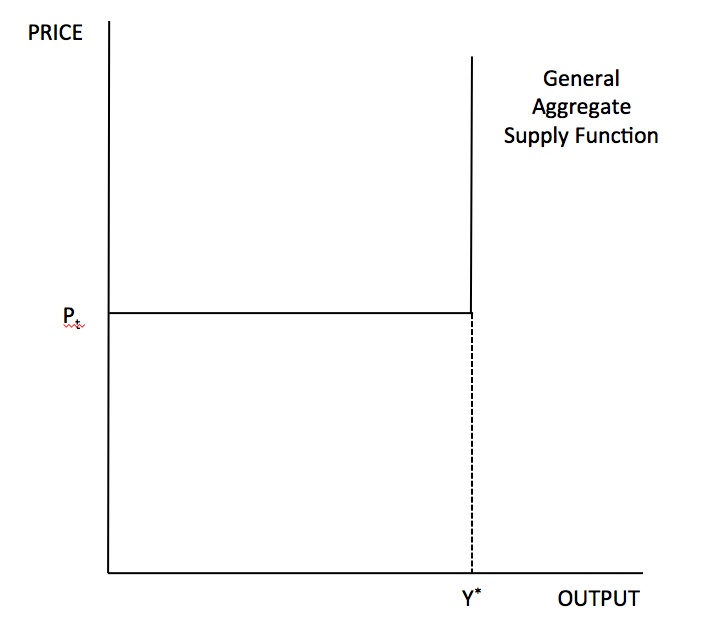 If we assume that the price mark-up that firms use to price their goods and services and money wage rates and labour productivity (and all other unit resource costs) then it reasonable to assume that firms would supply output at a constant price – quoted in their catalogues and honour those prices for some time.
There is a cost to a firm of changing prices regularly and also a possible loss of customer loyalty.
On the horizontal portion of the supply curve, firms in aggregate will supply as much real output (goods and services) as is demanded at the current price level set according to the mark-up rule described above.
The vertical portion of the curve after full employment (Y*) is explained by the fact that the economy exhausts its capacity to expand short-run output due to shortages of labour and capital equipment.
At that point, firms will be trying to outbid each other for the already fully employed labour resources and in doing so would drive money wages up.
Under normal circumstances, economy rarely approach the output level (Y*, which means that for normally encountered utilisation rates the economy typically faces constant costs.
The description of the model in the textbook acknowledged that:
If the money wage rate rises, other things equal, the unit cost level rises and the firms would translate this into a price rise via the constant mark-up.
If there is growth in labour productivity (LP) as a result of say, increased labour force morale, increased skill levels, more technologically-based production techniques, better management, and the like, then unit costs (W/LP) will fall. This means that the firms can generate the same profit margin at lower prices. The AS function would thus shift downwards by the extent of the decline in unit costs.
Variations in the mark-up (m) will cause the price level to change. Increases in industrial concentration, more advertising etc may lead to firms being able to increase the overall profit margin that can be sustained. Tight conditions in the goods and services market, where sales are constrained, may lead firms to reduce the mark-up desired as they all struggle for market share. This could occur as a result of flagging sales and strong trade unions pushing (successfully) for wage increases. Thus to avoid losing market share, the firms may choose to absorb some of the cost rises into the margin.
If employment is below full employment and thus Yactual < Y*, which means there is an output gap present, then increases in aggregate demand (spending) which are seen by firms to be permanent will result in an expansion of output without any price increases occurring. If the firms are unsure of the durability of the demand expansion they may resist hiring new workers and utilise increased overtime instead. That is, they initially respond to the increased aggregate spending by increasing hours of work rather than persons employed. The higher costs (as labour productivity falls) are likely to be absorbed in the profit margin because firms desire to maintain their market share overall.
There are thus a lot of behavioural factors to be considered and analysed in each specific situation. MMT incorporates these complications in its approach to inflation.
It acknowledges that bargaining is central to the wage-price bargains but also allows for industrial concentration, regulation etc to influence outcomes. We have incorporated a lot of institutional literature into our approach.
After considering all that, the text explicitly states, that:
There is some debate about when the rising costs might be encountered given that all firms are unlikely to hit full capacity simultaneously. The reverse-L shape simplifies the analysis somewhat by assuming that the capacity constraint is reached by all firms at the same time. In reality, bottlenecks in production are likely to occur in some sectors before others and so cost pressures will begin to mount before the overall full capacity output is reached.

This could be captured in Figure 9.5 by some curvature near Y*, thus eliminating the right-angle. We consider this issue in more detail in Chapter 11 Inflation and Unemployment.
The point is that the reverse-L is only a first simple step into a macroeconomics that is not based on perfectly competitive pricing and the supply curves that arise logically from those assumptions.
We recognise that firms set prices on mark-ups and do not vary prices with variations in demand in the short-run. In this real world context, the reverse-L depiction is a de-conditioning heuristic to steer students away from the continuously upward sloping supply models they get in neo-classical (mainstream) text books.
But MMT clearly acknowledges that in the real world, bottlenecks in certain sectors can arise before full employment is reached, which then conditions the way that fiscal expansion has to be designed and managed.
That is the case that the infrastructure boom in Australia has presented us.
Generalised very spatially-targetted expansion
There is a tendency to think of MMT has a return to Keynesian economics.
For a discussion on the meaning of the term 'Keynesian' please read the blog post – Those bad Keynesians are to blame (November 5, 2009).
To complicate matters further the term Post Keynesian is used – largely to distinguish modern progressive (non-Marxist – although that is even contentious) thinking from the earlier classifications of Keynesians.
Some Post Keynesians are fundamentalist Keynesians (see cited blog post for more detail) while others are not.
But almost all Post Keynesians agree that the orthodox unemployment buffer stock approach (NAIRU) to inflation control is costly and unacceptable.
The neo-liberal solution to the resulting unemployment is to pursue supply-side policies (labour market deregulation, welfare state retrenchment, privatisation, and public-private partnerships) to give the economy "room" to expand without cost pressures emerging.
Post Keynesians, in general reject this strategy because the sacrifice ratios (lost output per inflation point lowered) are high and the distributional implications (creation of under class and working poor and loss of essential services) are unsavoury.
However there is no alternative consensus.
Some Post Keynesians, following closely the policy recommendations of Keynes himself advocate what I have termed "generalised expansion" in my academic writing – this is where the government ensures that spending is sufficient to purchase all available output.
In essence, this policy purchases at market prices or provides incentives to profit-seekers to create private employment expansion.
Typically, public and private capital formation is targeted.
This is the situation in Australia with all these large public sector infrastructure projects underway. They are injecting billions of public spending into the economy and purchasing goods and services from the non-government sector at market prices.
As the specific real resource constraints start to emerge, competition for those finite real resources starts to drive their price up.
The government becomes just another bidder for the resources.
This strategy also ignores the role for a buffer employment stock policy, which allows the government to guarantee full employment using automatic stabilisers by purchasing at fixed rather than market prices.
Typically, Post Keynesians advocate generalised fiscal and monetary expansion mediated by incomes policy and controlled investment as a solution to unemployment.
But when the real resource constraints are manifesting in the form of a lack of cement, sand, rocks etc – the essential building materials for large public infrastructure projects – an incomes policy that controls wage demands in the face of labour shortages will not provide a price anchor.
Further (indiscriminate) expansion (competing at market prices) in isolation is unlikely to lead to employment opportunities for the most disadvantaged members of society and does not incorporate an explicit counter-inflation mechanism.
It also fails to address the spatial labour market disparities.
The large-scale public infrastructure projects are mostly in the large urban centres (capital cities) and the central business districts of the same.
As regional spaces are hollowed out, how can we be sure that the investment will provide jobs in failing regions?
Upon what basis are the most disadvantaged workers with skills that are unlikely to match those required by new technologies or the large building projects going to be included in the 'generalised expansion'?
Where is the inflation anchor in this approach – if spending is manifest in purchases at market prices?
An understanding of MMT, allows you to conclude that the State can resolve demand gaps which cause unemployment in two ways:
1. By increasing net spending via purchasing goods and services and/or labour at market prices as explained in the previous paragraphs; and/or
2. By using its currency issuance power to provide a fixed-wage job to all those who are unable to find a job elsewhere.
The employment buffer stock approach is what I termed the Job Guarantee, which is an effective strategy for a fiat-currency issuing government to pursue to ensure that work is available at a liveable wage to all who wish to work but who cannot find market sector employment (including regular public sector).
The government would provide a buffer stock of jobs that are available upon demand.
Crucially, the Job Guarantee differs from a 'Keynesian generalised expansion' because it represents the minimum stimulus (the cost of hiring unemployed workers) required to achieve full employment rather than relying on market spending and expenditure multipliers to generate aggregate demand.
The Job Guarantee also provides an inherent inflation anchor missing in the generalised Keynesian approach.
Clearly, and emphatically, a mixture of both options is likely to be optimal although the first option alone is not preferred because it is likely to run up against real resource constraints well before full employment is reached.
The current situation in Australia with the infrastructure boom and cranes everywhere being coincident with more than 15 per cent of our available labour reources unused is the demonstration of that point.
The Job Guarantee approach is juxtaposed with the NAIRU approach which accompanied a regime shift in macroeconomic policy in the 1970s. The NAIRU approach is exemplified by tight monetary policy that targets low inflation, a bias to fiscal austerity and the resulting use of unemployment as a policy tool rather than a target.
The countries that avoided high unemployment in the 1970s maintained an employer of last resort capacity which allowed them to absorbs the fluctuations in demand without significant unemployment consequences.
There is some reason why countries like Japan which has been through hell over the last 20 years or so still has relatively low unemployment.
Further, environmental constraints militate against generalised Keynesian expansion. Higher output levels are required to increase employment, but the composition of output remains a pivotal policy issue.
Job Guarantee jobs would be designed to support local community development and advance environmental sustainability.
Job Guarantee workers could participate in many community-based, socially beneficial activities that have intergenerational payoffs, including urban renewal projects, community and personal care, and environmental schemes such as reforestation, sand dune stabilisation, and river valley and erosion control.
Most of this labour intensive work requires very little capital equipment and training.
While there may be a need for more generalised expansion – to boost public infrastructure investment which enhances the profitability of private sector investment and contributes to aggregate demand and employment – this approach is clearly limited by real resource availability.
Whether there is a capacity to pursue the more general approach is moot. Clearly, the Australian State Governments are reaching the limits of that approach within a price stability framework.
For MMT though, such limits are independent of the need for a Job Guarantee.
Conclusion
While the upgrades to our public transport systems and the re-engineering of our cities is highly desirable and decades overdue, as a policy preference I would prioritise the introduction of a Job Guarantee and ensure it was ccompanied by social wage spending to increase employment in education, health care and the like.
That would absorb idle labour without placing further strains on the construction resources.
A sole reliance on public sector investment in public infrastructure to achieve full employment, also creates considerable economic inflexibility. The ebb and flow of the private sector would not be readily accommodated and an increasing likelihood of inflation would result.
Further and crucially, public investment is unlikely to benefit the most disadvantaged workers in the economy. The Job Guarantee is designed to explicitly provide opportunities for them.
By way of example, during the golden age in Australia (1945-1975) when public capital formation and social wage expenditure was strong, full employment was only achieved because the public sector (implicitly) provided a Job Guarantee for low skilled workers.
This experience is shared across all advanced economies.
The Job Guarantee is thus designed to ensure that the lowest skilled and experienced workers are able to find employment. It does not presume that Job Guarantee jobs will suit all skills. For some skilled workers who become unemployed in a downturn the income loss implied would be significant.
The contention is that a fully employed economy with the Job Guarantee workers paid liveable minimum wages is a significant improvement, when compared to the current unemployment and underemployment bias.
That is enough for today!
(c) Copyright 2018 William Mitchell. All Rights Reserved.