Real GDP growth now requires less energy but is that the point?
Regular readers will know that I am pro-growth – economic growth that is. I get criticised for saying that by Greens and such because they only consider GDP growth within their own economic paradigm, which is tainted, if only subconsciously, by neo-liberal conceptions of enterprise and employment. I would say that I am as Green as anyone but also understand that being engaged in employment is a basic human endeavour. I also agree that our usual conceptions of gainful employment – working for a capitalist to make them profits – will typically not place the 'greenness' of the jobs as a priority, and will, in many cases involved environmentally destructive resource use. The key to disengaging growing employment and hence, economic growth, from activities that are environmentally destructive is to redefine what we mean by productive and useful employment. But, there is also evidence that within the mainstream world of markets, private firms are starting to disengage the link between energy use and economic growth. But will that be enough? This blog is just sketching my own catchup on the latest energy use data. You might find it interesting.

There was an interesting article in the UK Guardian this week (August 25, 2014) – Don't fear growth – it's no longer the enemy of the planet – which reports that:
For centuries, the rise of GDP has gone hand-in-hand with the burning of fossil fuels. But technology has now broken that link.
The analysis is UK-centric and the aim of the article is to convince us that markets are working to allay our fears that our use of fossil fuels will destroy us and that economic growth in to be discouraged.
The writer, a former British Parliamentarian (Liberal Democrats) who served time in prison for lying about driving offenses, notes that "For the first time in history, we are growing richer while using less energy".
This claim is based on the observation that while real GDP growth (the accepted measure of economic growth) brought income growth and resulted in longer life expectancy it was also:
… inextricably linked to the burning of fossil fuels, and therefore to the beginning of carbon emissions and global warming. And we are paying with the steady rise in carbon and temperatures compared with pre-industrial levels.
Which is one of the principle reasons why Green groups etc oppose the concept of economic growth as measured.
The article notes that the trends in the data now show that:
… the two-century link between growth and energy has broken. The UK economy has doubled in real terms since 1985, but total energy consumption is exactly the same as it was in that year. Indeed, energy consumption has fallen since 1970 while the economy has nearly trebled in size.
The graph he is referring to for the UK comes from the British Department of Energy and Climate Change released the 2014 version of the – Digest of United Kingdom energy statistics – which provides a detailed account of energy use in the UK and released the latest data on July 31, 2014.
Particularly interesting was the chapter on – Long term trends – which happened to provide the graph in question (Page 196, Chart 1.1.5 Energy ratio since 1970).
The graph shows real GDP (indexed to 100 in 1970), the United Kingdom's temperature corrected inland primary energy consumption and the measure called the energy ratio (the total energy consumption divided by GDP), which is "expressed … as energy consumed per million pound of GDP".
The graph shows that the "energy ratio fell steadily (with the exception of 1979 and 1991) from its 1970 level to 35 per cent of that level by 2013, an average decrease of around 2.4 per cent per annum. The pace of fall has remained fairly steady throughout the past 40 years, averaging 2.4 per cent per annum since 1970. The strong downward trend since 1970 is explained by at least four factors: improvements in energy efficiency; saturation in the ownership levels and improved efficiency of the main domestic appliances; the unresponsiveness of certain industrial uses, like space heating, to long run output growth; and a structural shift away from energy intensive activities (such as steel making) towards low energy industries (such as services)."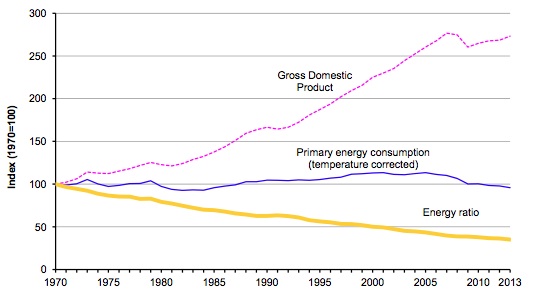 The data also shows that the UK has gone from a Fossil fuel dependency (share of total energy consumption) share of 96.5 per cent in 1970 to 86.2 per cent in 2013.
| Energy Source | 1970 | 2013 |
| --- | --- | --- |
| Coal | 47.1 | 19.0 |
| Petroleum | 44.0 | 31.8 |
| Natural gas | 5.4 | 35.3 |
| Nuclear electricity | 3.3 | 7.5 |
| Wind and Hydro electricity | 0.2 | 1.5 |
| Net electricity imports | n.a | 0.6 |
| Bioenergy and waste | n.a. | 4.3 |
The Guardian article does acknowledge that:
… industry is a big user of energy, and a lot of heavy manufacturing has migrated to China and other low-labour cost parts of the world. Global energy use and carbon emissions are rising because of population and income growth, but the energy-saving trend is visible even in developing countries. Global GDP per unit of energy is 35% higher than it was in 1990."
It is unclear where he gets his figures from. The data provided by the US Energy Information Administration – International Energy Statistics – suggests that the Global ratio has fallen by some 14 per cent since 1990, which is some way from 35 per cent.
The following graph shows the percentage decline in the Energy per dollar of GDP (that is, the energy ratio) between 1980 and 2011.
So it is true that we are now producing more material output with less energy but the decline is still fairly slow on a world scale.
The rise in Asia-Oceania at the same time that China and Japan are declining is due to Thailand and Indonesia.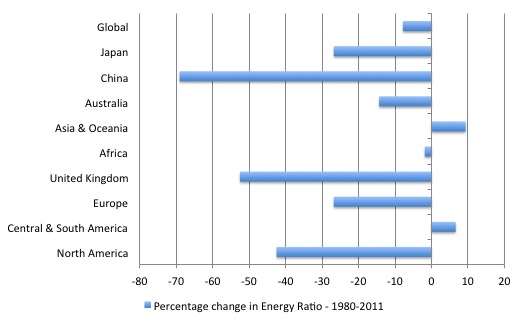 The next graph shows that things are so not favourable when we take into account population growth. It shows the Energy use on a per capita basis from 1980 to 2011.
Each citizen in the World (on average) has increased their use of Energy by 17 per cent. This has two dimensions. First, poorer nations are growing and gaining increased incomes which allow them to use more electricity and petrol. Without knowing the distribution of energy use within the specific nations concerned, we cannot conclude that this is necessarily and increase in equity. Clearly rising middle classes are emerging in China, India and parts of Africa.
Second, for nations such as Australia, which are already among the wealthiest the substantial rise in energy per person is a troubling trend and counter to what is going on in Europe and North America.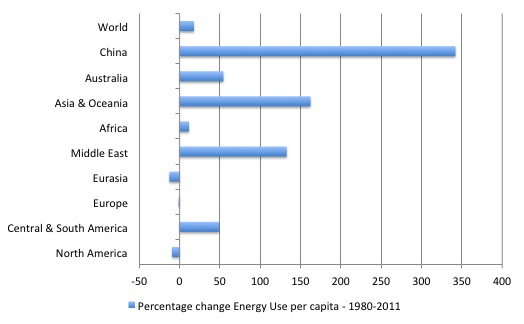 In attempting to explain why the energy ratio has been falling, the Guardian article notes that:
1. "Cars are far more efficient, even though larger."
2. "We are also taking the train more".
3. "Nearly two-thirds of our energy bills go on homeheating, and our boilers are better and homes more insulated".
4. "Our household items use much less electricity than before".
5. "The cost of lighting is collapsing".
All of which is being observed in most advanced nations.
The article considers that part of this "is a response to the marketplace", that is, the substitution of lower cost sources of energy for higher cost energy. That is microeconomics 101.
He also considers that "Government policy has also helped" – regulation, vehicle emission standards etc.
In this vein, he urges governments to "encourage household energy saving" by assisting poorer households who "simply cannot afford the up-front cost" of the new technologies.
The current Federal government in Australia is cutting assistance to poor households to help them make transitions to low energy use. Foresight is not one of their strengths. They are following the UK government which cut the so-called "Eco subsidy".
The data from the US Energy Information Administration helps us put the trends in the advanced nations into some perspective.
Comparisons against real GDP are not necessarily what matters in a world that has finite resources and the pace of substitution away from finite to renewable is not guaranteed to be quick enough to avoid the scarcity or the irreversible environmental damage.
The fact is that total energy use is still rising at a fairly rapid rate.
The following graph shows the growth in energy consumption between 1980 and 2011 for the major geographical blocks plus a few individual nations.
In 1980, North America used 5.2 times more energy than China but by 2011, the ratio had fallen to 1.1 times as China has increased its energy usage by 500 per cent and North America by only 29.9 per cent.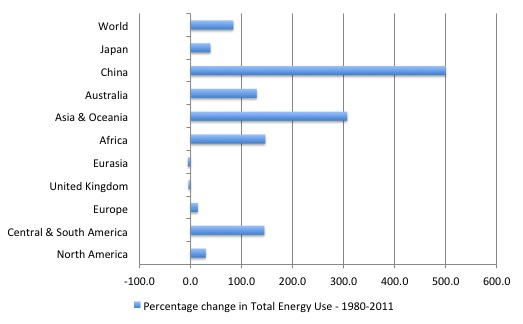 To put those changes into perspective, the following Table shows the shares in total World primary energy consumption. The data comes from the US Energy Information Administration.
There has been a dramatic change in the shares with China becoming more than 3 times as large as it was in 1980.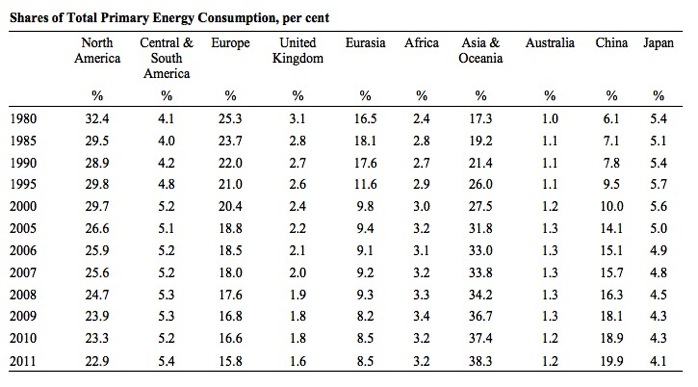 The UK Guardian article conclusion is that:
Bad policy, and Treasury short-termism, is a crying shame (if nothing new). But the big picture is clear, and optimistic. Energy-saving is working. Green growth makes sense, and is happening. There is a future that preserves the gains of industrialisation without its polluting losses. Our living standards are rising, while our energy use is not.
Which applies to the UK but not the World as a whole. Britain's share of total energy consumption is miniscule.
Conclusion
The deindustrialisation of the advanced nations has shifted the energy use to the newly industrial nations. While they are also producing GDP growth with less energy, their rapidly growing populations are using much more energy than in the past.
I have no idea of what the limits are but having had a tooth die over the last weekend (with great pain) I know that biological systems die without warning. That suggests a very risk averse strategy should be adopted by policy makers.
The old adage propagated by economists that as a nation becomes richer (with more real GDP growth) it can better afford to pay for pollution alleviation fails to recognise that limits can be reached before we know the boundary has been crossed.
We might be using energy more efficiently (when considered in terms of producing real GDP) but that doesn't tell us anything about when a certain level of energy use is too much.
That is enough for today!
(c) Copyright 2014 Bill Mitchell. All Rights Reserved.