Yes, I am back to letter writing. This time I am writing a letter to the US Congressman Paul Ryan who has enjoyed a wave of publicity this week after releasing his Path to Prosperity Report which outlines a radical plan to cut US federal government deficits and debt. I just thought he might like some advice and make some edits to the plan. I guessed he probably rushed to get it out into the public domain and left a few i's undotted and some t's uncrossed.

Dear Paul
I thought you loved America.
I was sure you loved America. In a recent speech (April 5, 2011) you said:
The stakes in this debate are high … At stake is the security and stability of American families. At stake is the potential and prosperity of American workers. At stake is America … We disavow the idea of unlimited and unrestrained government. Instead, we call for a government limited to its core constitutional functions and faithful to its noble mission to secure life, liberty and the pursuit of happiness for all.
And, I guess, if you love America you want to see it and all its citizens doing as well as they can – reaching their potential and contributing back to society. You don't want to see an elite purloin the wealth of the nation from the others.
You don't want to see millions of workers suffering entrenched unemployment and facing the inexorable decline into relative poverty.
You don't want to see essential public infrastructure upon which the private sector relies to be in first-class condition for their profit-seeking activities to be degraded and inferior to that available elsewhere in the world.
You don't want to see children dying from lack of access to the health system. And I am sure you want all children to have access to first-class education irrespective of whether their parents have high or low incomes.
I also guess you want the senior citizens of your country to enjoy a nice house and stable retirement incomes after they have worked a lifetime contributing to their families and their communities.
I have read your Plan – Path to Prosperity Report – in detail and can I just say that I agree with virtually nothing in it. I am assuming, given you love America, that you rushed the release of the Plan and made it public before it was ready. Perhaps some positive signs because negative and vice versa. Pure speculation on my behalf.
Before I make some suggestions I thought some matters of style might be worth noting at the outset.
You are clearly a man who is Internet savvy and likes to use graphs to make your points. I applaud both the technological bent and the use of easy communication devices such as well crafted graphs.
In one of your speeches (April 5, 2011) you say that your Plan will:
… reform the tax code to promote economic growth and job creation.
I bring to your attention to following graph – seeing as you like to use graphs to make your arguments. I think it is important to compile graphs carefully so that they do not present misleading pictures.
This is a graph of annual employment growth since 2001 and uses the US Bureau of Labor Statistics excellent data sources. The BLS is an example of public sector excellence.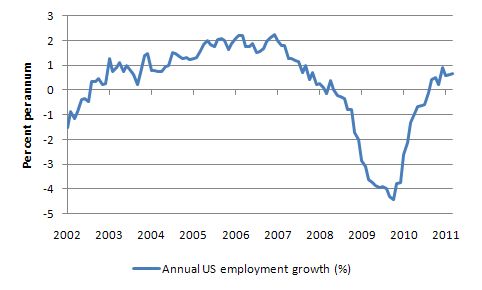 The question I always have when people try to make structural arguments (in this case about the tax system) when they are essentially considering cyclical events is this: Was there a major change in the tax code just before employment growth plunged?
Also, if the tax code is bad for employment growth and it hasn't changed yet (because you want to change it) – why is employment growing again?
I might have juxtaposed measures of private expenditure growth on this chart appropriately scaled and if I had ignored the labels you would have been hard pressed to know which series was which given the close correspondence between their dynamics.
So have changes in the tax code also meant that private expenditure plunged dramatically in 2008 and is now recovering (a little) again now?
While on the question of graphs, your Plan document contained the following graph and you concluded that:
… we face a crushing burden of debt.
The graph is very colourful and looks scary. I wondered who "we" – that is the "we" who "face a crushing debt burden" actually refers to. The graph is a stylised estimate of the US government debt profile until 2080 (red) compared to your Path profile (green). The red profile is disputed as you know and represents some wild assumptions about the future path of the US economy which if realised would manifest as a plunge in real living standards. The debt would just be reflecting that rather than causing the plunge. But that is an aside.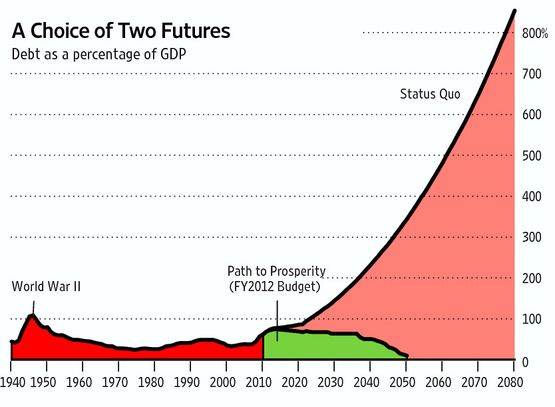 We should agree on terminology before we even consider economics. Lets just suspend any talk about the difference between the government sector and the private sector when it comes to debt. I might raise that point a little later to help you in the redrafting.
So ignoring that distinction, the level of debt is not a burden. So this graph tells us nothing at all about the "crushing burden of debt". The "burden", in commonly-accepted parlance, relates to what the person has to do to service the debt. Again ignore the fact that the government is not a "super person".
Here is a graph that shows the US federal government interest payments as a share of GDP from 1947 to 2010. The data is from the historical series provided by the US Office of Management and Budget. On the latter, their ideas are questionable but their data is beautiful.
I made the graph smaller than yours and used blue because it is more peaceful.
The "burden" seems to be rather modest even considering the rise in debt associated with the fiscal stimulus packages. I wonder whether your crushing burden of debt narrative would have carried as much weight if you had have used this graph instead of kaleidoscopic graph you actually presented.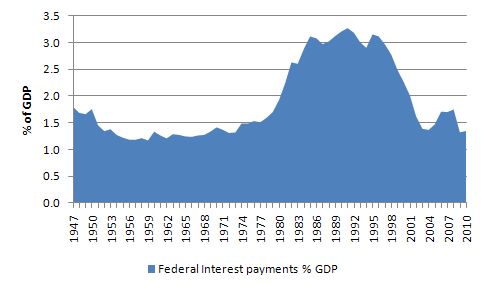 The other point Paul is that I would encourage you to think beyond simple dichotomies. You might have been catching up on some literature and decided the "The tale of Two Futures" was a neat title for your graph. There are many futures Paul and the most plausible is neither of the two you outline and the most desirable is not even remotely like the options you present.
As an aside, this graph comparison is not original. On April 6, 2011, Business Insider's Chart of the Day: The Chart Paul Ryan Doesn't Want You To See produced a graph similar to my last one and compared it to your horror graph. I was curious though because in compiling the interest payments as a per cent of GDP, the Business Insider' seemed to scale the vertical axis up by a factor of 10.
Just stepping back a little to that point about burdens.
In a recent speech (April 5, 2011) you were outlining your Path to Prosperity and attacked the previous fiscal policy path. You said:
This path has left us on the brink of national bankruptcy, and continuing down it will push our nation into a debt crisis characterized by uncontrollable interest rates … unsustainable taxes … and an unprecedented economic collapse.
Do you have a different definition of bankruptcy to the rest of us? Because bankruptcy means not being able to honour your contractual liabilities in monetary terms. When has the US government ever not been able to pay its bills in US dollars? Students of history will tell us that the answer is never.
The point is that the interest payments – controlled as they have been and will be – are not a burden at all. They represent a nominal income flow to the bond holders which provides them with purchasing power to command real good and services. The cost to the economy should they spend that income are the real goods and services they purchase and consume.
Costs are always expressed in real terms Paul – in terms of real goods and services consumed in an activity.
Further, given the US government is the currency issuer, its debt servicing payments amount to electronic transfers between bank accounts. There are no burdens involved. The US government could service any level of debt should it choose to do so. In servicing a given level of interest payments the US government also does not have to forgo other spending choices.
It might be the case that the sum of the US Government's spending choices is incompatible with the real goods and services available for sale in which case they would have to either cut public spending or impose taxes to ensure the private sector has less disposable income to spend. The taxes in this case would not be to fund the public spending but rather to thwart private spending. In any case, these choices would be political not financial.
But these benefits that are bestowed on the currency issuer do not transfer over to the non-government sector – the households, firms, individuals – who use the currency. For them, interest servicing payments on debt do impose a burden because they have to be financed and that reduces the opportunity to spend elsewhere.
So when statements that "we face a crushing burden of debt" are made – it is crucial that the "we" is fully specified. I suggest you do some edits to correct this ambiguity and make it clear that the US government will never be crushed by any burden relating to its outstanding debt.
I also read the Congressional Budget Office Analysis of your plan which presents an "assessment of the broad, long-term budgetary impacts of the proposal, with results spanning several decades and measured as a share of GDP".
The two of you don't seem to agree do you?
The CBO found that your dramatic cuts would:
Cut budget deficits under the proposal until the budget was in surplus by 2040 and then "growing surpluses in the following decade". Also they found that Federal debt would equal 10 percent of GDP by 2050.
I searched your whole plan and found not one mention of exports or trade or net exports. I was surprised by that. When you understand the way the macroeconomy works you appreciate that you cannot consider the budget balance independently of the dynamics of the external sector and the private domestic sector. They are intrinsically linked by national income movements.
Given you didn't discuss the external sector in any specific way, I was left wondering because for the government sector to move to surplus and then increasingly so, you will need a corresponding strong movement by net exports into surplus to provide the demand support for income growth to make sure your "Path to Prosperity" is maintained.
You might say that getting the government "out of the road" will provide entrepreneurial zest which will provide the necessary spending growth to keep incomes growing. The point your Plan ignores is that if the budget actually goes into surplus and net exports are not strongly positive then the only way private domestic spending can be maintained is if firms and households, taken together, go into increasing levels of debt.
Do you really want to impose a "crushing burden of debt" on the private sector overall? History tells us that that path to growth is unsustainable and crashes into financial chaos – of the sort that we have just witnessed and are still enduring in economies all around the World.
Further, can you please outline historical periods where the US federal budget has been in surplus for extended periods of time and prosperity has followed? A keen historian will tell you that there has never been such a period. When the federal government has pushed the budget into surplus – with the help of private deficits – a recession has followed soon after.
I also wondered whether you consulted the bond markets when framing your plan? They would not be happy with Federal debt levels that equate to 10 per cent of GDP by 2050. You will have major investment banks – who have a strong appetite for holding government debt – on your doorstep protesting. They know that the debt provides them risk-free annual income flows that allow them not only to price other riskier assets but also seek safe haven from uncertainty.
Paul, the Australian government pushed the budget into surplus from 1996-2001 and retired much of the outstanding federal debt during that period. The financial markets revolted and the Federal government held an enquiry into why they should continue to issue debt when they were running surpluses. Good question don't you think for all those who wrongly believe that debt-issuance funds deficits. The result? Paul, the Australian government conceded that the debt was not funding government spending but rather providing corporate welfare to bond holders. They agreed to continue to issue debt while also running surpluses. Smell a rat, Paul?
The CBO aslo found that your dramatic cuts would:
Force "most elderly people who would be entitled to premium support payments would pay more for their health care than they would pay under the current Medicare system" … By 2030, the beneficiary's share would be … 30 percent under the alternative fiscal scenario.
So if the benefits drop to around 30 per cent of total spending projections, you must realise that they will have to be cutting back spending elsewhere or fore-go health care.
But the problem that everyone says about health care in the US is that is in a cost spiral. Too many Americans exploiting the technological developments and advanced narcissistic complexes such that they are consuming larger amounts of health care. Your plan will not really alter that.
Unless behaviour changes all you are doing is shifting the public outlays to the private sector and creating a widening overall spending gap in the process.
The problem however has nothing to do with whether the federal government can pay these increased nominal amount each year as America searches for the perfect body! The problem is that real resources are being used up in this activity that might be used elsewhere. It is possible that the health system is totally inefficient in the US – but that is a political choice.
I note that many nations have what amounts in your understanding of the world – health systems that are socialism – Australia included. Our health outlays are modest as a percentage of GDP compared to the US outlays. So the problem of a bloated health care sector is not intrinsically reducible to public bad, private good.
If you think Americans are too fat and need to tone up and use less health resources then say it … but don't construct the health care debate (falsely) in terms of a fiscal insolvency issue. It will never be that.
The CBO also found that your dramatic cuts would leave:
Federal payments for Medicaid under the proposal … substantially smaller than currently projected amounts … [and the] … reduction in payments would probably require states to decrease payments to Medicaid providers, reduce eligibility for Medicaid, provide less extensive coverage to beneficiaries, or pay more themselves than would be the case under current law.
So less health care for the most disadvantaged citizens unless they use their meagre incomes differently. That would suggest that they will spend less on other things that they would otherwise buy.
So if the private sector are paying more for health and spending less on other things and the government is cutting back its spending, where is the spending growth going to come from?
I can imagine some areas but your Plan doesn't discuss any likely suspects. It is just like one of those pamphlets that we used to get in Sunday School – have faith and you will be saved.
The problem is Paul that while expectations (faith) do influence economic activity they have to do it via spending decisions. Unfortunately, when cutting is the norm and public spending is being transferred to the private sector, the expectations tend to turn sour. History tells us that over and over again.
Your Plan seems to deny history. You want to make history but history also gives us lessons especially when the history is about the way the macroeconomic aggregates work.
The CBO found that your Plan would be :
… subject to pressures over the long term that would make … [it] … difficult to sustain …

Under the proposal CBO analyzed, debt would eventually shrink relative to the size of the economy-but the gradually increasing number of Medicare beneficiaries participating in the new premium support program would bear a much larger share of their health care costs than they would under the current program; payments to physicians and other providers for services provided under the traditional Medicare program would be restrained (as under the two scenarios); states would have to pay substantially more for their Medicaid programs or tightly constrain spending for those programs; and spending as a share of GDP for federal programs other than Social Security and the major health care programs would be reduced far below historical levels. It is unclear whether and how future lawmakers would address the pressures resulting from the long-term scenarios or the proposal.
I don't often agree with the CBO Paul. But at least they have the wherewithal that your office has not demonstrated in the Plan to realise that you have produced a piece of science fiction – a denial of history.
My colleague Paul Krugman, who I don't always agree with, notes that your Plan is:
Ludicrous and cruel … simultaneously ridiculous and heartless.
He is very polite I think in being so subdued in his assessment of your Plan. I am trying to model my demeanour on that benchmark.
Like many commentators he notes your Plan amounts to "crippling essential public functions" but you don't specify where these dramatic cuts will come from. Why not? Haven't you analysed sectoral multipliers to consider the real effects of your cuts.
Paul Krugman also recognises that the "proposal to abolish Medicare and replace it with vouchers that can be used to buy private health insurance … does nothing, in itself, to limit health-care costs".
Refer to my point above.
He also notes that "of the $4 trillion in spending cuts he proposes over the next decade, two-thirds involve cutting programs that mainly serve low-income Americans. And by repealing last year's health reform, without any replacement, the plan would also deprive an estimated 34 million nonelderly Americans of health insurance".
I could write much more to help you get started on the re-draft. But you have enough to go on with. Here's a tip to get you started:
1. Boot up your computer.
2. Open your document – Path to Prosperity.
3. Simultaneously press the keys – CTRL and A.
4. Press the DELETE key.
5. Relax.
You will benefit from doing that because you love America.
Best wishes
bill
PS: As an aside, Paul, I adopt a "rule of thumb" about PDF reports that are publicly available. The rule is that the larger the file size the lower the quality of the argument. Lots of scary misleading graphs does not help the public debate. All they do is clog up bandwidth. Your Path to Prosperity Report is a very bloated 3.6 mgs (especially when it is only 73 pages long) and certainly is consistent with my rule!
PS1: I hope you didn't print to many hard copies of it. Trees!
PS2: Excuse my tone Paul. I am just an Aussie – we talk like this! Also excuse my grammar/spelling – I really did get an excellent public education before the government became obsessed with surpluses.
PS3: I offer a weekly Saturday Quiz to help educate interested readers about how the monetary system operates. Why not have a go tomorrow? No-one will ever know that you scored 0/6 on your first outing but over time you will improve and there is a good support group here who really nurture newcomers. It will also help you redraft your Plan to ensure your excellent ambitions to improve the lives of your fellow citizens are capable of being realised.