Professor Bill Mitchell
Professor William Mitchell holds the Chair in Economics and is the Director of the Centre of Full Employment and Equity (CofFEE), an official research centre at the University of Newcastle, Australia. He also is the Docent Professor in Global Political Economy at the University of Helsinki. He also is a JSPS International Fellow at Kyoto University, Japan.
He is one of the founders of Modern Monetary Theory (MMT). His daily blog is one of the leading economics blog in the world.
He has published widely in refereed academic journals and books and regularly is invited to give Keynote conference presentations in Australia and abroad. He has an established record in macroeconomics, labour market studies, econometric modelling, regional economics and economic development.
He has received regular research grant support from the national competitive grants schemes in Australia and has been an Expert Assessor of International Standing for the Australian Research Council.
He has extensive experience as a consultant to the Australian government, trade unions and community organisations, and several international organisations (including the European Commission; the International Labour Organisation and the Asian Development Bank).
He maintains a high commitment to community activities. He has been regularly called to appear as an expert witness in industrial matters in the relevant state and federal tribunals and at various Federal government enquiries (Senate and House of Representatives). He regularly provides commentary on economic developments in the national radio and press in Australia.
He is also a professional musician and plays guitar with the Melbourne Reggae-Dub band – Pressure Drop. The band was popular around the live music scene in Melbourne in the late 1970s and early 1980s. The band reformed in late 2010.
You can contact him via Mobile Phone on 0419 422 410 (anywhere in the World).
You can also E-mail him on Bill.Mitchell_@_newcastle.edu.au (delete the underscores).
The following chart is my test score as at August 5, 2014 from – Political Compass.
Maximum/Minimum scores range from +10 to -10 on both axis.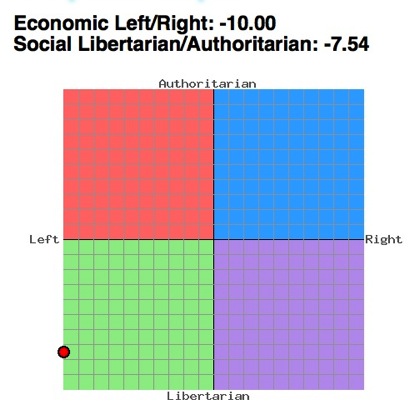 My favourite colour is IKB (0 47 167)